Can You Bring Food and Other Consumables on a Cruise?
Prepackaged snacks are generally allowed, but rules vary for alcohol, so do your research before you set sail.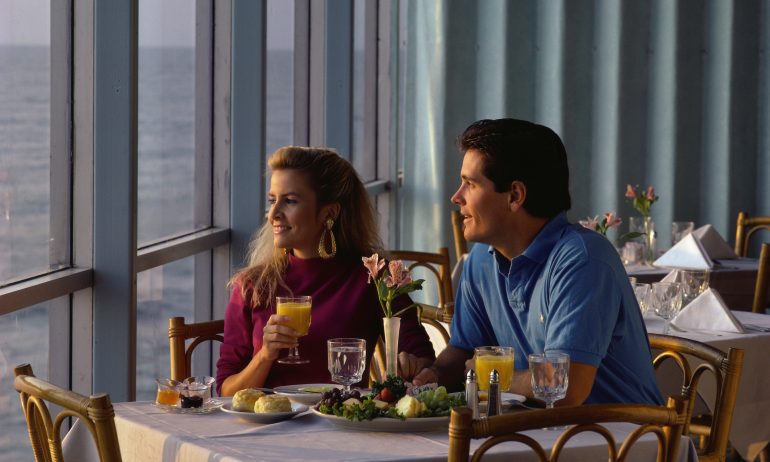 Many or all of the products featured here are from our partners who compensate us. This influences which products we write about and where and how the product appears on a page. However, this does not influence our evaluations. Our opinions are our own. Here is a list of our partners and here's how we make money.
You've selected your destination, picked a cruise line, booked your cabin and are ready to pack your bags with everything from swimwear to a cocktail dress.
But as you scan your packing list, one question remains: can I take food on a cruise, too?
Naturally, there will be an abundance of food, snacks and drinks available at all hours on your ship. But if you're traveling with a picky eater, have dietary restrictions or just want to save a few bucks on alcohol, tossing a few extra granola bars or bottles of wine in your bag may seem like a good idea. Is it? 
From snacks to candy to beverages, we'll help you figure out what you can pack in your luggage and answer the question we know you're asking, "Can I bring food on a cruise?" 
Can you bring food on a cruise ship?
The answer to this question isn't as simple as it sounds. Which food items you are and aren't allowed to bring on board depends on the food as well as the cruise line.
However, the guidance for all major cruise lines is that perishable and homemade foods aren't allowed to be carried on board.
Not sure what counts as perishable? If it's homemade, not in a sealed package or needs refrigeration or to be cooked, it's prohibited. The only food allowed on cruise ships is store-bought items in sealed, shelf-stable packaging.
If you're tempted to try to smuggle something on board, it's not recommended.
Much like security screening at the airport, cruise ships scan your luggage before boarding, and they will investigate anything that looks suspicious.
Think of packing snacks for a cruise the same way you would for an international flight: no fresh fruits, veggies or perishable food like meat or cheese is allowed due to the potential risk of spreading parasites or invasive pests.
So if in doubt, leave it at home.
Can you bring snacks, like candy, on a cruise?
Shelf-stable snacks like chips, pretzels, protein bars or any other items packaged in sealed wrappers are permitted on every major cruise line.
Just stick with store-bought goodies including candy, savory snacks, cookies or granola bars instead of whipping up a batch of homemade muffins or sandwiches to bring with you. 
Make sure that packed snacks are unopened when it's time to board. For example, if you open a box of cookies while making your way to your ship, there's a chance that the opened box won't be allowed when you board.
Can you take alcohol on a cruise?
Toting beverages onto a cruise ship can be a bit more nuanced than snacks or candy, so make sure you know what's permitted on your specific cruise line before you stock up. This is because cruise lines can have wildly different policies. 
One common thread on most cruise lines is this: While wine and champagne are sometimes allowed, no liquor, spirits or beer are typically permitted. One exception is on Disney cruises, which allow guests to bring a six-pack of beer in lieu of wine.
As for wine and champagne, many cruise lines allow you to bring one or two bottles, but only on embarkation day when you first board.
On Royal Caribbean, the allowance is two bottles per room, while on Celebrity Cruises it's two per guest. Princess allows guests to bring more than one bottle on board, but after the first, you'll pay a corkage fee no matter where it's consumed. 
In other cases, when it comes time to enjoy any bottle, there may be a corkage fee if you plan to consume it outside of the confines of your room. Check the rules of your cruise to be sure.
Don't think you can get around those policies by simply shopping at ports of call. If you pick up a bottle at port, most cruise lines require you to turn it over to their staff, who will store it for you until the ship returns to its final destination.
Disney, again, is one exception to this rule: Passengers are allowed to bring on board up to two bottles of wine or champagne or six beers at every port of call.
Fortunately, on many ships, you can pay for a drinks package that will allow you to enjoy a wide variety of alcoholic and nonalcoholic beverages while sailing between ports of call.
What drinks can you take on a cruise?
What about bottled water, soda, milk or other nonalcoholic beverages? The permissibility also depends. 
Some cruise lines allow you to bring on a specified number of single-use bottles. Carnival and Royal Caribbean, for example, both allow a maximum of 12 cans, cartons or bottles per person, while others, like Norwegian, forbid it altogether. So check your cruise line's policy before you arrive at port.
If it's water you want, there's an easy way around packing a case of water or purchasing overpriced bottles on the ship: Bring reusable bottles and refill them regularly once you're on board. 
Bringing food on a cruise recapped
If you're going on a cruise and are trying to figure out whether to pack food, snacks, candy or beverages, your best bet is to check with your cruise line for specifics.
That said, generally speaking, liquor and spirits are never permitted; wine, champagne, beer and nonalcoholic beverages are allowed only occasionally in limited quantities; and while fresh, homemade or perishable foods are forbidden, packaged snacks are just fine.
---
How to maximize your rewards
Get more smart money moves – straight to your inbox
Sign up and we'll send you Nerdy articles about the money topics that matter most to you along with other ways to help you get more from your money.