Can You Bring Food on an Airplane?
Yes, generally you can bring food on a flight with you, but there are restrictions and exceptions to be aware of.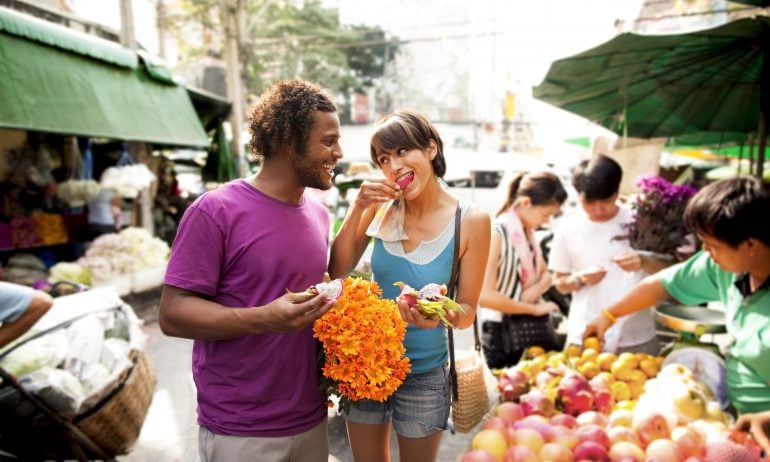 Many or all of the products featured here are from our partners who compensate us. This influences which products we write about and where and how the product appears on a page. However, this does not influence our evaluations. Our opinions are our own. Here is a list of our partners and here's how we make money.
If you don't frequently travel by plane and have a trip coming up, you may be wondering: Can you bring food on an airplane? In most cases, yes, you can bring food with you. What's more, you don't necessarily have to buy food at the airport or wait until you get to your destination to buy it.
Here's what you need to know about the general rules for flying with food.
Can you pack food in a checked bag?
Yes, you can bring food in your suitcase on an airplane — but there are some exceptions to consider. The Transportation Security Administration has several rules in place and knowing what's allowed before arriving at the airport can help you better prepare. Here are the essential TSA food rules for checked luggage.
You can bring solid food items in your carry-on bag or checked luggage without adhering to size restrictions. Of course, bag and weight restrictions apply, and if your item is larger than allowed, you may have to pay extra fees.
Liquid and gel food items
In general, TSA liquid food rules are more strict. Liquid and gel food items are treated like liquid and gel toiletries — and the same rules apply.
All liquid or gel food items above the 3.4-ounce maximum liquid carry-on size requirements must be packed in your checked baggage; otherwise, they won't be allowed past the security screening process.
If any of your liquid or gel food items meet the 3.4-ounce sizing requirements and you plan to bring them in your carry-on luggage, you'll need to ensure that all liquids fit in a single quart-size bag.
Some additional foods that are are subject to the 3.4-ounce sizing limitation in your carry-on include:
Other creamy dips and spreads, like hummus or peanut butter.
You'd be better off packing these items in your checked luggage or not at all.
What about traveling with baby food, breast milk or formula?
There are different TSA liquid rules in place for food and drink items for babies. "Reasonable quantities" of baby food — even greater than 3.4 ounces — are allowed in a carry-on bag. Formula, breast milk and juice are considered allowable liquids; further, these don't need to fit in a quart-sized bag (like other carry-on liquids).
Be prepared to remove these items from your bag and alert the TSA staff so they can be screened. These items will likely be screened separately from other belongings.
You can travel with breast milk and formula, even if your child isn't traveling with you. That's because breast milk and formula are considered medically necessary fluids.
Can you bring frozen food on a plane?
You can bring frozen food on an airplane in certain circumstances. For instance, if your frozen food is a solid — like meat, seafood or vegetables — you can bring it on the plane with you in either your carry-on or checked luggage without being concerned about the container size.
If, however, your frozen food or drinks are partially melted or slushy, they must meet the 3.4-ounce liquids sizing requirements to be allowed through security in carry-on bags.
You can bring ice packs with you to properly store food items. Ice packs must be completely frozen when brought through screening; even if these items are partially melted, they won't be permitted.
Can you bring food and drinks purchased after the security checkpoint?
Once you make it through security, the size of liquid food and drink items is no longer a concern, as bringing food and liquids purchased post-security is allowed. You can bring coffee on a plane after security, as well as take-away meals or other snacks.
All larger liquid or gel items, as well as food, purchased after you've cleared the TSA checkpoint can be brought on board. If you want to buy a snack or lunch before boarding your plane, that's allowed.
What food can't you bring on an airplane?
There are certain banned food items on airplanes, like:
You can't bring liquid or gel food items in carry-on baggage if they're larger than 3.4 ounces. If they're completely frozen, they're allowed without size restrictions.

You can't bring alcohol in containers larger than 3.4 ounces in a carry-on bag. Alcohol with more than 24% but less than 70% alcohol is limited to 1.3 gallons per passenger and must be in unopened retail packaging. Alcohol with more than 70% alcohol is not allowed on the airplane, period — even in checked baggage.

You can't bring most fresh fruit or vegetables in your checked bags or carry-on bags when flying from Hawaii, Puerto Rico or the U.S. Virgin Islands to the U.S. mainland due to the risk of spreading invasive plant pests.
Food you can bring on an airplane, recapped
Now you know what food you can bring on an airplane the next time you travel by air. Baby food has some exceptions, as do frozen foods. All liquids in carry-on bags cannot exceed 3.4 ounces in size; otherwise, most liquids can travel via your checked luggage (save for restrictions on alcohol).
Bringing food onto an airplane is allowed so long as you follow all of the TSA rules. Be mindful of exceptions and consider sizing limitations when traveling with edible liquids or gels.
---
How to maximize your rewards
Get more smart money moves – straight to your inbox
Sign up and we'll send you Nerdy articles about the money topics that matter most to you along with other ways to help you get more from your money.