Can You Buy Travel Insurance at the Airport?
Usually, you must buy travel insurance at least one day prior to departure. At the airport, it's too late.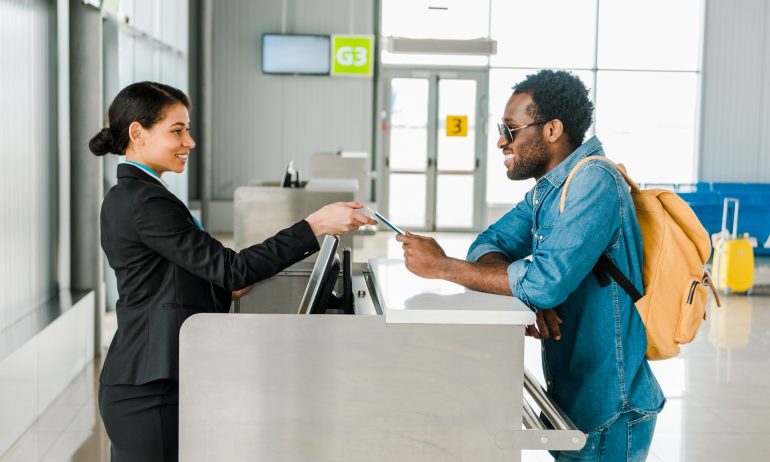 Many or all of the products featured here are from our partners who compensate us. This may influence which products we write about and where and how the product appears on a page. However, this does not influence our evaluations. Our opinions are our own. Here is a list of our partners and here's how we make money.
Having travel insurance is a useful way to protect yourself against a potential unexpected situation. Even if you plan your trip well, you never know when something may go wrong. With travel insurance coverage, you can get financial reimbursement if your plans don't work out as you expect.
You may be wondering if you're able to buy travel insurance at the airport. We'll help you understand what options you have to purchase coverage so you're prepared for your next trip.
In most cases, you're able to buy travel insurance up until the day before you leave for your trip, which gives you a lot of time to buy. When you book a flight, hotel or make other travel arrangements, you may see the option to add insurance coverage before finalizing your order and paying. Even if you decline this coverage, you can buy insurance separately from another insurance provider.
Can you add travel insurance after booking flights? Yes; however, you'll want to make sure that you do it 24 hours before your trip so you have the right coverage and get the benefits that you need.
There are a few situations where it's too late to buy travel insurance coverage:
You may be able to buy a policy after your trip departure. Some, but not all insurance providers, will offer this option. While this won't be a fully comprehensive travel insurance policy, it can still give you more peace of mind as you vacation.
Unfortunately, you won't be able to buy a comprehensive travel insurance policy at the airport since most policies require you to buy coverage at least a day before the start of your trip.
If you wait until you're ready to check your bags to buy insurance coverage, you've waited too long. Luckily, it's easy and straightforward to get travel insurance, so there's no need to wait and put it off. Plus, travel insurance isn't generally sold at the airport because it needs to be purchased in advance. You'll need to find an online travel insurance company to purchase a policy from.
It can be stressful to shop around and compare rates and coverage hours before your trip begins. Instead, we recommend buying in advance. The earlier you buy, the better off you'll be.
When you purchase coverage early, your policy may include additional features, which can be time-sensitive benefits. For example, may be available only to travelers who purchase an insurance policy within a certain number of days from the initial trip deposit or booking. Buying a travel insurance policy earlier can allow you to maximize the issuance benefits that are available to you.
Here are some policy features that may not be available if you don't buy travel insurance early:
When you start shopping around early, you can compare policies and benefits more comprehensively to find the right insurance for your trip needs.
You can easily buy travel insurance online from the comfort of home. Using an online travel insurance comparison tool, like SquareMouth, is recommended. These insurance comparison websites make it easy to compare providers, prices and policy features all in one place. It takes only a couple of minutes to get a quote.
If you go to any insurance company website and buy the first policy you see, you may overspend for coverage. You also run the risk of not getting the policy that you need. Always give yourself time to compare options.
Buying travel insurance can be a good idea to cover nonrefundable trip costs. If you want to be covered and protect yourself against unforeseen events, it's best to purchase travel insurance as early as your trip booking. This way, you can get a comprehensive policy that includes the coverage you need. An insurance comparison tool can be a useful guide for your decision-making, too.
You want a travel credit card that prioritizes what's important to you. Here are our picks for the , including those best for: