Can You Fly While Pregnant? Not Always
Most travelers should be clear to fly while pregnant, but check with your doctor and the airline before you book.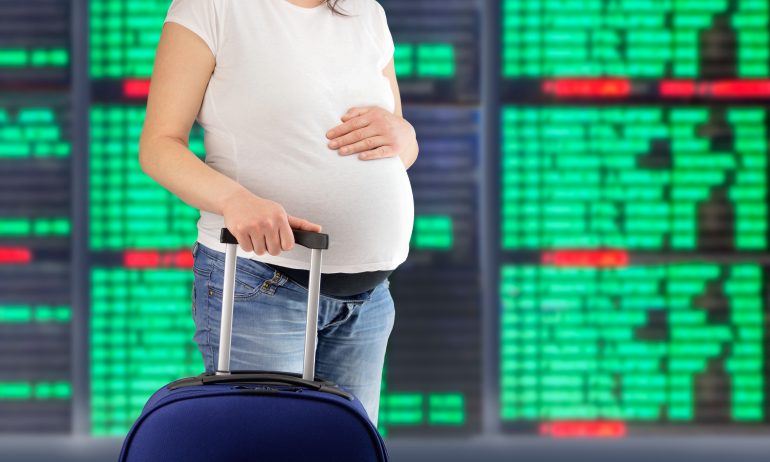 Many or all of the products featured here are from our partners who compensate us. This influences which products we write about and where and how the product appears on a page. However, this does not influence our evaluations. Our opinions are our own. Here is a list of our partners and here's how we make money.
Do you want to plan a trip but aren't sure if you should hop on a plane when you're expecting? Is it okay to fly while pregnant? How late can you fly pregnant internationally? What are the important considerations to factor in when booking? 
The short answer: Flying while pregnant is possible, so long as you and your doctor align on what is safe for you and your baby. 
That said, flying when pregnant may be a bit more complicated, especially if you're planning a trip close to your due date. Here's what to keep in mind when plotting your next air-based excursion and traveling while pregnant.
Is it safe to fly while pregnant?
According to the American College of Obstetricians and Gynecologists, most people experiencing healthy pregnancies can travel by air until quite close to their due date.
How close depends on several factors, including recommendations from your healthcare provider and airline rules, which vary between carriers.
So if you're planning a trip, start by talking with your doctor before you book a ticket, as those experiencing high-risk pregnancies may be advised not to travel.
Your provider can perform an exam, check medical records and advise when, where and how far you should travel. Every pregnancy is different, and your doctor will consider your specific needs and concerns.
Keep in mind, you can travel during nearly any point in your pregnancy, though airline restrictions may prevent you from flying too close to your due date.
If you've been cleared to travel, ACOG recommends to do so is in the second trimester, between 14 and 28 weeks. That's because any morning sickness may have lessened by then, and there's a lower risk of miscarriage. Moving around or sitting for long periods in your last trimester can also become uncomfortable.
Airline restrictions for pregnant passengers
Airline policies regarding pregnant travelers vary, but most don't require any special documentation until late into pregnancy. 
United Airlines allows pregnant travelers to board without medical documentation before their 36th week of pregnancy.

American Airlines allows pregnant passengers to fly without documentation up to four weeks before their due date.

Southwest Airlines doesn't require any special documentation, but it doesn't recommend travel after 38 weeks.
As you get closer to your due date, you'll need to check with your airline, as many require special permissions to fly.
For example, on American Airlines you'll need a doctor's note to travel domestically within four weeks of your due date. For international travel, you'll also need approval from a special assistance coordinator.
Airlines may provide specific guidance about what documentation is required, but typically this is a certificate from an obstetrician stating that you're fit for air travel for the dates of your trip. 
Depending on the airline, the certificate might need to be dated within 48 or 72 hours of your scheduled departure, so you'll need to plan ahead.
No matter which airline you're flying with, check the restrictions and requirements if you'll be booking close to the end of your third trimester.
When not to fly while pregnant
While many pregnant travelers are fine to hop on a plane, there are others who should avoid air travel or be cautious about it. 
This is especially true for those with the following conditions: 
A history of blood clots or heart disease.

A history of miscarriage, premature labor or ectopic pregnancy.

Those carrying twins or other multiples. 

First-time mothers who are over 35 years old. 
This list is not exhaustive, which is why it's always a good idea to talk with your doctor to find out if air travel is safe for you.
Pregnant travelers should also choose their destinations carefully. The U.S. Centers for Disease Control and Prevention recommends expectant mothers stay away from any regions with a high risk of contracting Zika or malaria or any locales where live vaccines are required or recommended for travel.
How long should your flight be if you're flying while pregnant? The United Kingdom's National Health Service states that flying for longer than four hours carries a small risk of blood clots.
So not only will a shorter flight be more comfortable, it's also safer for you and your baby.
Can you fly internationally while pregnant?
According to the CDC, some airlines will let you fly internationally until 36 weeks, but others may have an earlier cutoff. Generally, it's wise to check the individual airline's policies related to flying internationally while pregnant.
For example, British Airways allows passengers with one baby to fly until the end of the 36th week (or the end of the 32nd week if you're pregnant with more than one baby). Meanwhile, Delta Air Lines has no requirements for pregnant passengers and only recommends checking with your doctor before flying.
In short: How late you can fly pregnant internationally varies from airline to airline.
Consider purchasing a separate travel insurance policy or booking your trip with a credit card that offers coverage as a perk if you want more flexibility to adjust travel plans. Cancel For Any Reason coverage is an add-on option that can refund you anywhere from 50% to 75% of any upfront deposits, depending on your specific policy.
Tips for flying while pregnant
Flying while pregnant may look and feel different, so to make travel as enjoyable as possible, consider taking a few extra precautions before heading to the airport.
Talk to your doctor about vaccines and immunizations: Depending on where you're headed, it's important to make sure you're up to date on important vaccines.

Reduce your risk of poor circulation: Stay hydrated, wear loose clothing, get up to stretch or walk the aisle often and talk to your doctor about whether you should wear compression socks.

Book an aisle seat: This will offer you the option to get up, move around and use the bathroom as often as you need without disturbing seatmates. Alternatively, use this time as an excuse to book a first class ticket.

Bring a well-stocked first aid kit: While every traveler could benefit from packing a first aid kit, pregnant travelers may want to add items like nausea medication, hemorrhoid cream, treatment for yeast infections, personal medicines and prenatal vitamins.

Know where the nearest hospital is at your destination: Hopefully, you won't need to visit during your trip, but knowing where it is can help ensure you can get to medical treatment quickly if needed.

Consider buying travel insurance: Should complications happen when you're far from home, including premature labor, travel insurance can bring peace of mind. It may also save you money if you need to return home quickly for medical reasons. Just make sure to get a travel insurance policy that suits your needs.
Flying while pregnant, recapped
Flying while pregnant is acceptable for most people during most pregnancies.
That said, before you book your ticket, check with your doctor to make sure you're cleared to travel. Additionally, look into airline restrictions and requirements and make plans to help you be more comfortable while flying.
Following these steps will help you have a safe and enjoyable experience, whether you're flying across the country or around the world.
---
How to maximize your rewards
Get more smart money moves – straight to your inbox
Sign up and we'll send you Nerdy articles about the money topics that matter most to you along with other ways to help you get more from your money.