Codeshare Flights: What They Are and How to Use Them
Codeshare flights are convenient for travelers and can help you work toward elite status on your preferred carrier.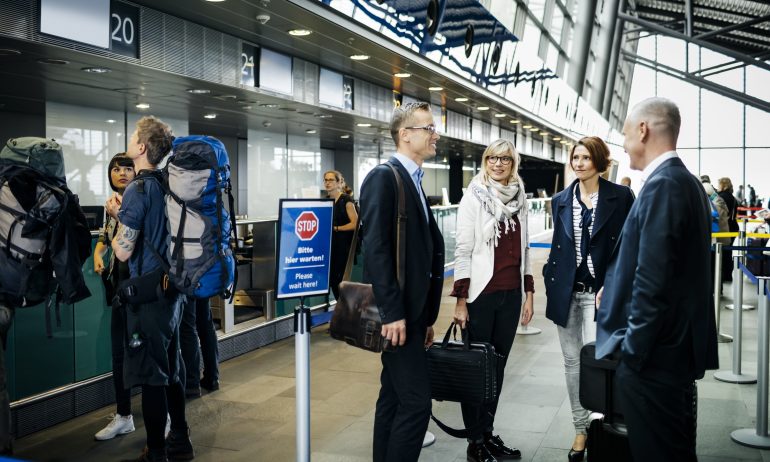 Many or all of the products featured here are from our partners who compensate us. This influences which products we write about and where and how the product appears on a page. However, this does not influence our evaluations. Our opinions are our own. Here is a list of our partners and here's how we make money.
Ever booked a flight with an airline, only to show up at the airport and find out it's operated by someone else? Say you've gone through the American Airlines website to book a flight to London, but on the day of departure your plane has a giant British Airways logo splashed across the side. What gives? How — and why — do these kinds of partnerships happen?
Let's take a look at codeshare flights, how they work and how to take advantage of these types of bookings.
What is a codeshare flight?
There's a reason you don't see an American Airlines flight traveling from Tokyo to Hong Kong. Airlines face restrictions when it comes to airspace; these rules dictate where and when airlines are allowed to fly.
Because of this, it makes sense for airlines to join with other airlines to extend their global reach. A codeshare occurs when one airline markets a flight operated by another airline.
This may mean that you buy a ticket from United Airlines to Munich with a stopover in Frankfurt. While the first leg of your flight is operated by United, the second leg is flown by Lufthansa. Although your itinerary shows a United flight number for your second flight, the actual plane you're sitting in is owned and operated by Lufthansa.
You'll see this most often with airlines in the same alliances, including Star Alliance, Oneworld and SkyTeam, but there are plenty of codeshare agreements in place between other airlines.
Nearly all airlines feature some sort of codeshare agreement with other airlines. It's just good business sense; creating partnerships allows customers to book single-ticket itineraries on longer flights. It also allows for things such as checking a bag through to a final destination and earning reward miles on your choice of airline.
You'll usually be able to find out all the different partners of an airline by visiting its dedicated web page. United, for example, partners with airlines such as Lufthansa, Air Canada, Swiss and ANA.
Why is a codeshare flight important?
There are plenty of reasons why codeshares are a good idea, both from an operations standpoint and from a customer's perspective. Even better, codeshares can be used to help boost your elite status. Let's dig in.
The main benefits for a customer when booking a codeshare flight have to do with convenience. Let's say you wanted to book a flight from Los Angeles to Tel Aviv, Israel. You're loyal to Delta, so you want to book through its website. However, the only flight you've found includes a layover in Paris. Your onward flight from Paris is operated by Air France.
Thanks to codesharing, you can book your entire ticket through Delta's website, including the portion operated by Air France. This means that you won't need to pick up your bags until you get to Tel Aviv. And since you've booked everything on one ticket, you'll be protected in the event there are delays on either flight.
Were you to book these two legs separately, all these benefits would be lost. Most importantly, if something went wrong with your flight and you missed your connection, you'd be the one paying for the loss — not the airline.
Earning airline elite status
Did you know that you can use codeshare flights to help speed your path to airline elite status? Whether or not this applies to you will depend on your airline alliance, but those who fly with Oneworld have a very good reason to take advantage of codeshares.
Star Alliance carriers tend to award credit (including award miles and elite-qualifying miles) based on who operated your flight, not the airline you purchased this ticket through. Let's say that you're looking to earn elite status with United. You have an old Air Canada voucher that you'd like to use, and you end up redeeming it for a flight that's operated by Lufthansa. In this case, United is going to credit your miles according to its Lufthansa-earning chart — even though you bought the ticket from Air Canada.
Oneworld, meanwhile, tends to do the opposite. Carriers such as Alaska Airlines will award you credit based on who marketed the flight, not the airline on which you actually flew. Why does this matter?
Because airlines award different amounts of miles depending on their partner airlines. Let's say that you're looking to fly from Los Angeles to London in business class. You'd like to earn Alaska Airlines elite status, which means you're looking at Oneworld carriers.
A quick search reveals plenty of options, including an American Airlines-operated codeshare sold by British Airways. The fare is in J class, which is full-fare business class.
Booking directly with American Airlines is the same price as booking the codeshare from British Airways, so which one should you pick? The answer is British Airways.
A quick look at Alaska's partner-earning chart shows that J-class bookings from British Airways earn significantly more bonus and elite-qualifying miles than J-class bookings from American Airlines.
| | | Elite-qualifying miles earned in J |
| --- | --- | --- |
| | | |
| | | |
This is despite the fact that it's the same flight operated by the same airline. It's just your method of booking that changes how you earn miles.
How to book a codeshare flight
Booking a codeshare flight is generally pretty simple. You'll find these flights in standard search results when looking for flights on a given airline.
Most airline codeshares will also allow you to earn and redeem miles toward partners' flights.
If you're looking specifically for a codeshare flight, keep a close eye out. Because codeshares are given flight numbers that match the marketing airline (e.g., a United codeshare on Lufthansa will have a United flight number), you'll need to double-check the operating airline itself.
Codeshare flights, recapped
Codeshare flights are a boon for airlines and customers alike, but it's important to know how and why they work. Codeshares can help streamline your bookings, especially if you're looking to check luggage. They'll also protect you in the event that one of your flights has issues. Finally, savvy customers can take advantage of codeshare flights to help maximize their elite status earnings on certain airline alliances.
---
How to maximize your rewards
Get more smart money moves – straight to your inbox
Sign up and we'll send you Nerdy articles about the money topics that matter most to you along with other ways to help you get more from your money.