Are Double Decker Airplane Seats The Future?
The Chaise Longue Economy Seat is just the latest would-be innovation in double decker seating. But will it work?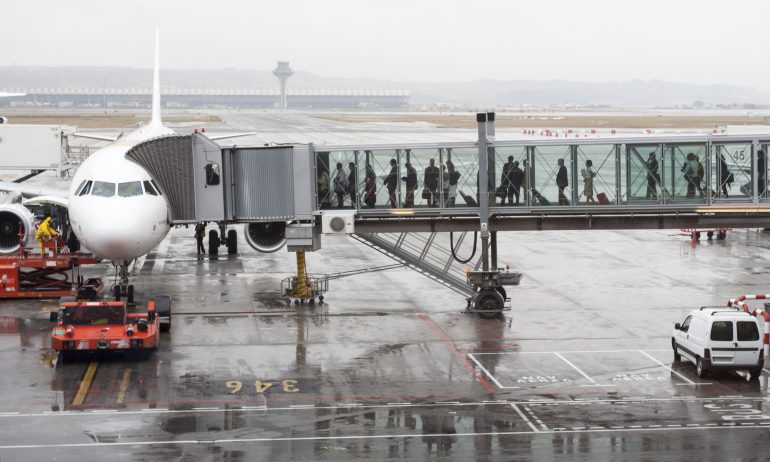 Many or all of the products featured here are from our partners who compensate us. This influences which products we write about and where and how the product appears on a page. However, this does not influence our evaluations. Our opinions are our own. Here is a list of our partners and here's how we make money.
In June 2022, a new airplane seating model made waves at the Aircraft Interiors Expo in Hamburg, Germany. The so-called Chaise Longue Economy Seat would effectively stagger economy passengers between two seating levels. The inventor promotes these double-decker seats as offering more recline, more legroom and more privacy.
But do double-decker airplane seats have any chance of, well, flying? Let's dig into the reasons — from regulations to flyer feedback — that could keep it from happening.
Double-decker airplane seat concepts
The Chaise Longue (note the French spelling) isn't the first double-decker airplane seat concept to be introduced. Aircraft seat designers have been attempting to fit more passengers in the same space for the better part of a century. At least so far, none of these concepts have caught on.
P. D. Priebe Airplane Cabin Seating Arrangement
The oldest double-decker airplane seat we found in our research dates back to a patent filing from 1948. Inventor Paul David Priebe envisioned using the airplane fuselage to create a two-level seating arrangement. Each upper-deck passenger would face outward out a large window. Meanwhile, lower-deck passengers would face inward and have a table to work on.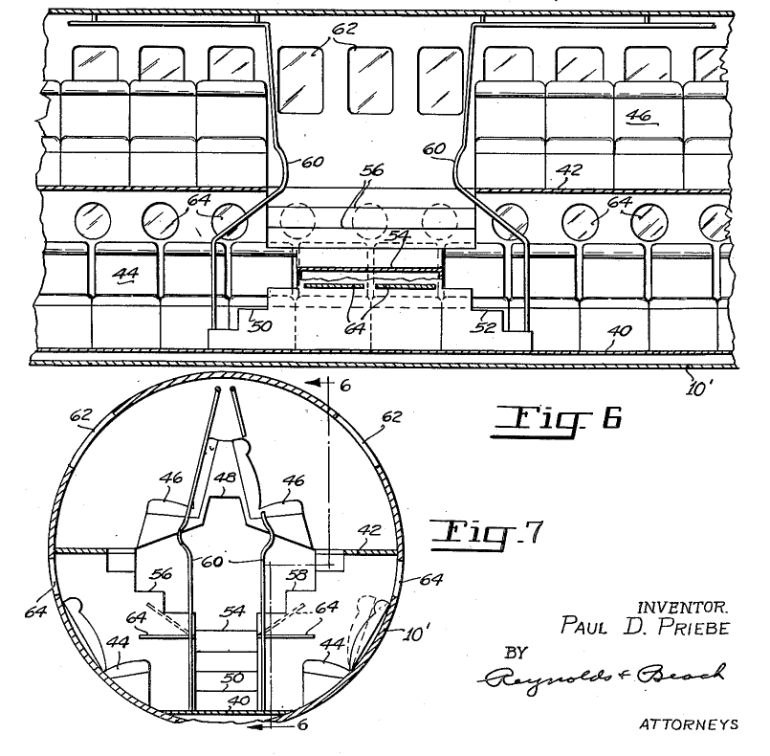 Although the patent was approved in 1952, the inventor died without it flying on aircraft. Even with the patent having lapsed over 50 years ago, we still haven't seen an airline use the now public-domain idea.
High-capacity, high-comfort split-level seating
By 1995, the idea of stacking passengers came up with some rather creative solutions. In a patent simply entitled "high-capacity, high-comfort split-level seating for transport and stationary applications," two inventors laid out a wild arrangement of elevated and lower-level seats. All passengers would be able to elevate their feet — with the upper-deck seats actually elevating the passenger's feet above the height of their head.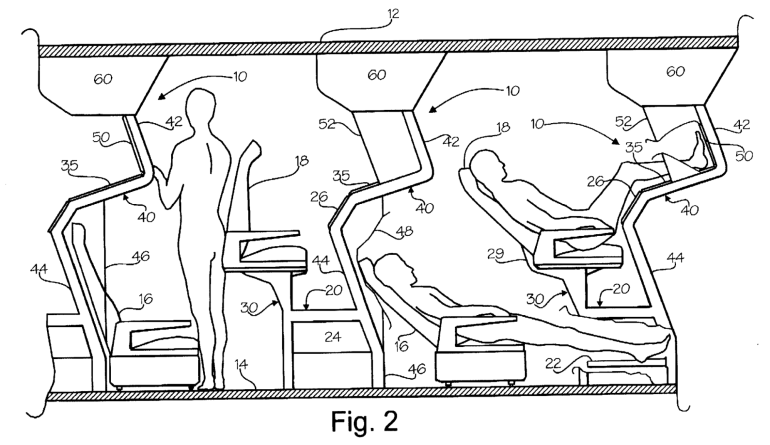 The inventors even considered how airbags (labeled 31-34 in the image below) could be used to cushion the impact in the case of an accident.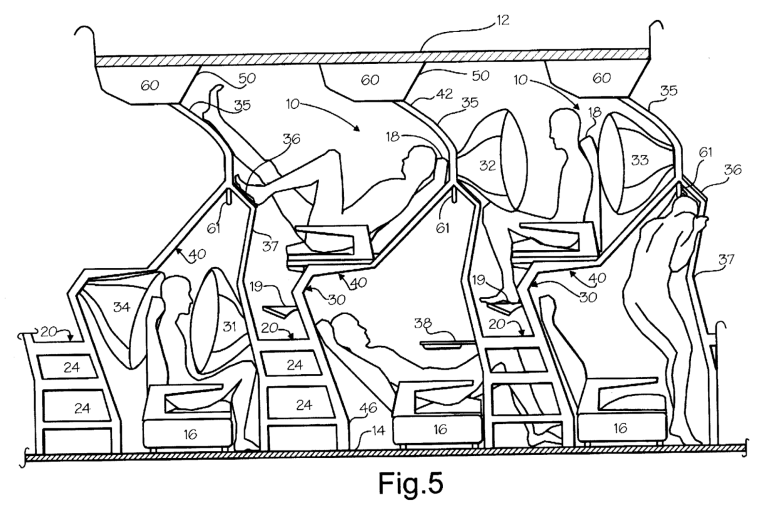 This patent was approved in 1998. Yet these inventors also died without the invention taking hold. Their patent expired with their passing, and it seems this expiration prompted a new round of inventors to build on the idea.
Airbus' stacked passenger patent
In 2015, Airbus filed a new patent laying out a new double-decker airplane seat arrangement. And the reaction from magazines was swift and ferocious.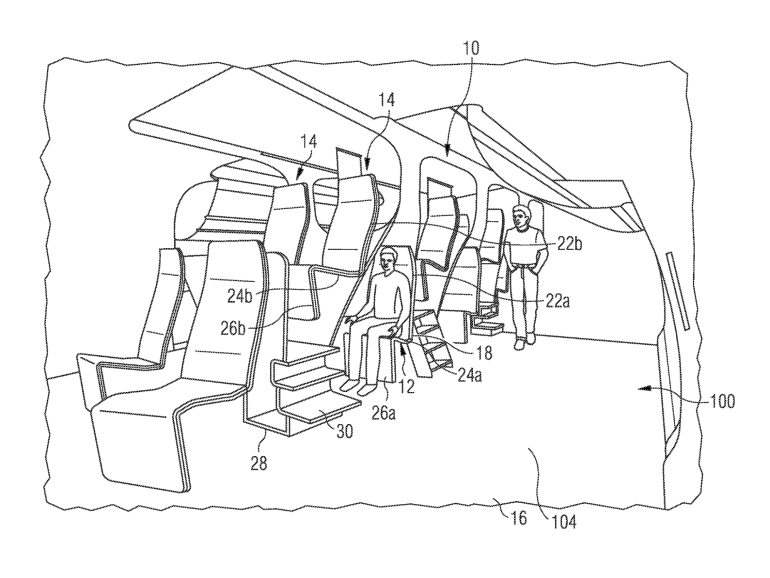 Conde Nast Traveler headlined its article "Airbus Files Patent to Stack Passengers Like Firewood." Wired magazine likened the design to "stacking passengers on top of one another — a bit like blocks in a game of Tetris." Popular Science called the layout "somewhat akin to summer camp bunk beds, only at hundreds of miles per hour and surrounded by grown-up strangers."
The blowback was so drastic that Airbus somewhat walked back the filing. In a statement to The Telegraph, an Airbus spokesperson noted that the filing just "preserves the innovation and idea" and that the idea wasn't "necessarily going to be adopted into an aircraft design."
The Chaise Longue Economy Seat
The Chaise Longue Economy Seat is the latest in the long line of double-decker airplane seat inventions to get the public's attention. The inventor Alejandro Núñez Vicente showed off the seat design at the Aircraft Interiors Expo (AIX) 2021. After making the shortlist for a prestigious Crystal Cabin Award in 2021, he returned to AIX 2022 with a full-size mockup of the double-decker seat.
On paper, the design is quite innovative. The "lower row" is designed to let passengers stretch out their legs or even elevate them on a shelf. In exchange for climbing two steps, the so-called upper row offers more personal space.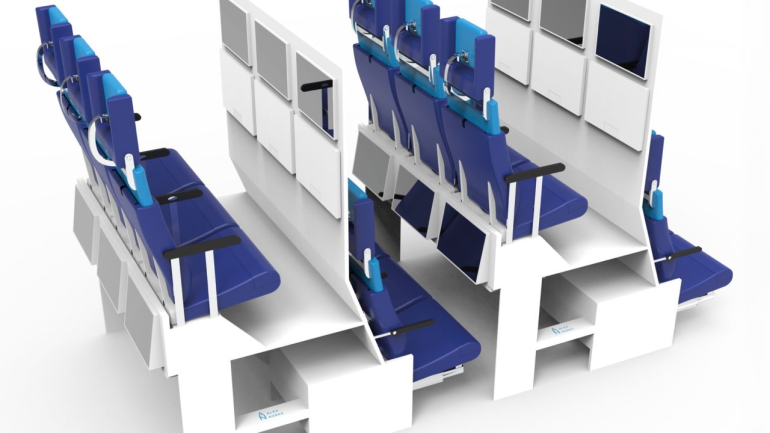 Seatbacks on both levels can recline to a 125-degree angle — which the inventor notes is 15 degrees more than other economy seats.
However, details are slim beyond this. The only official information we have about this design is from a company page on LinkedIn. The company doesn't offer a website with additional information. However, you can explore a 3D rendering of the seat design.
Henshaw layered lie-flat seat
Most double-decker airplane seat concepts focus on packing more passengers into the economy cabin. However, some inventors have designed concepts for business class as well. One of these is found in a 2011 patent filing.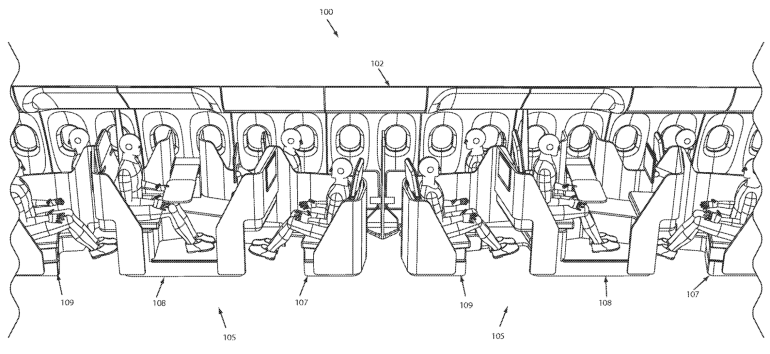 Although the seats don't look double-decker when upright, every third passenger would be seated at a slightly higher level. Then, when passengers are ready to sleep, the seats recline into a layered arrangement.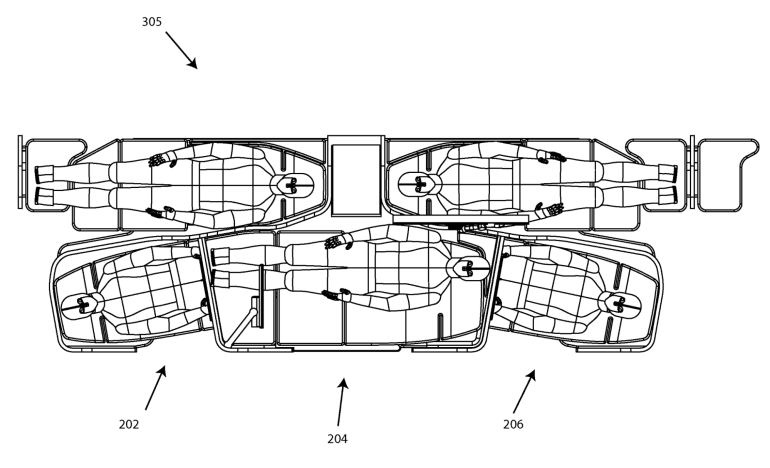 This patent is still in place, and it is potentially being worked on: Seat manufacturer B/E Aerospace purchased the patent in 2019 for an undisclosed price.
Issues with double-deck plane seats
While there's been no shortage of double-decker airplane seat concepts through the years, none of are flying through the skies. Here are a few of the reasons why.
Everyone loves a great flight deal. And packing more passengers into the same aircraft can mean cheaper flights. That's pretty much the business model of ultra-low-cost carriers like Spirit Airlines and Ryanair.
However, perhaps the biggest obstacle in the way of double-decker aircraft seats is the flying public's seeming hatred of the idea — which was on full display after Airbus' 2015 patent filing. The reaction to the Chaise Longue Economy Seat hasn't been as vigorous, but it's still spawned plenty of hot takes.
In a recent article in Slate, Dan Kois doesn't mince words in writing about the idea of double-decker aircraft seats, referring to the Chaise Longue idea as a "nightmarish vision for the future of air travel." Perhaps only half-joking, he proposes a solution to simply "knock me unconscious for the length of my flight."
Added weight means higher costs
Especially when it comes to flying, weight is directly tied to cost. Aircraft seat manufacturers do all they can to shave ounces off of seats. When it unveiled a new economy seat in 2022, Spirit Airlines boasted how the new seat reduced 11 ounces of weight per seat.
In 2018, I toured the Zodiac Aerospace factory in Texas. During the tour, executives pointed out the small design changes made to lighten Singapore Airlines' premium economy seat for the world's longest flights.
When airlines and manufacturers are worried about reducing ounces of weight, would they possibly consider installing a massive seating contraption to add just a few more seats onto the plane? We doubt it.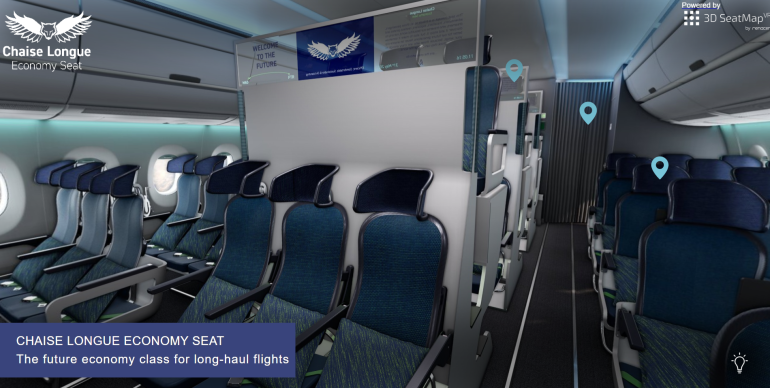 While none of us want to think about it when flying, accidents do rarely happen. As such, laws are in place to keep airline passengers as safe as possible if something does happen. One of the many aircraft seat regulations is specifically designed to protect passengers from serious head injury:
"Where head contact with seats or other structure can occur, protection must be provided so that the head impact does not exceed a Head Injury Criterion (HIC) of 1,000 units."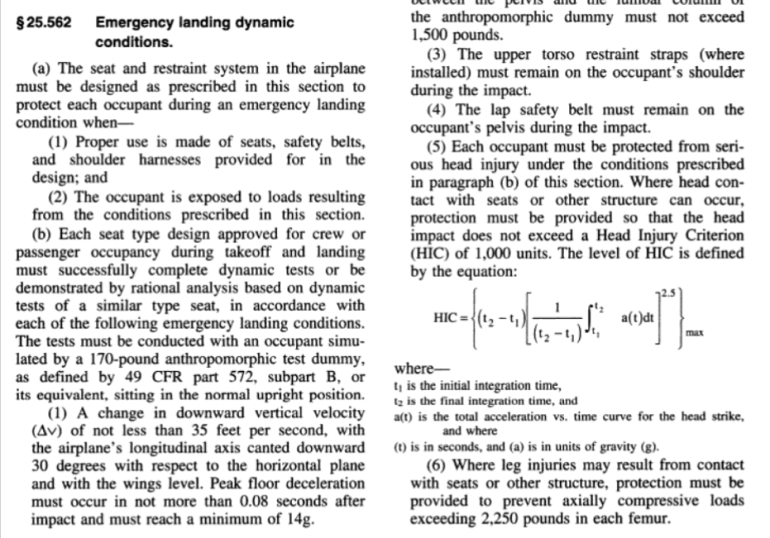 While we are certainly not experts in this field, it would seem a design that places the passenger's head mere inches from a hard structure might struggle to pass certification.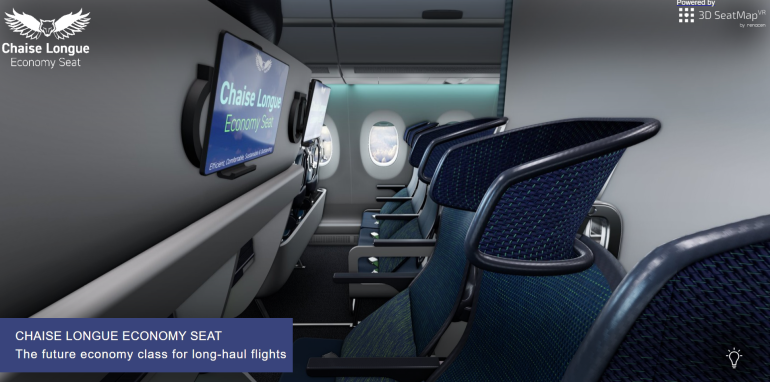 Double-decker airplane seating: We probably won't see it anytime soon
History is full of inventions that try to optimize aircraft space by stacking passengers. And yet, we are still flying in generally the same one-level mostly-forward-facing seating configuration as a century ago.
One day, perhaps airplane seat inventors will find a concept that flies — pun intended. But, if it ever does happen, it will be a long time before we see double-decker airplane seats in the skies.
---
How to maximize your rewards
Get more smart money moves – straight to your inbox
Sign up and we'll send you Nerdy articles about the money topics that matter most to you along with other ways to help you get more from your money.