5 Travel Writers 'Draft' Their Favorite Airlines
In the spirit of the popular sports-related pastime, we've created our own fantasy airline draft. See which airlines our writers picked for their teams.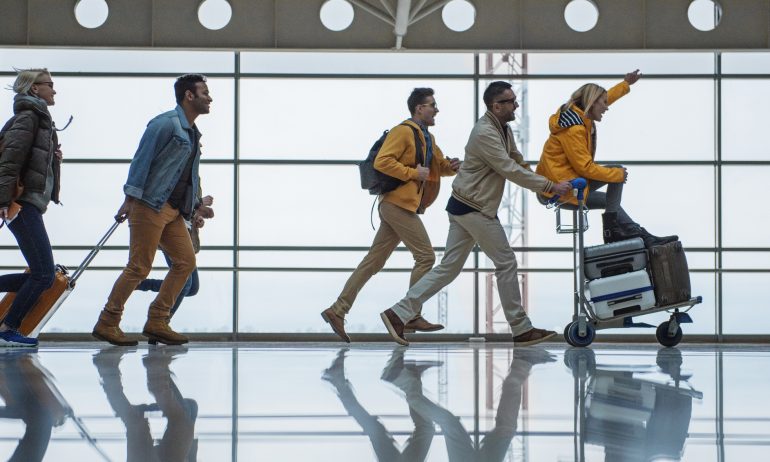 Many or all of the products featured here are from our partners who compensate us. This may influence which products we write about and where and how the product appears on a page. However, this does not influence our evaluations. Our opinions are our own. Here is a list of our partners and here's how we make money.
While your friends might have spent the last several weeks debating the merits of Lamar Jackson versus Patrick Mahomes, our travel nerds have been working on a fantasy draft of their own: airlines.
In the spirit of fantasy football season, five of our writers set out to draft the best "team" of airlines they could in our seven-round snake-style draft. Since there is no scoring system like in a traditional fantasy football league, we simply asked each writer to justify each pick.
Without further ado, let's get to the draft.
Pick 2.01: JetBlue Airways (Sam)
Pick 2.02: Air New Zealand (Meghan)
Pick 2.03: EVA Air (Sally)
EVA gets big bonus points for its Hello Kitty airplanes. Even without the good fortune of a Hello Kitty plane, you're looking at impeccably clean cabins and delicious in-flight meals, making EVA one of the best airlines, in my opinion, for commuting between the U.S. and Asia for the price. A good get in the second round.
Pick 2.04: British Airways (Elina)
Pick 2.05: Qantas Airways (Sara)
On a one-hour flight from Melbourne to Sydney, I was served a delicious meat pie and witnessed the flight attendant treating the nursing mother next to me with compassion. Sometimes, the little things are what you remember most. That and you can use AAdvantage miles to book Qantas flights — another great way to use up all those miles earned with both AAdvantage credit cards and a nice pairing with my first-round pick, American Airlines.
Pick 3.01: KLM Royal Dutch Airlines (Sara)
KLM's partnership with Delta and Air France means I have lots of options for flights to Europe, which is the key reason for this pick. Recommendation: If your itinerary has a layover in Amsterdam (common since the airport is a hub), give yourself at least a day there before heading to your next destination. There's nothing like a bike ride through Vondelpark to prepare your legs for another flight.
Pick 3.02: Air Canada (Elina)
Pick 3.03: Singapore Airlines (Sally)
Singapore Airlines is the epitome of class, no matter what class you're seated in. Even sans suite, most flights include thoughtful details such as adjustable headrests, perfectly designed stowage areas and in-seat connectivity.
Pick 3.04: All Nippon Airways, ANA (Meghan)
I couldn't build a lineup without a high-end international airline. If I had to choose one, it would be ANA, mainly because from every review I've read, you have the option to eat noodles for almost every meal. I wish the ANA flight diet translated to my real life too. Not to mention, ANA has some super cool premium cabin options in "The Room" and "The Suite," which offer tons of privacy and plenty of room for me to roll around in my sleep and not fall into the aisle.
Pick 3.05: Emirates (Sam)
This pick signaled a shift in my strategy from "airlines I think others might pick" to "airlines I enjoy flying." My introduction to the world of travel maximization came when I was upgraded to business class on a 17-hour Emirates flight from Seattle to Dubai. "How do I fly like this all the time?" I asked myself. Many years later, I find myself selecting airlines in a bizarre fantasy draft …
Pick 4.01: Cathay Pacific Airways (Sam)
Despite financial, political and operational challenges, I still predict good things for Cathay Pacific. Plus, using Alaska miles to book a first-class Cathay ticket remains near the top of my travel rewards bucket list.
Pick 4.02: Hawaiian Airlines (Meghan)
Pick 4.03: Lufthansa (Sally)
It's reliable (hello, German efficiency) and reasonably priced (I snagged a flight for my mom and me between San Francisco and Rome for less than $500). If you prefer booking with miles, there are tons of partners, including a few of my other picks like EVA Air and Singapore Airlines. Plus, with routes to dozens of European cities, it's a Europhile's must-have airline.
Pick 4.04: Air France (Elina)
Pick 4.05: TAP Air Portugal (Sara)
Since it's in the Star Alliance, transferring your Chase Ultimate Rewards® points to United may mean ending up on a TAP code-share flight. Embrace the friendly service and gorgeous view of Lisbon during takeoff and landing on your layover. Give yourself extra time to check into your flight and get through security, though. In my experience, you'll need it.
Pick 5.01: Etihad Airways (Sara)
Pick 5.02: Avianca Airlines (Elina)
Avianca is a member of Star Alliance and does not charge taxes or fuel surcharges, providing a great option for booking awards on carriers that are notorious for adding on these fees (e.g., Lufthansa). The carrier also has a favorable award chart when compared to many of its Star Alliance partners. Promo awards and transfer partners are an added bonus.
Pick 5.03: Turkish Airlines (Sally)
Pick 5.04: Japan Airlines (Meghan)
Pick 5.05: Qatar Airways (Sam)
I think everyone is sleeping on the Oneworld alliance because of American's foibles and fumbles over the last few years. But now that Alaska is joining Oneworld, partners like Qatar are suddenly more attractive. Now if only I had Alaska on my roster … (*shakes fist at Meghan*).
Pick 6.01: Fiji Airways (Sam)
It might not be very well known, and it might only fly a few routes from the U.S., but as a Oneworld member and Alaska partner, Fiji Airways offers lots of fun redemption and earning opportunities. Plus, Fiji just sounds nice.
Pick 6.02: Iberia Airlines (Meghan)
All right, now we're in budget airline territory. We're talking about small seats and limited food and drink selection. The cool thing about Iberia, though, is that it's part of the Oneworld alliance and the Avios loyalty program, so there are a lot of options for travel rewards enthusiasts.
Pick 6.03: Korean Air (Sally)
Korean Air might incite memories of the "nut rage" incident, and I'm not defending entitled behavior by any means. But it speaks to the fact that, yes, Korean Air is known for its superior service. Serve those nuts on a plate, gosh darn it! If plated nuts sound nutty to you, at least don't miss the in-flight bibimbap — it's Korean Air's signature dish.
Pick 6.04: Swiss International Air Lines (Elina)
Swiss is a member of Star Alliance, and its business class product is considered to be one of the nicer among many airlines. Swiss typically has decent award availability in economy and business, and you can use United, Avianca and Aeroplan miles to book flights on the carrier (providing plenty of opportunities to book award seats).
Pick 6.05: Alitalia (Sara)
Beset by bankruptcy but kept afloat thanks to the Italian government, Alitalia offers an in-flight experience I'd describe as adequate, if not a bit cramped. The real perk is that after several hours on a direct flight, you land in Italy — and that's worth a sixth-round pick. So at least you can make up for the blah airline food with an Aperol spritz followed by the best pasta you've ever eaten in your life.
Pick 7.01: Scandinavian Airlines, SAS (Sara)
You can book flights on Scandinavian with United miles, including those you get by transferring Chase Ultimate Rewards® points to United, so booking an inexpensive reservation on SAS is easy. Supposedly the food is lackluster at best so I'll plan ahead and bring my own, but hey, this is my last pick.
Pick 7.02: Copa Airlines (Elina)
Copa is a member of the Star Alliance, offering a lot of options for traveling globally. However, if you do have a lot of Copa miles, you can extract value out of the program in some niche scenarios. For example, Copa is partnered with Emirates, and fuel surcharges are not passed on when booking Emirates awards in business class using Copa miles. Copa also has extremely generous routing rules, permitting one stopover on one-way and two on round-trip tickets, allowing you to craft creative itineraries.
Pick 7.03: Spirit Airlines (Sally)
I'll admit, I'm having just as much of a panic attack for having chosen Spirit as you are reading this quasi-blasphemy. Spirit is kind of an insane airline. Where else can you easily find a $17 one-way flight to Las Vegas? But a "$17 flight" will often cost you significantly more than that if you want to pick your seat or pack anything beyond one personal item. Sometimes, a la carte is good; sometimes you just need a ridiculously cheap flight and don't care what it costs in terms of comfort. Ultra-budget airlines can be ideal for an already expensive bachelorette party, for example. They're great if you want to focus your budget on the trip itself rather than the journey there. I have a soft spot for services like Spirit, even if my colleagues don't. Pour one out for Frontier, which is going undrafted.
Pick 7.04: Aer Lingus (Meghan)
Again, I went for a budget airline because it's pretty affordable, with or without airline points. Like Iberia, the real draw here is the multiple redemption options for points aficionados. Aer Lingus has a partnership with Alaska Airlines (shoutout again to my first draft pick) and is also part of the Avios program.
Pick 7.05: Hainan Airlines (Sam)
The options were pretty thin for this final pick, so I decided to look somewhere new: mainland China. These carriers have a notorious reputation among frequent flyers for their unfriendly policies and poor in-flight experience, but Hainan seems to have avoided much of this disdain. Plus, it's an Alaska partner — even though Meghan stole Alaska from me, that's still a valuable benefit.
Each writer constructed a pretty well-formed team with its own unique strengths:
What do you think about our writer's picks? Let us know in the comments, and leave your thoughts on what your first-round picks would look like.