Flight Review: Cathay Pacific First Class, L.A. to Hong Kong
Many or all of the products featured here are from our partners who compensate us. This influences which products we write about and where and how the product appears on a page. However, this does not influence our evaluations. Our opinions are our own. Here is a list of our partners and here's how we make money.
Note: Cathay Pacific is not currently offering its first class product on any routes. We will continue to monitor and update when that changes.
---
The mere thought of a 15-hour flight across the Pacific is enough to make a lot of people want to stay home, and for good reason. Airplane seats aren't getting any bigger, and spending most of a full day inside a pressurized aluminum tube with scores of strangers (and their germs) requires patience even under the best of circumstances.
But ... what if you didn't have to be crammed into economy class like a sardine? In fact, what if the flight involved caviar? And a comfortable bed? And a multicourse, white-tablecloth meal service you could enjoy in privacy at a table with your companion?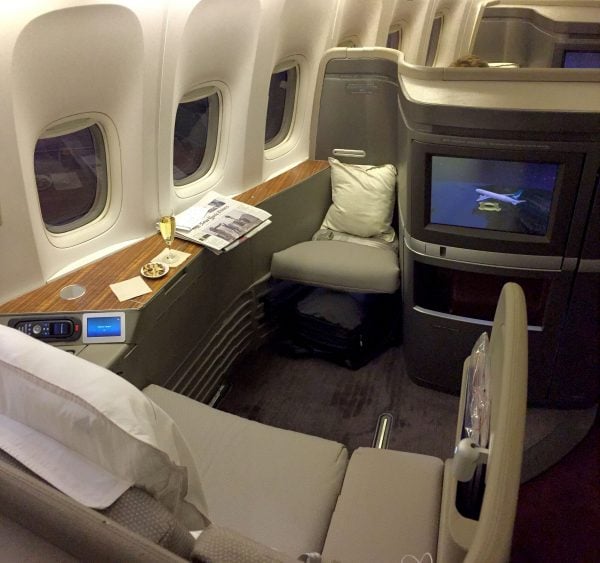 All that and more are on offer in Cathay Pacific's 777-300ER first-class cabin, which I booked on a recent one-way flight from Los Angeles to Hong Kong using 70,000 Alaska Mileage Plan miles. Retail cost of the one-way flight for most dates is just shy of $10,000, for an eye-popping redemption value of around 14 cents per point. As a bonus, you get a free stopover on one-way awards and can continue to the Middle East for no extra cost — so I tacked on a free business-class flight to Dubai after spending several days in Hong Kong.
If you're flying Cathay Pacific first class out of Los Angeles International Airport, you're entitled to access the first-class lounge of their Oneworld partner Qantas.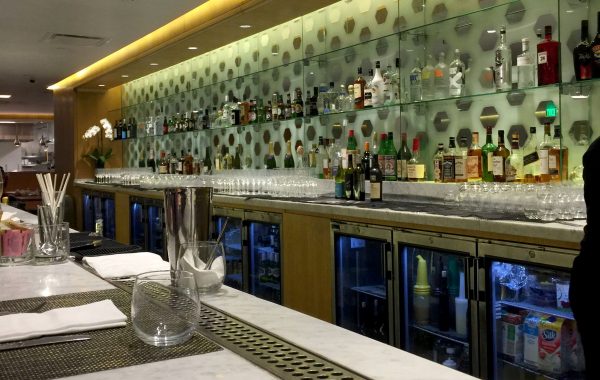 That in itself is a treat, as the lounge has a separate à la carte restaurant menu plus private shower rooms — nice if you happened to spend the day wandering around L.A., as I had.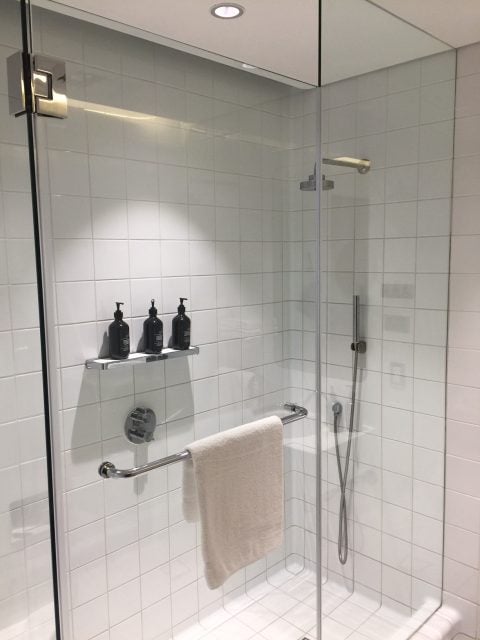 Once you're in the lounge, all food and drinks are free, and at this time of night a full dinner menu was available. (The appetizer of fried salt-and-pepper squid, served with green chili dipping sauce and aioli, was so good I ordered it twice.) From the lounge, they announced boarding of my flight about 40 minutes before its scheduled departure time.
As I walked up to the gate, they had just begun boarding first and business class — talk about good timing! I felt a bit guilty walking directly onto the plane past the 200 or so people queued up in line to board for economy, especially as someone who far more frequently flies as "one of the 200."
At the end of the jetway stood a selection of English and Chinese-language newspapers. I grabbed a New York Times and a Los Angeles Times and was escorted to my seat, 2A, by the flight attendant who greeted me at the plane door.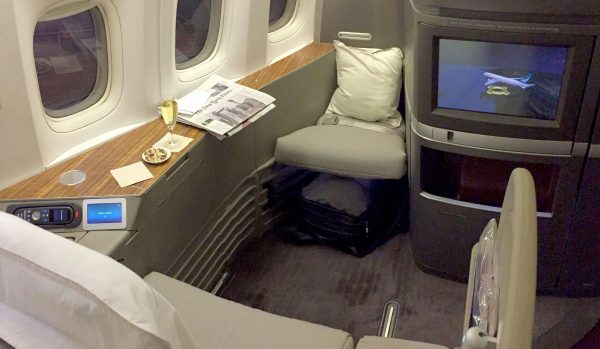 Cathay Pacific's first class is a 1-1-1 setup, with all six seats having direct aisle access. The window seats on the left have an aisle all to themselves — meaning that, if you're in 2A, no other passengers walk by you for the entire flight. It's about as private a seat as you can have without it being fully enclosed. To put the real estate in perspective, the first-class cabin of six seats takes up roughly the same amount of space as 40 seats in economy.
The seating area includes a space to the side for snacks and drinks, along with an enormous "main" seat that feels more like a doublewide throne compared to what you'd generally get in economy, and a separate seat across from the main seat where a companion could join you. (This becomes part of the fully-flat bed setup when it's time to go to sleep.) It almost feels like your own little room. There's a stowage area for your dining table, which your flight attendant sets up for you when you decide to eat.
A pair of Bose noise-canceling headphones and a bottle of water were waiting for me when I arrived at my seat, and as I settled in, all three crew members who would be working the first-class cabin introduced themselves. I was offered a glass of champagne, some peanuts and a warm hand towel as the boarding process continued.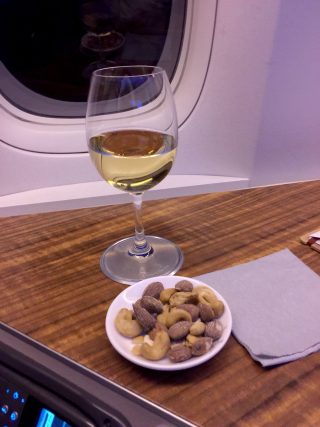 Also included at my seat was an amenity kit and a set of 100% cotton pajamas, both standard for Cathay Pacific first class. (Yes, you get to keep the pajamas — and they're so comfy I wear them all the time at home now.) The amenity kits included a dental kit with mouthwash; an eye mask; earplugs; and various Aesop revitalizing creams, among other things.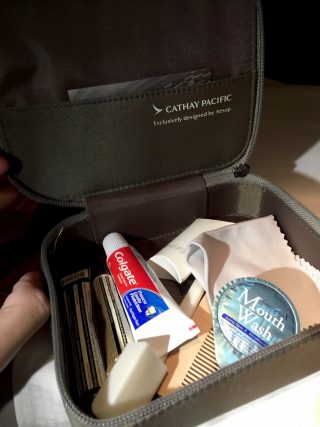 In an efficient 30 minutes or so after boarding, we were ready for pushback right on time at 10:50 p.m., as the captain announced the relatively quick flying time of 14 hours, 40 minutes. I could stow my large bag underneath the "companion" seat in front of me, which was convenient.
We waited at the gate for the better part of an hour due to air-traffic control, during which time drink refills were offered, and we finally pushed back around 11:30 or so. I was pretty tired at this point, so before we took off, the flight attendants offered to "half-make" my bed for me, adding the mattress pad and pillows, so that I could go directly to sleep as soon as we reached our cruising altitude. They also took my main meal order ahead of time, so they'd be sure to have whatever I wanted when I woke up.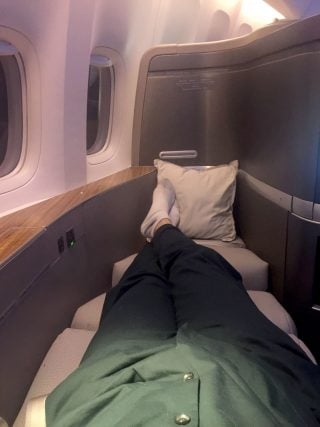 I slept about 8 hours all told, despite the fact that we had some pretty heavy turbulence early in the flight that tossed me around like a rag doll. The cabin started out pretty warm but cooled off as the flight wore on.
I've flown maybe a dozen lie-flat seats, and I've found Cathay's to be the most comfortable for sleeping, by a pretty hefty margin. Not only is the bed plenty wide, with ample foot space, but the mattress pad and duvet are plush, with enough padding around the head that you don't have to encounter cold plastic in the night. It's the closest thing I've encountered to a real bed in the sky.
One nice thing about Cathay Pacific's service, and where it differs from some other airlines, is that they're "hands off" in the sense that they won't bother you unless you summon them — but when you do summon them, via the call button on the remote, they're invariably there in an instant. After I woke up, I asked the flight attendants if I could begin my meal service, which first meant selecting a drink from the drink menu: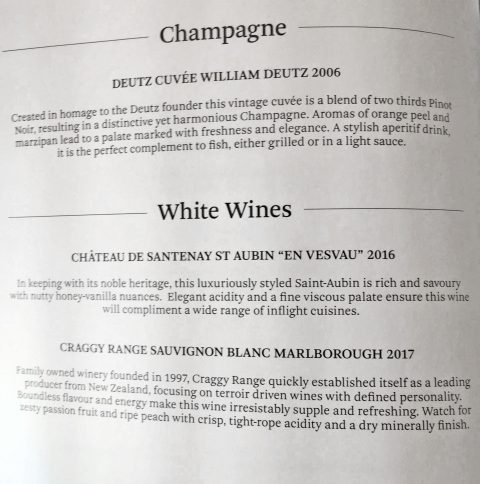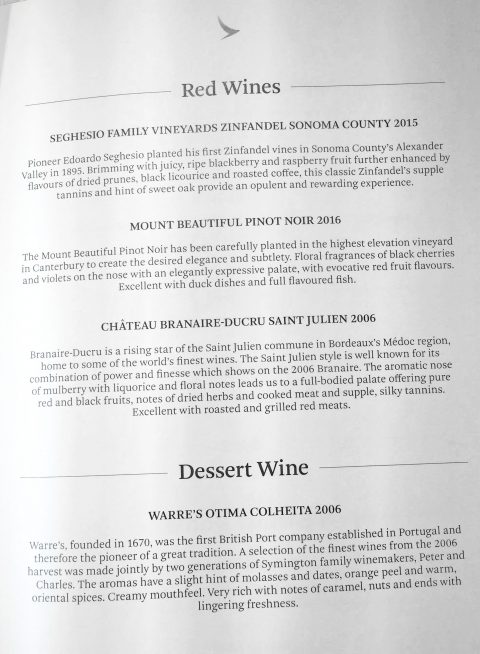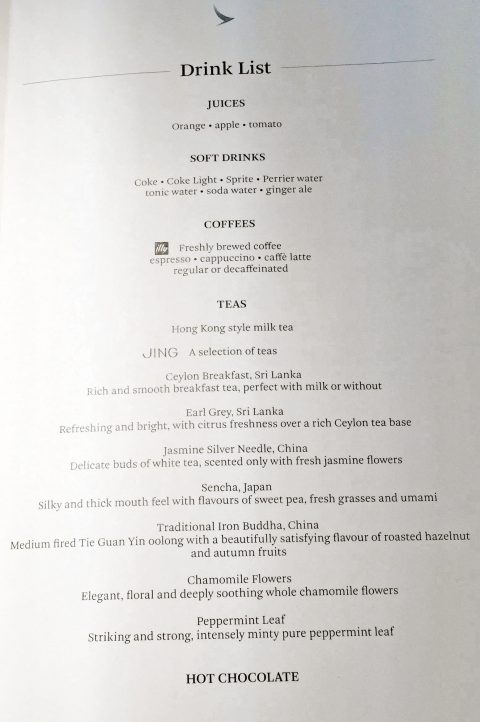 Having had my fill of champagne prior to takeoff, I opted to wake myself up with a cup of Hong Kong-style milk tea, which they serve with its own little pot. Cute!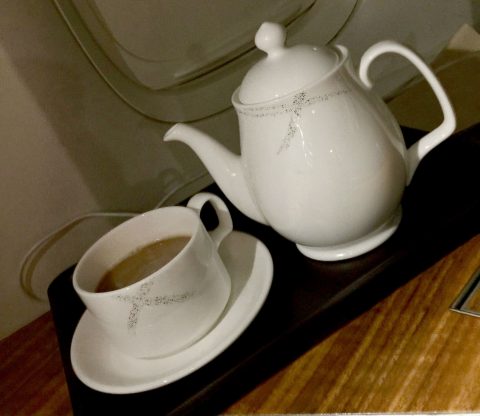 Cathay Pacific's first-class seats are set up such that, if you're traveling with a companion, that person can sit across from you in your seating area and you can enjoy a meal together, or generally spend as much time with each other as you'd like otherwise. (Note that your partner in economy can't come up to first class to eat with you; you both must be first-class passengers.) Both times I've flown this product I've been solo, so I haven't yet been able to take advantage of that, alas.
After my flight attendant set my table, the meal began with a bread basket, served with the following welcome note. Not many airlines do this kind of a handwritten note — it's a small personal touch that really adds a lot to the experience. (In addition to the note, I was addressed throughout the flight by name.)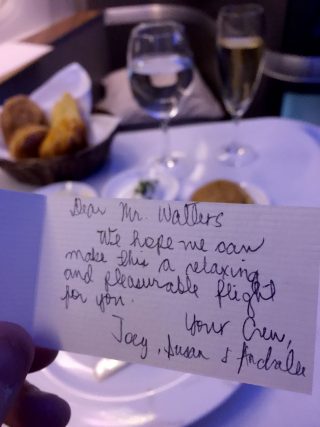 After that came the caviar service, complete with a little mother-of-pearl spoon. I'm not a caviar person as such, but the two times in my life I've had it — both on first-class flights — I've enjoyed it.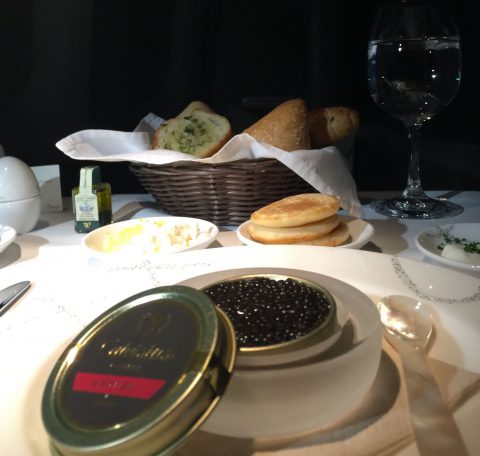 Here was the dinner menu on offer for my flight: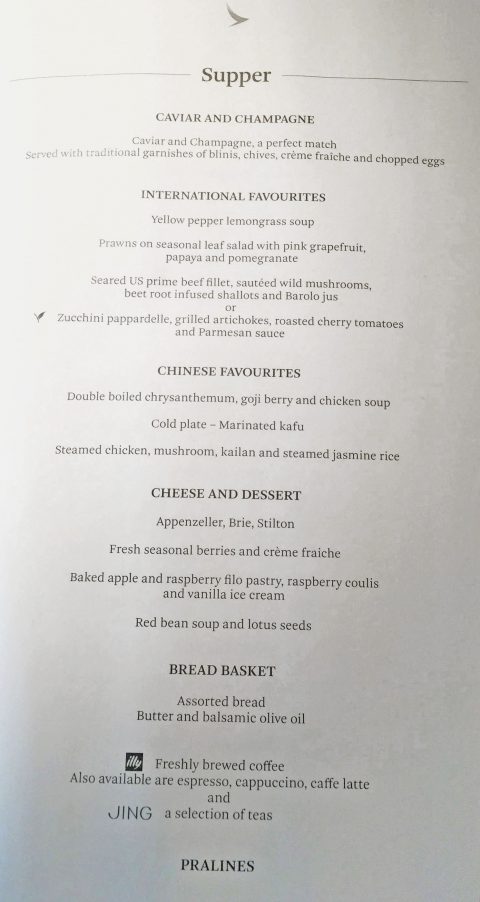 I had the prawn salad, beef filet (ordered and served medium rare) and the apple-raspberry pastry, all of which were on par with what I've experienced in good restaurants.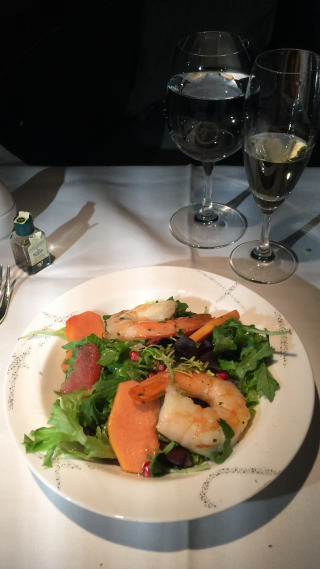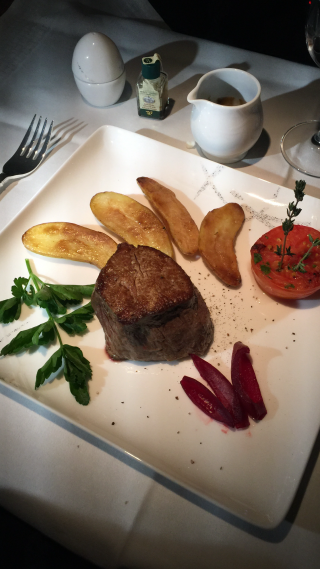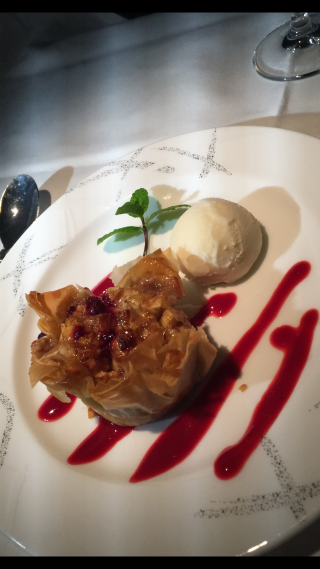 And they end your meal with a little box of two chocolates.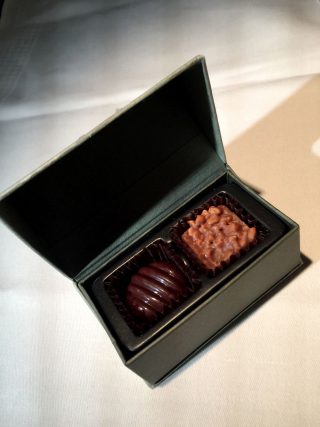 After the meal, I checked out the entertainment options. There was a wide variety of English-language choices, although no live TV, which is where I generally tend to gravitate on longer flights.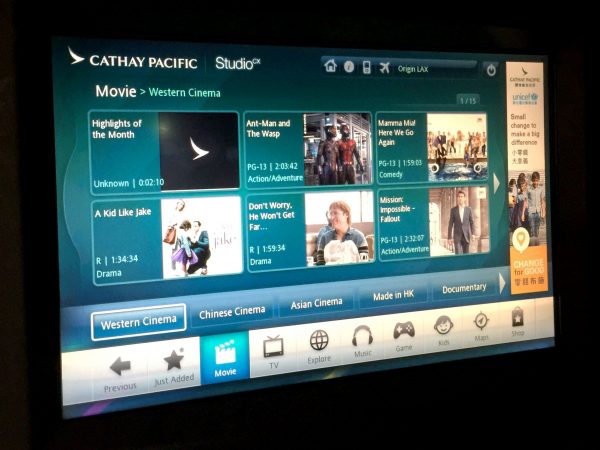 Seeing little of interest in the entertainment selection, I got to work on the hours' worth of Netflix shows I'd downloaded, while enjoying a burger and some ice cream midflight from the snack menu.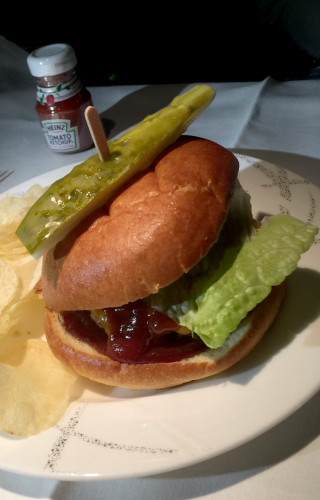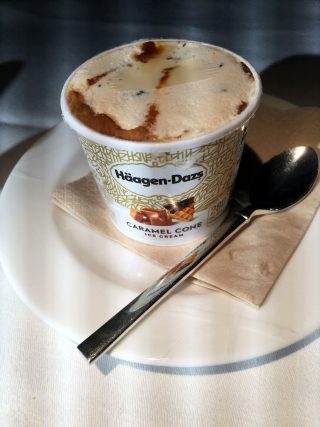 You might imagine by this point I'd have good reason to check out the lavatories. There are two restrooms for six first-class passengers, so needless to say, there was never a wait.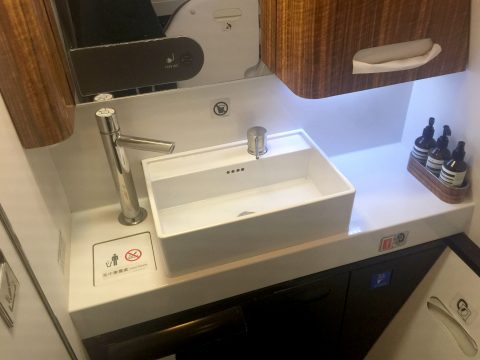 The larger of the two restrooms was plenty spacious enough to change out of my Cathay pajamas and back into street clothes; the other was sized similarly to what you'd find in economy. Each restroom was stocked with Aesop lotions and extra dental kits.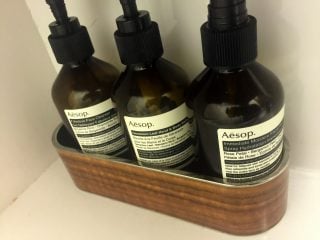 And — this is the sort of small detail that makes such a difference — every time you walk in, it's clear the restroom has been "refreshed" by a flight attendant, because the toilet paper is folded into a triangle, and everything's spic-and-span. Such a nice touch.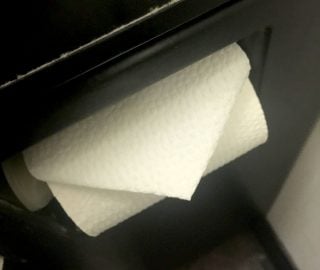 At this point I was pretty stuffed, but with a couple of hours left to go before we landed in Hong Kong, I ordered breakfast anyway — for the purposes of a full review, of course!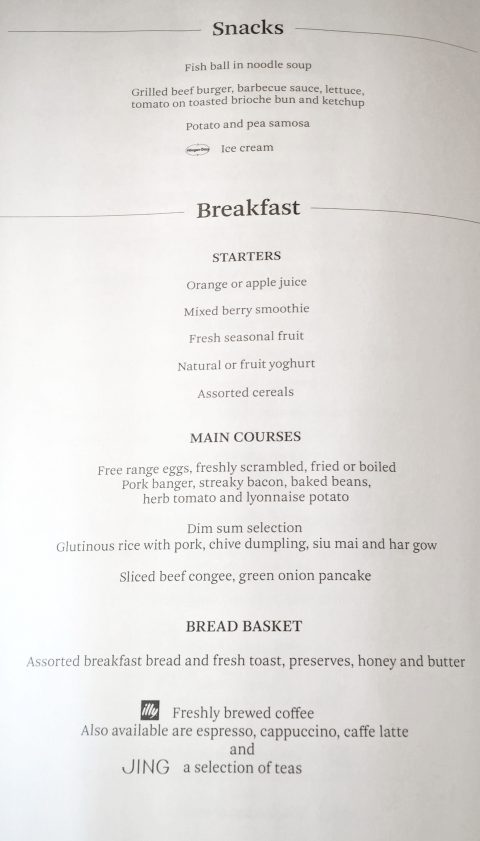 The breakfast on the whole wasn't as memorable as the dinner, although the bread basket was particularly impressive; it consisted of a flaky croissant, an apple strudel, and a bagel with cream cheese, along with honey and 2 different kinds of preserves. The scrambled eggs, bacon and fruit smoothie were nicely prepared, and the sausage was especially flavorful.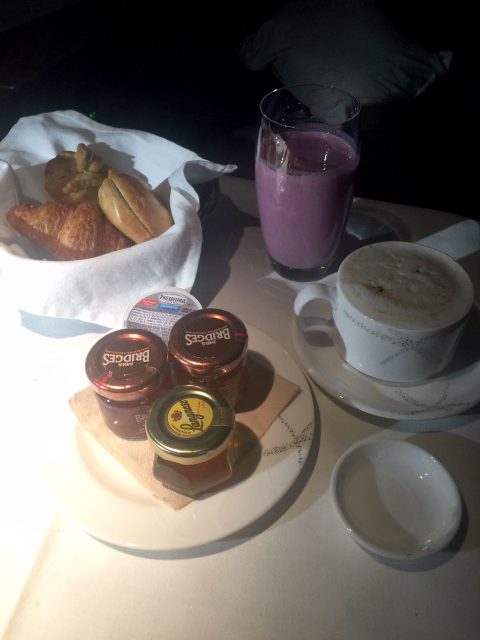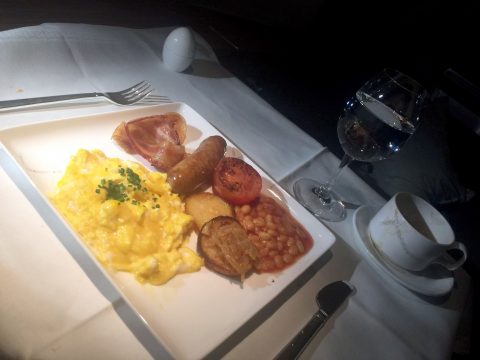 Given the time of the flight and the northerly latitudes, the entire flight had taken place in the dark, but as we began our approach into Hong Kong we were greeted with a nice sunrise: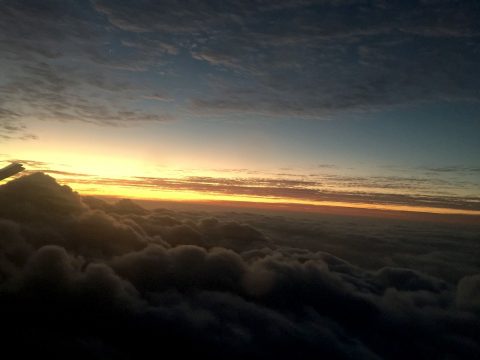 Despite how late we'd left L.A., we touched down in Hong Kong a bit early and were at the gate 10 minutes later.
I had flown Cathay Pacific first class once before, in 2016, and noticed a few changes since then: The airline formerly offered a traditional amuse-bouche before takeoff, along with a flower at your seat, but did neither on this flight. Also, the airline used to consistently offer top-shelf Krug champagne in first class, but the champagne on offer for this flight wasn't quite as much to my liking. Lack of Wi-Fi availability on such a long flight stood out as well. (All first-world problems, to be sure.)
However, all of that said, the one thing for which Cathay Pacific has always been known — its service — was very much on display. In contrast to the feeling you often get on U.S.-based carriers, it truly seems like Cathay's flight attendants are committed to delivering a memorable experience. As a result, a 15-hour flight is transformed from an "Are we there yet?" slog into one that has you saying, at the end: "Man, I can't believe we're here already."
Particularly if using points, there's no other way I'd rather fly across the Pacific.
---
---
How to maximize your rewards
Get more smart money moves – straight to your inbox
Sign up and we'll send you Nerdy articles about the money topics that matter most to you along with other ways to help you get more from your money.