'Fly Alaska, Ski Free': How to Maximize This Promotion
Do one better than cheap lift tickets: Ski for free by showing an Alaska boarding pass at participating resorts.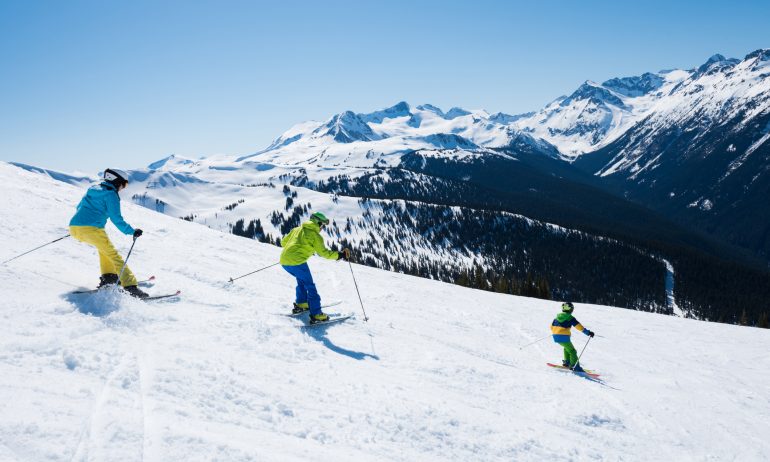 Many or all of the products featured here are from our partners who compensate us. This may influence which products we write about and where and how the product appears on a page. However, this does not influence our evaluations. Our opinions are our own. Here is a list of our partners and here's how we make money.
Once again this year, Alaska is partnering with ski resorts to allow its flyers to "Fly Alaska, Ski Free." You can ski for free at qualifying resorts just by showing an Alaska boarding pass. Some participating resorts offer a free day of skiing on arrival, while others let you ski for free only on the day you're flying out.
If you really want to maximize your savings, use miles to fly in and points to pay for accommodations. Here's how to maximize this promotion.
For the 2020-2021 ski season, Alaska Airlines is partnering with eight resorts where you can ski for free with your boarding pass:
Of the participating resorts, two are in Canada (the RED Mountain Resort and Ski Marmot Basin). The U.S.-Canada border is currently closed to nonessential travel, so here's a closer look at the six resorts U.S.-based travelers can enjoy with this program.
The Alyeska Resort is about an hour outside of Anchorage.
From Jan. 4 to April 17, 2021, visitors can ski free on their day of arrival by showing their Alaska Airlines boarding pass. This offer is good only on weekdays.
Anchorage is one of Alaska Airlines' hubs, meaning there are plenty of Alaska Airlines routes with direct service to Anchorage. However, most of these routes are intra-Alaska. There are just three airports in the "lower 48" with direct service to Anchorage: Los Angeles, Portland and Seattle. That means most travelers will need to fly out of — or through — one of these airports to get to Anchorage on Alaska Airlines.
The number of Alaska Mileage Plan miles you need for a flight into Anchorage depends on the route and the date, but is often around 10,000 to 12,500 miles each way. The route from Seattle to Anchorage is the cheapest at a consistent 10,000 miles each way.
If you want to stay close to the Alyeska resort, book a stay at the Alyeska Resort & Hotel. Nights range from $157 to $249 during ski season — very reasonable prices considering it's the primary base hotel.
cardholders using points to book through the Chase Ultimate Rewards® travel portal will find nights start around 10,470 points.
If you don't mind driving to and from the resort, you'll find plenty of hotels available for points in Anchorage.
Bogus Basin is located just 16 miles from downtown Boise, Idaho.
Through the Fly Alaska, Ski Free promotion, skiers can show their Alaska Airlines boarding pass to ski for free on their day of arrival.
Alaska currently offers flights to Boise from:
Cash fares on Alaska Airlines currently start at just $49 each way.
You can find flights into Boise for just 5,000 Alaska miles each way during peak ski season.
Alternatively, cardholders can redeem Chase Ultimate Rewards® points for the same Alaska Airlines flight for as little as 3,206 points each way.
Since Bogus Basin is so close to Boise, you can use your points to stay right in town. Here are some solid points options:
Just a 20-minute drive from downtown Juneau, Alaska, the Eaglecrest Ski Area offers adult lift tickets for an affordable $59 per day. But with the Fly Alaska, Ski Free promotion, you can get a free lift ticket the same day that you arrive at Juneau on an Alaska flight.
Most of Alaska Airlines' routes to Juneau are intra-Alaska flights. Travelers who aren't based in Alaska will need to connect through Anchorage or Seattle to get to Juneau.
Alaska-based travelers have plenty of award options costing just 5,000 miles each way.
For those in other states, nonstop award flights from Seattle range from 7,500 to 10,000 miles, with other one-stop options costing just 10,000 or 12,500 miles each way.
Most of the hotels in Juneau aren't affiliated with major brands, so you may want to use flexible currency points — like Chase Ultimate Rewards® or American Express Membership Rewards — to book a local hotel.
The main points hotel option in downtown Juneau is the Four Points by Sheraton. As a Category 6 Marriott hotel, stays here range from 40,000 to 60,000 points per night. That's a steep award rate for a hotel that can cost just $179 per night including taxes and fees.
Back in 2013, Business Insider dubbed Red Lodge, Montana, the "Coolest Ski Town You've Never Heard Of," and it's continued to live up to that name. Located just over an hour outside of Billings, it's accessible via Alaska Airlines and a short drive.
Unlike most other resorts in this Alaska Airlines promotion, Red Lodge offers Alaska flyers free skiing on the day of departure. So, you'll want to fly out of Billings as late as possible.
Although Alaska operates just two routes from Billings — Portland and Seattle — there are 82 one-stop routes from Billings.
An award flight into Billings usually costs between 5,000 and 12,500 miles each way.
There's just one hotel here that's part of a major loyalty program: the Quality Inn Red Lodge. A night costs 12,000 to 20,000 Choice Privileges points this winter.
Alternatively, there are plenty of independent hotels in Red Lodge for around $100 per night.
Just across the Washington-Idaho border from Spokane, Schweitzer Mountain Resort boasts the "best skiing in Idaho" and views of three states plus Canada. Alaska flyers can ski free on their day of arrival by showing an Alaska Airlines boarding pass.
You can fly Alaska Airlines nonstop into Spokane from Boise, Los Angeles, Portland, San Diego, San Francisco, San Jose or Seattle-Tacoma.
Depending on your departure location, Alaska Mileage Plan award flights into Spokane generally are priced 7,500 to 12,500 miles each way. Nonstop award flights from Los Angeles are available on many dates for just 7,500 miles.
There are just two hotels in Sandpoint, Idaho, bookable with brand name hotel points, and both are Wyndham properties.
Whitefish Mountain Resort is located just a 30-minute drive north of Kalispell airport in northwest Montana. Alaska Airlines flyers can get a free ski pass on your day of departure through the Fly Alaska, Ski Free promotion.
Alaska flies into Kalispell nonstop only from Seattle. However, Alaska operates over 80 one-stop routes into the airport via Seattle.
Nonstop awards from Seattle to Kalispell generally cost 10,000 miles each way.
One-stop flights can be found as cheap as 7,500 miles each way from some West Coast cities. Award rates generally range from 7,500 to 12,500 miles from most cities.
There are only a couple of major brand hotels in Whitefish itself, but none close to the base. Consider staying in Kalispell and driving to and from the resort. Here are some options.
Skiing can be an expensive pastime, but you can drastically reduce your out-of-pocket cost by flying Alaska Airlines to a participating Fly Alaska, Ski Free resort using miles and then redeeming points for your stay.
Timing your arrival and departure is key to maximizing this promotion.
You want a travel credit card that prioritizes what's important to you. Here are our picks for the , including those best for: