Global Entry vs. Nexus: Which Is Better?
Unless you only plan to travel between the U.S. and Canada, you may as well go with Global Entry.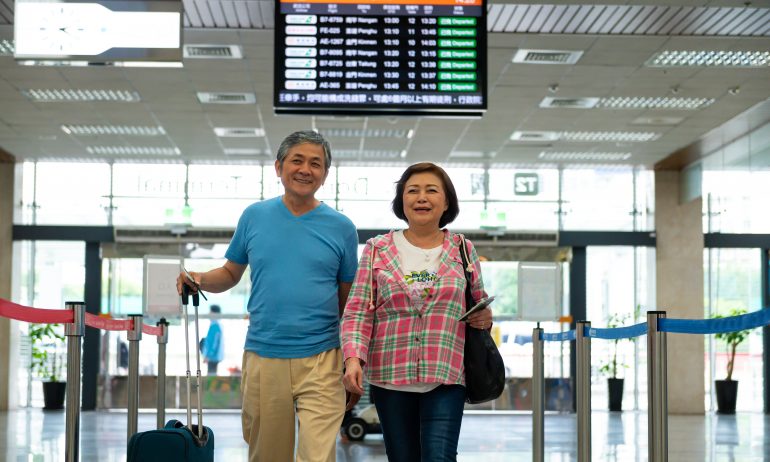 Many or all of the products featured here are from our partners who compensate us. This influences which products we write about and where and how the product appears on a page. However, this does not influence our evaluations. Our opinions are our own. Here is a list of our partners and here's how we make money.
After a red-eye flight or a long car ride, it's not ideal to be stuck in a long line at customs or the border. A trusted traveler program like Global Entry or Nexus can get you where you're going faster.
Are Global Entry and Nexus the same? No — but they are similar. When comparing Nexus with Global Entry, you'll find that Nexus is likely better for frequent travelers to Canada. At the same time, Global Entry benefits Americans who regularly travel to countries other than Canada. Here's a look at Global Entry versus Nexus.
Global Entry vs. Nexus at a glance
This chart shows the difference between Nexus and Global Entry.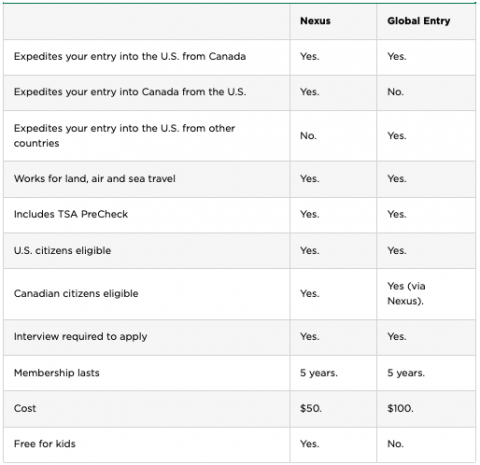 | | | |
| --- | --- | --- |
| Expedites your entry into the U.S. from Canada | | |
| Expedites your entry into Canada from the U.S. | | |
| Expedites your entry into the U.S. from other countries | | |
| Works for land, air and sea travel | | |
| | | |
| | | |
| Canadian citizens eligible | | |
| Interview required to apply | | |
| | | |
| | | |
| | | |
*All current Nexus members are eligible to use Global Entry kiosks once they provide fingerprints and document information to U.S. Customs and Border Patrol.
Typically, anytime you return to the United States from another country, you have to go through a process with CBP that includes passport checks and potentially an interview with a live agent — sometimes after standing in line for half an hour or more.
Global Entry, a program run by CBP, allows pre-approved passengers who are deemed a low risk to skip this process when they return to the U.S. by instead using an automated kiosk at more than 75 airports. At these entry kiosks, you'll swipe your passport, scan your fingerprints and fill out a customs declaration form — then you're done.
CBP also has Global Entry kiosks at more than a dozen international airports, allowing members returning to the U.S. to go through the required customs and immigration processes before getting on their U.S.-bound planes. Then, when they land in the U.S., they're treated as domestic travelers, bypassing the customs and immigration hassles.
Citizens from the United States and 11 other countries and Mexican nationals are eligible for Global Entry membership. To become a Global Entry member, you must fill out an application, pass an extensive background check and get interviewed in person by a CBP officer. The fee is $100 and the membership must be renewed every five years.
Airports with Global Entry kiosks
Some Global Entry-eligible U.S. airports include:
Major U.S. airports with Global Entry kiosks
If you're heading to the U.S., you may be able to use a Global Entry kiosk before you even board your flight. CBP operates these kiosks at select airports, including:
Major international airports with Global Entry kiosks
See this link for a complete list of airports with Global Entry kiosks.
How to apply for Global Entry
Ensure you're eligible by checking CBP's criteria before paying the nonrefundable $100 application fee. Some reasons you might not qualify:
You've been convicted of a crime.

You've been charged with a crime.

You're being criminally investigated.

You've been denied the purchase of a firearm.
CBP officials will then review your application; assuming you clear that hurdle, you'll be notified to schedule an in-person interview at a Global Entry Enrollment Center. Find the center nearest to you at this link.
Suppose you're flying into the U.S. from abroad after your application is approved, but your interview has not been completed. In that case, you can finalize this last step at an Enrollment on Arrival location at certain airports. The CBP recommends using an Enrollment on Arrival location for anyone traveling into the U.S. in the next six months.
No matter where you do your interview, bring your valid passport and one other form of official ID. In addition, bring your machine-readable permanent resident card if you're a lawful permanent resident. During your interview, you'll answer questions from a CBP officer, get photographed and supply biometric information like fingerprints.
Be prepared to supply other information or documents that could include:
Proof of citizenship or proof that you're allowed to enter the United States.

Proof of your current address.

Address history for the past five years.

Employment history for the past five years.

International travel information for the past five years.

Court documents if you've ever been convicted of a crime other than a traffic violation.

Vehicle information if you plan on driving into the U.S. from Mexico.
What happens after you apply for Global Entry?
Once you fill out your application, it can take 90 days or more to get final approval. You'll be issued a Global Entry Card with your nine-digit CBP PASSID number if you're approved. You can also find this number anytime by logging in to your Trusted Traveler account.
You'll enter this number in the Known Traveler number field when you book plane tickets. For example, here is American Airlines' booking page showing the field where you enter your PASSID number.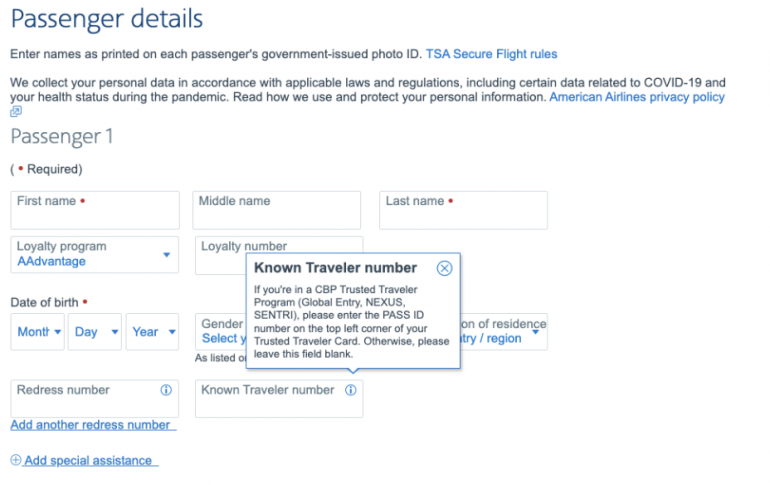 Depending on where you're traveling from, your boarding pass should include the TSA PreCheck logo that gets you through the expedited security screening at the airport. You can't just show your Global Entry Card at airport security to access the TSA PreCheck lane — if the logo doesn't print on your boarding pass, you'll have to go through the regular TSA screening lane.
Nexus is a joint program of the U.S. and Canadian governments, making it easier for low-risk travelers to pass back and forth across the border. Citizens of the U.S. and Canada are eligible to apply.
Your Nexus membership can help you bypass hassles at the border, whether traveling by plane, car, boat or even on foot.
Nexus by air, land and sea
Members can use Nexus kiosks to enjoy expedited Entry into Canada when arriving at any of nine airports:
Halifax Stanfield International.

Montréal Pierre Elliott Trudeau International.

Ottawa Macdonald-Cartier International.

Toronto Pearson International.

Billy Bishop Toronto City.

Winnipeg James Armstrong Richardson International.
When flying to the United States through a Canadian preclearance airport, Nexus members enjoy the same expedited entry privileges as U.S.-based Global Entry members returning from any airport with a Global Entry kiosk.
When traveling by car, Nexus members can use one of the designated Nexus lanes at any of 21 U.S.-Canada border crossings, which are listed here (make sure to note the applicable hours and any closures). No matter which direction you're traveling, you'll present your Nexus card for electronic scanning and then proceed to visual inspection.
Everyone in your car, regardless of age, must be a Nexus member to take advantage of the Nexus lanes. You can lose your Nexus membership if you try to use the Nexus lanes with non-Nexus passengers.
If you're traveling by boat to Canada, you have to call the Nexus Reporting Centre at 866-996-3987 at least 30 minutes, but not more than four hours, before entering. If you're traveling to the U.S., you'll need to call the CBP marine reporting number for your arrival area.
Check this CBP website to find out which number to call. For more information on Nexus for sea travel, visit the Nexus Marine website. Like driving across the border, all individuals on board must be Nexus members to use this service.
American citizens can apply for Nexus through the U.S. government's Trusted Traveler Programs website. You'll create a Trusted Traveler Programs account, fill out an application, and then get interviewed in person once you pass the vetting process.
Canadian citizens and residents can apply through the Canada Border Services Agency website. It's similar to the process U.S. citizens undergo, including the online application and the required in-person interview.
What happens after you apply for Nexus?
It can take six months or more for U.S. and Canadian authorities to approve your Nexus application.
If you're approved, you'll get a Nexus card that you must activate online. Then, when booking a flight, you'll enter your nine-digit PASSID displayed on your card, which should automatically qualify you to receive the TSA PreCheck logo on your boarding pass when traveling from U.S. airports offering TSA PreCheck.
Which is better: Global Entry or Nexus?
When comparing Nexus versus Global Entry, the winner depends entirely on your travel habits. If you travel between Canada and the U.S. often, Nexus is better because it can help you in both directions. However, if you travel to many different countries (whether they include Canada or not), Global Entry is better because it speeds your entry back into the U.S.
---
How to maximize your rewards
Get more smart money moves – straight to your inbox
Sign up and we'll send you Nerdy articles about the money topics that matter most to you along with other ways to help you get more from your money.