Growing Loyalty Programs Mean More Travelers Competing for Perks
If you thought it's been harder to get upgrades or lounges have been more crowded lately, you're not alone.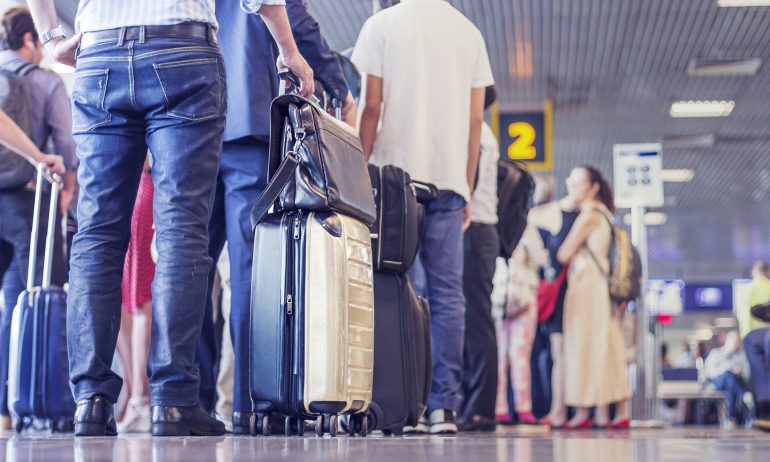 Many or all of the products featured here are from our partners who compensate us. This influences which products we write about and where and how the product appears on a page. However, this does not influence our evaluations. Our opinions are our own. Here is a list of our partners and here's how we make money.
Loyalty programs are everywhere, from coffee shops and local businesses to the major airline frequent flyer and hotel programs. In all, 89% of U.S. consumers were enrolled in at least one loyalty program as of 2020, according to a 2022 study.
And travel rewards programs are growing especially fast. Earlier this year, American Airlines reported first-quarter enrollments in its AAdvantage frequent flyer program were up 60% compared to pre-pandemic 2019. United Airlines said sign-ups for its co-branded credit cards were up 30% year-over-year. And Hilton reported membership in its Hilton Honors program grew at a 60% clip compared to last year.
What's behind the explosion? One reason could certainly be the continued, heavy demand for travel in the face of inflation.
"I think people want to stretch their dollars further," says Marcus Collins, a clinical professor in marketing at the University of Michigan's Ross School of Business.
But this growth in travelers getting savvy with points, perks and credit cards also means more competition among consumers for many of the programs' ever-changing benefits. It's a phenomenon that begs the question: With more travel loyalty members than ever, how do you get ahead?
Why are more people joining loyalty programs?
Not only do customers want to save money on travel, but companies are giving them incentives to join, too.
"It costs eight times as much to acquire a new customer as it does to retain one," Collins says, citing his experience working with major brands like Delta Air Lines, Apple and Nike.
It's a key reason Delta executives required just one thing for customers signing up for its new complimentary inflight Wi-Fi — a SkyMiles frequent flyer membership. Delta said the move helped drive millions of new enrollments early this year.
But to support all of the new members, airlines, hotels and other companies had to make changes to how these loyalty programs are structured.
A changing loyalty landscape
In recent years, many airlines and hotels have shifted how members earn and redeem loyalty currency. For example, instead of charging customers a predictable, fixed number of points or miles for a free flight or hotel stay, many companies now tie redemptions to the same demand-based algorithms that dictate cash prices.
Similarly, some programs now hand out elite status based not just on how many flights or hotel nights a member accrued, but also based on money spent on travel and beyond.
For instance, when American Airlines revamped its AAdvantage program last year, it began awarding elite status based on the number of "Loyalty Points" a member earns through a combination of not only flying but also spending charged to American Airlines co-branded credit cards and through its online shopping portal, among other places. An AAdvantage member could conceivably reach elite status while hardly stepping foot in an airport.
Other companies' programs have similar variations of this. Some, like JetBlue, even hand out some limited perks to members who have not quite qualified for elite status. Changes like these undeniably give more customers a taste of status.
But having more elite, card-carrying, club-belonging members has its own implications; Delta and American Express have levied stricter airport lounge access rules amid reports of overcrowding.
"If everyone is platinum, nobody is," says Darron Kirkley, an instructor at the University of South Carolina's College of Hospitality, Retail and Sport Management.
Indeed, navigating such an environment is the reality for members trying to extract value from their loyalty.
So how do you win the loyalty game?
With loyalty programs and their elite status tiers packed with members, there are a few things you can do to distinguish yourself from the crowd — and save money on travel.
Collect transferable points
Instead of earning points in one program and never quite accruing enough for meaningful elite status, consider getting a credit card that earns flexible rewards, which can be transferred to many loyalty programs. That can protect you from sudden changes, devaluations (when a program starts charging more points for flights or stays) or lack of availability within any one program.
Treat your points like cash (but use them)
Spending your points and miles sooner than later is a surefire way to avoid whatever future moves programs might make to water down their currency's value. With prices of an award flight or hotel stay now fluctuating more like cash prices, it's important to know the baseline value of your loyalty currency, so you know when to use points (rather than cash) to book.
Use the changes to your advantage
If crowded lounges and upgrade queues make some of the highest-end perks of loyalty more difficult to enjoy, travelers may want to focus on earning reliable cost-saving loyalty perks like free checked bags and hotel credits.
These perks can save serious money and are often available as a perk of some travel credit cards.
And despite more volatile pricing for redemptions, earning points, miles and elite status has never been easier, Kirkley says, particularly when you consider growing partnerships that allow, say, Marriott Bonvoy members to earn points using Uber or Delta SkyMiles members to earn miles at Starbucks.
"Loyalty programs definitely aren't going anywhere. I think you're going to continue to see record sign-ups," Kirkley says.
So the competition for perks will remain, but you just have to earn your points and miles smarter and prioritize the perks that matter to you.
---
How to maximize your rewards
Get more smart money moves – straight to your inbox
Sign up and we'll send you Nerdy articles about the money topics that matter most to you along with other ways to help you get more from your money.