Guide to JetBlue Baggage, Cancellation and Other Fees
JetBlue baggage, cancellation, seat selection and pet fees can be a nuisance but there are ways to avoid them.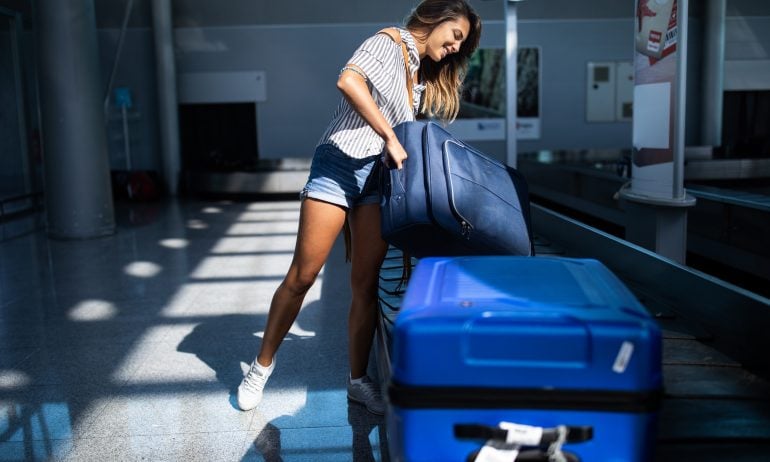 Many or all of the products featured here are from our partners who compensate us. This influences which products we write about and where and how the product appears on a page. However, this does not influence our evaluations. Our opinions are our own. Here is a list of our partners and here's how we make money.
If you're flying with JetBlue, baggage fees, seat selection fees and other fees can quickly make your ticket more expensive.
While some fees are going away (JetBlue announced the end of change and cancellation fees for most fares in February 2021), they aren't all gone. We break down all of JetBlue's fees and provide tips to avoid them.
Fees for checked luggage vary depending on your elite status, where you're flying, the fare you select, if you prepay for luggage in the app or during booking, or if you pay at the airport. People with Blue Basic, Blue and Blue Extra fares will need to pay a $35 fee for the first bag and $45 for the second if paid at the airport or within 24 hours of departure (you'll get $5 off if you pay in advance). The fee for a third bag is a whopping $150.
If your fare doesn't include checked bags, you'll save money by paying for them in advance on jetblue.com or in the JetBlue app. To avoid an oversized-luggage fee, checked bags should be 62 inches or smaller in overall dimensions (length plus width plus height) and 50 pounds or lighter.
Here's what you can expect to pay for your first and second bag on JetBlue:
Within the U.S., Caribbean and Latin America
Between the U.S. and the U.K.
Who gets to avoid this fee
Customers who paid for their flight with a JetBlue Plus Card get their first checked bag free, along with three people on the same reservation.

Passengers with a Blue Plus fare get one free checked bag.
JetBlue allows most passengers to bring a personal item and a carry-on at no cost. A personal item must be no bigger than 17 by 13 by 8 inches and should fit under the seat in front of you. Carry-ons can't be larger than 22 by 14 by 9 inches.
There's one fare class that does not allow for a free carry-on: Blue Basic. Customers traveling on Blue Basic fares are only allowed to bring one personal item that fits underneath the seat. If overhead bin space is needed, customers will have to upgrade to Blue or Blue Extra, or otherwise pay to check their bags.
The fee to gate check your first or second bag is $65.
Who gets to avoid this fee
Everyone except those flying on a Blue Basic fare get a free carry on bag.
Overweight and oversized baggage fees
If your bag weighs between 51 and 99 pounds or measures 63 to 80 inches in overall dimensions (including the handle and wheels), expect to pay an overweight or oversized baggage fee. Bags of this weight or size will cost $150 per bag. If a bag is both overweight and oversized, you will have to pay both fees for a total of $300.
Who gets to avoid this fee
There are no exceptions for overweight baggage fees.

Certain sports equipment, like golf bags and skis, won't count as oversized if they're within the weight limit.
JetBlue allows passengers to bring sports equipment subject to certain fees. The JetBlue surfboard fee is $100 for domestic flights and $100 for international flights. You are allowed one surfboard per case and if it weighs more than 100 lbs., it will not be accepted. Windsurf boards and kitesurf boards are subject to the same fees. 
Those traveling with fishing gear, golf equipment, skis, snowboards, water skies and wakeboards can bring their items as a checked bag. The oversize bag fee wont apply, but you will be subject to the overweight fee (for bags exceeding 50 lbs.).
Change and cancellation fees
JetBlue allows most customers to cancel or change their flight for no additional fee. There are no change and cancellation fees on Blue, Blue Extra, Blue Plus and Mint fares. For customers who booked with Blue Basic, which is JetBlue's lowest fare class, tickets can be changed or canceled for a $100 fee for flights within North America, the Caribbean or Central America and $200 for all other destinations.
However, if the flight you changed to is more expensive than the one you initially booked, you'll still have to pay the difference between the old fare and the new one.
Who gets to avoid this fee
All passengers except for those on Blue Basic fares.

Anyone who booked travel at least seven days in advance of departure and cancels within 24 hours of booking.

Anyone who booked a refundable fare and cancels their flight before the scheduled departure.

To avoid the $25 phone cancellation fee, make your change or cancellation on the website or app.
Partner award booking fee
While passengers on a number of different airlines can earn TrueBlue points when flying, JetBlue only allows members to use their TrueBlue points to book flights on Hawaiian Airlines and American Airlines via the Northeast Alliance partnership.
Who gets to avoid this fee
There is no fee for using points to book with Hawaiian or American Airlines as long as you do so on the website or app. If you need to make a booking over the phone or at an airport ticket office, you'll need to pay a $25 fee.
The JetBlue seat selection fee applies when you want to change your seat from a normal economy seat to an Even More Space seat. These seats offer extra legroom, early boarding and early access to overhead bins, even for those passengers traveling on Blue Basic tickets. 
The price of an Even More Space seat varies by route. To figure out what it will cost you, choose an Even More Space seat from the seat map when you're booking or checking into your flight.
Who gets to avoid this fee
JetBlue members with elite status can select Even More Space seats for free if available when they check-in online, on the app, or in person. These upgrades to Even More Space seats are available online up to 24 hours before departure.
Standby and same-day change fees
If you're hoping to get a different flight on the same day as your original booking, you can opt to stand by. JetBlue says seat availability isn't guaranteed, but if you've already purchased a ticket, you can request to be added to the standby list for any sold-out flight on the same day as your original flight. There's a $75 fee to join the list.
If you booked a Mint flight and there's another Mint flight on the same day of travel that has Mint seat availability, a $75 same-day change fee will also be charged.
Who gets to avoid this fee
Anyone who doesn't get a confirmed seat on their chosen standby flight.

Those flying standby on Blue Extra fares.

Mosaic customers can change a flight free of charge starting 24 hours before the originally scheduled departure.
Call center service charge
If you prefer to book your flights over the phone instead of online, you'll be charged $25 for each person on the reservation.
Who gets to avoid this fee
Anyone who books online or on the app.

Customers who are physically, emotionally or cognitively unable to book online, including those with hand tremors, physical effects of a stroke, anxiety or a learning disability.

Bookings of more than seven people.

Children traveling with adults booked on a separate reservation.

Customers paying with multiple forms of payment not available online.

Bookings paid for with JetBlue travel certificates.

Those booking a JetBlue Vacations package.

Anyone making a booking at the airport.

Bookings made at city ticket offices.

One-way bookings originating in Cuba.
If your child is traveling alone and is 5 to 13 years old, it's mandatory that they participate in the Unaccompanied Minors Program. In addition to the cost of the ticket, there's a fee of $150 per minor each way, which can be paid online as part of the booking. Unaccompanied minors can travel only on nonstop flights.
Who gets to avoid this fee
Any child 2 to 13 years old who's traveling with someone at least 14 years old won't need unaccompanied minor status.

If a minor is traveling with an adult on a separate reservation, you can call JetBlue to make the reservation without incurring the unaccompanied minor fee (the call center fee will also be waived).
If you're traveling with a four-legged family member (JetBlue permits only cats and dogs), expect to pay $125 for each direction of travel. Pets can be booked online or by calling JetBlue. The pet carrier, which must weigh 20 pounds or less with the pet in it, will count as your carry-on.
Who gets to avoid this fee
It appears that this is an unavoidable fee.
How do JetBlue fees compare to other airlines?
In NerdWallet's annual analysis of the best airlines, JetBlue's fees are similar to that of other full-service U.S. airlines. JetBlue charges $35 for a checked bag, the same as United. The checked baggage fee is $5 higher than Alaska, American, Delta and Hawaiian Airlines.
Final thoughts on JetBlue fees
When booking on any airline, it's important to keep fees and extra charges in mind. Just one or two extra bags or carrying on a pet can really make a difference in your bottom line. But if you're aware of the fees you could encounter and how to avoid them, you won't be unpleasantly surprised when the time comes to foot the bill for your next trip.
---
How to maximize your rewards
Get more smart money moves – straight to your inbox
Sign up and we'll send you Nerdy articles about the money topics that matter most to you along with other ways to help you get more from your money.