The Best Hotels Near LAX
From bare-bones, just-need-a-room stays to a modern escape from the crowds, the LAX area offers plenty of options.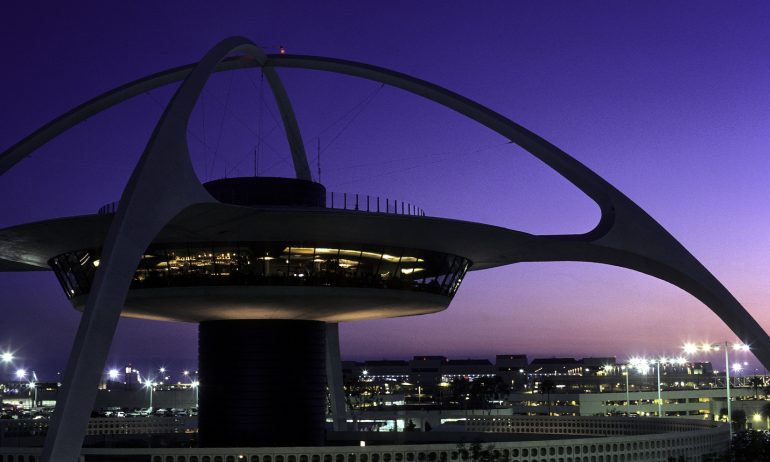 Many or all of the products featured here are from our partners who compensate us. This influences which products we write about and where and how the product appears on a page. However, this does not influence our evaluations. Our opinions are our own. Here is a list of our partners and here's how we make money.
As a major international hub, Los Angeles International Airport is surrounded by dozens of hotels spanning several major chains.
Whether you're stuck with an overnight layover or simply want to avoid LA traffic by spending the night by the airport, you may be wondering which are the best hotels near LAX.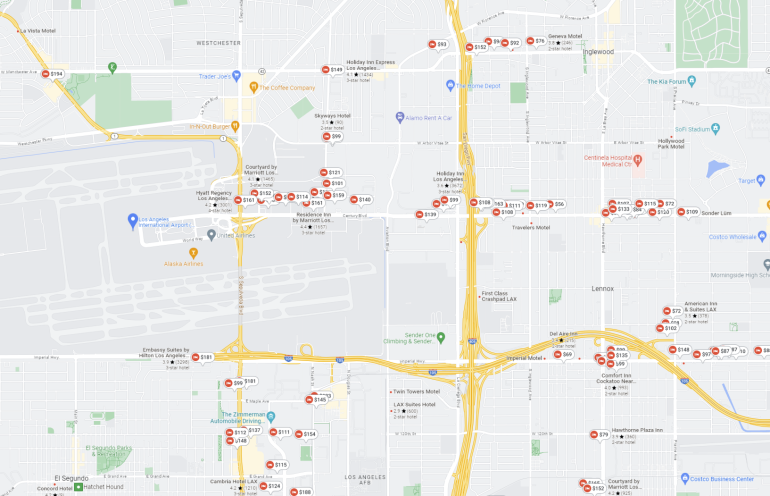 As a veteran of dozens of nights across 10 hotels within five miles of LAX, I've gotten to know some of the best LAX hotels from experience.
Not every hotel stay is alike. Sometimes you're a solo traveler who simply needs a bed to sleep in for a short night. Other times you may be traveling with your family and spending all day around the hotel before an evening departure.
Here are my recommendations for the best hotels near LAX for specific situations.
Best for Marriott elites: Sheraton Gateway Los Angeles Hotel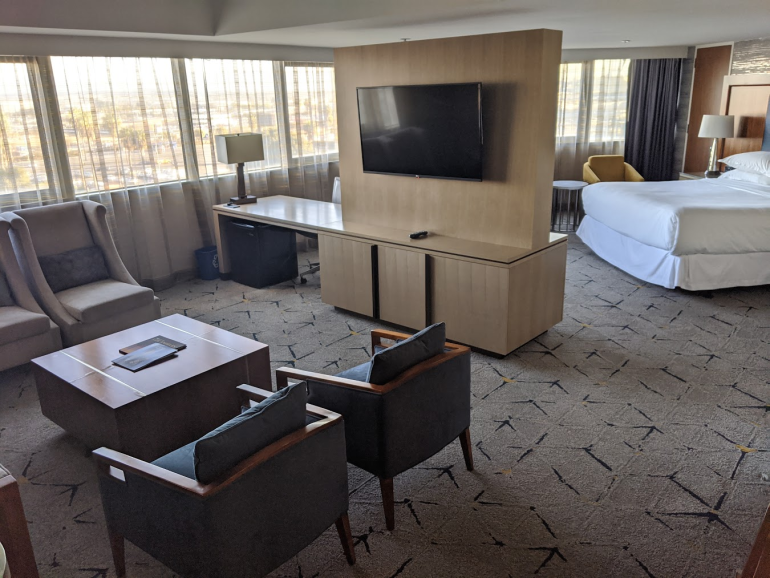 Arguably, the best hotel for Marriott elites is the Sheraton Gateway LAX Hotel. This hotel isn't universally loved. In fact, it has an unimpressive 3.7 rating on Marriott's website. However, this property has a lot to offer Marriott elite members — particularly Platinum Elite and higher.
Firstly, this hotel was designed with a whopping 103 suites. That means you have a solid chance of getting an upgrade. As a Titanium Elite, I've often been upgraded to a suite. Plus, I've had no issues getting early check-in or 4 p.m. late checkout.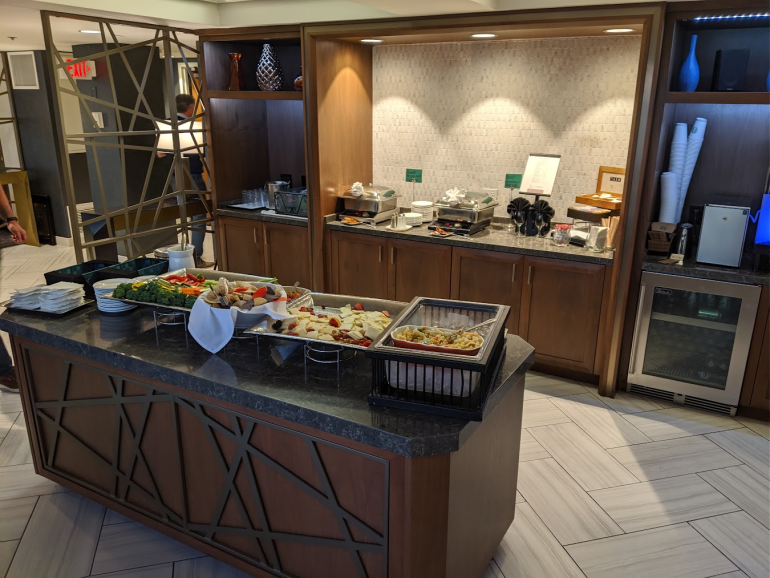 The hotel has a top-floor lounge offering eligible elites snacks in the evenings and hot breakfast in the mornings.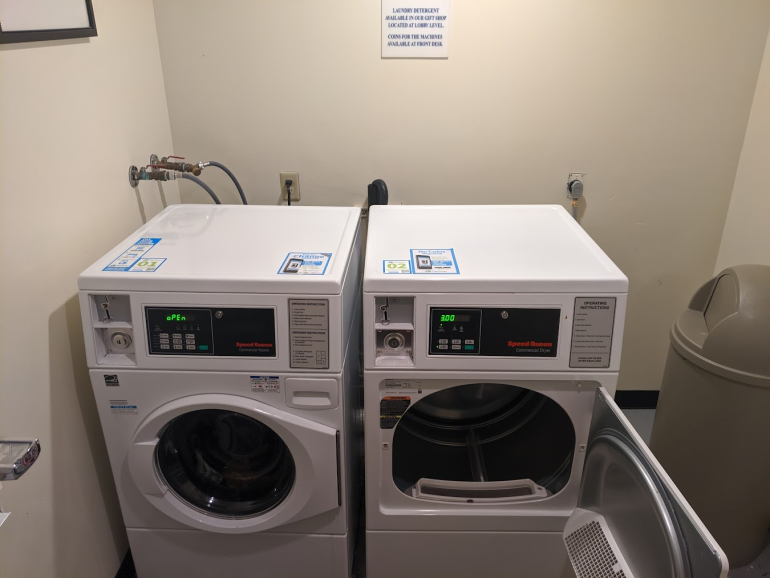 Plus, the hotel offers a well-stocked gym and practical amenities like coin laundry — which can be useful during an extended trip.
As a large hotel, the airport shuttles run constantly. I've never had more than a 10-minute wait, and I've often noticed the Sheraton Gateway shuttles circling when I'm waiting at the airport to stay at a different hotel.
However, as one of the closer hotels to the airport, you also have the option to walk from the airport to the hotel. Google Maps estimates a 14-minute walk from LAX Terminal 1 to the hotel.
Best for Hyatt elites: Hyatt Regency Los Angeles International Airport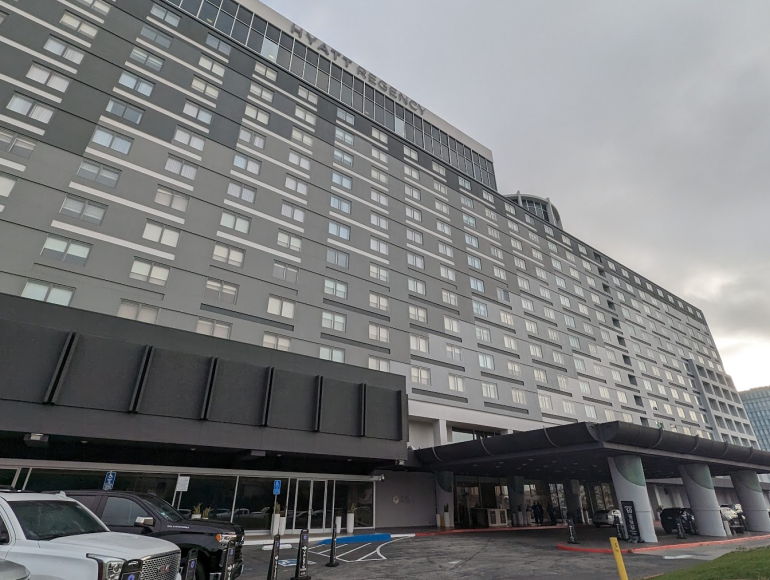 One look at a map of LAX hotels will reveal why this hotel is a top choice: It's the closest hotel to LAX airport. While shuttles run frequently enough, it only takes about 10 minutes to walk between Terminal 1 or 2 and the hotel.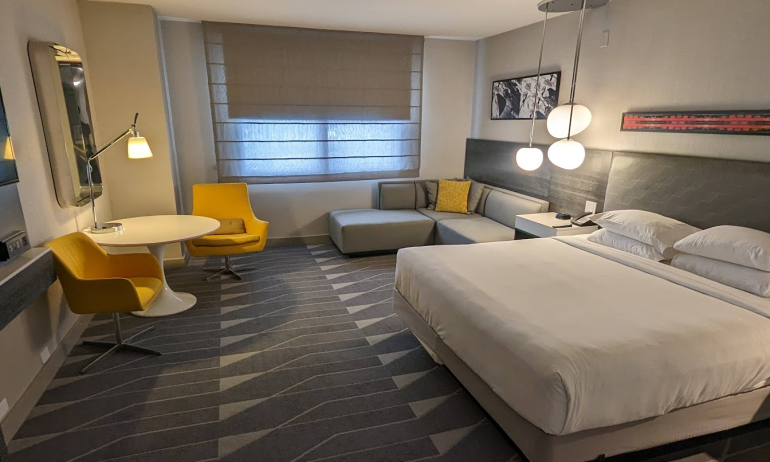 Rooms are spacious and offer a variety of seating areas. If you're on a high floor, the windows offer a nice view of the airport. Unfortunately, the double windows make it hard to capture a clean photo. Instead, head to the rooftop gym to get clean views of the airport.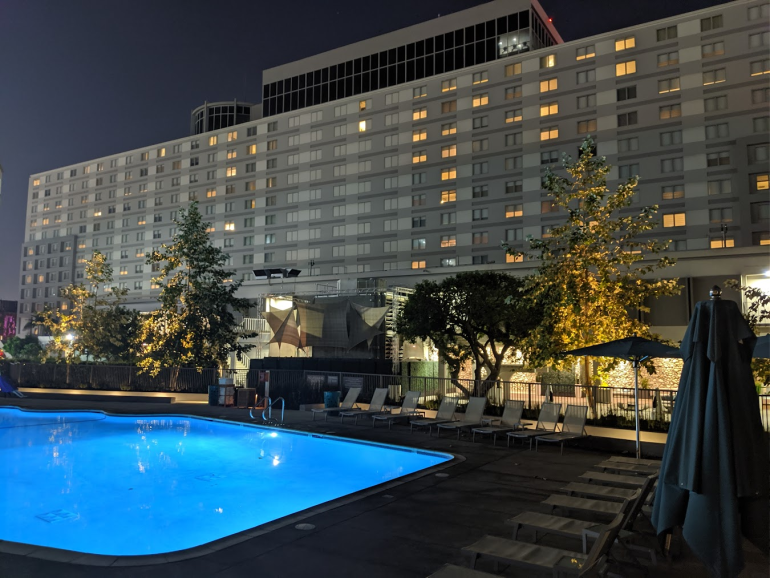 Since this hotel closed its Regency Club lounge, Hyatt Globalists get complimentary access to the otherwise $35 buffet breakfast. Some Globalist elite travelers also report getting a free drink and snack in the lobby bar.
Speaking of unwritten rules, this hotel let my wife (who's a Globalist) and I check in at 7 a.m. after we arrived on a redeye flight from Asia. But your mileage may vary.
Best for using a Hyatt free-night certificate: Hyatt House LAX/Century Blvd
Hyatt offers four hotels near LAX with airport shuttle service. All four are Category 3 hotels. That means you can redeem the Category 1-4 hotel certificate earned each cardholder anniversary with the World of Hyatt Credit Card.
Considering these hotels often charge around $200 per night, redeeming a Hyatt free-night certificate can be a very practical use.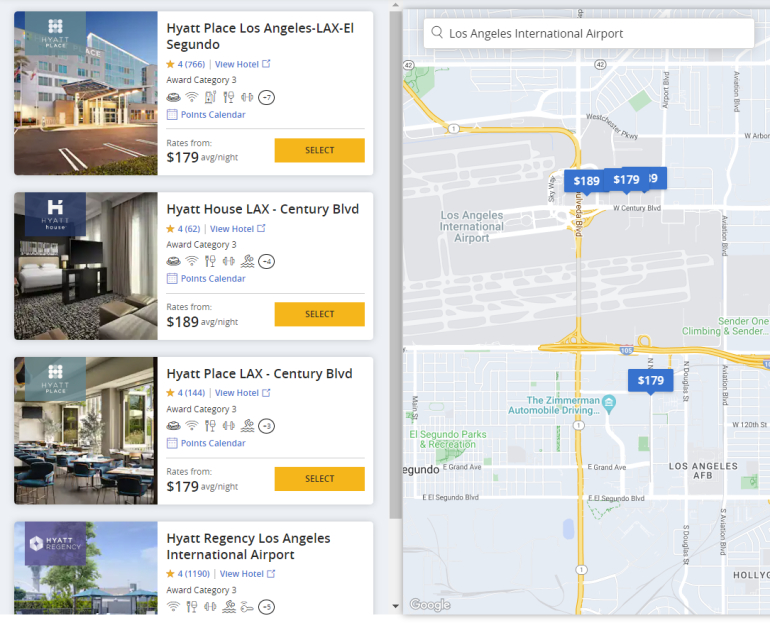 Of the four Hyatt hotels, three offer free breakfast: The Hyatt House and both Hyatt Places. If you want to get away from the noise of the airport, the Hyatt Place Los Angeles LAX-El Segundo is your best bet.
However, after trying it for the first time in December 2022, I'd return to the Hyatt House LAX-Century Blvd the next time I'm traveling solo as a non-Globalist elite.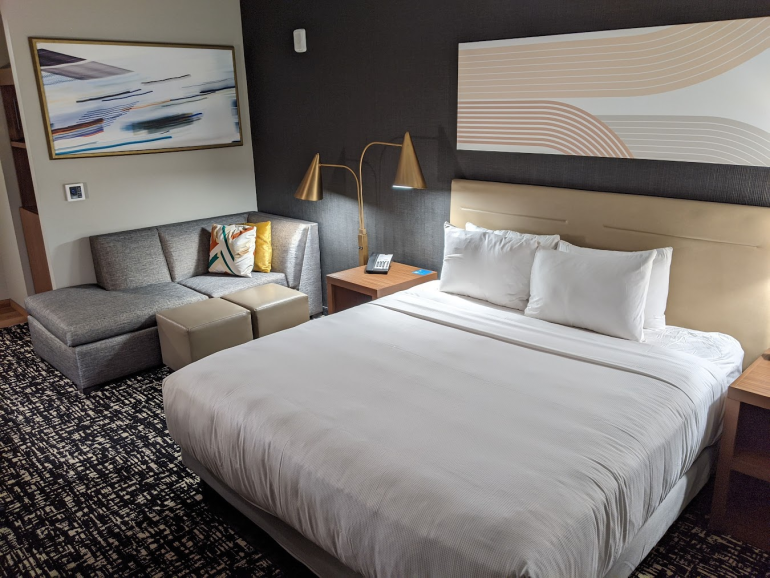 The rooms are sleek, the bed was comfortable, and the breakfast was both delicious and hearty.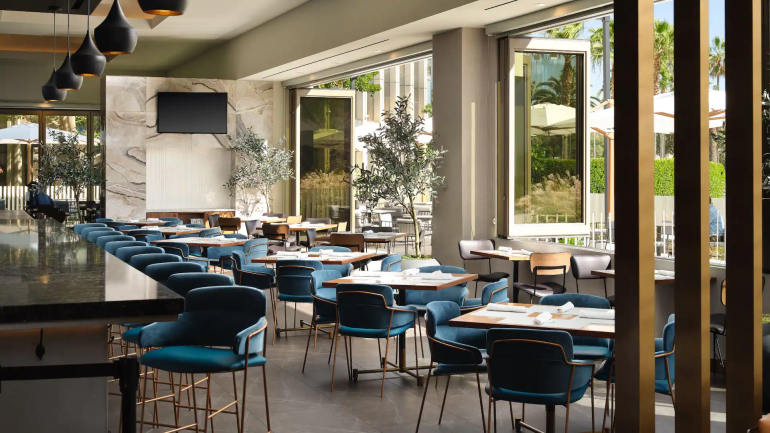 As a nice touch, the staff opened the large doors to the restaurant to let guests enjoy the lovely weather along with their breakfast — which was a treat after recently spending so much time on airplanes.
Best for simple overnights: Holiday Inn Los Angeles LAX
This Holiday Inn LAX isn't going to win many "best of" awards. But, if you simply need a comfortable no-nonsense overnight stay, this hotel could do the job.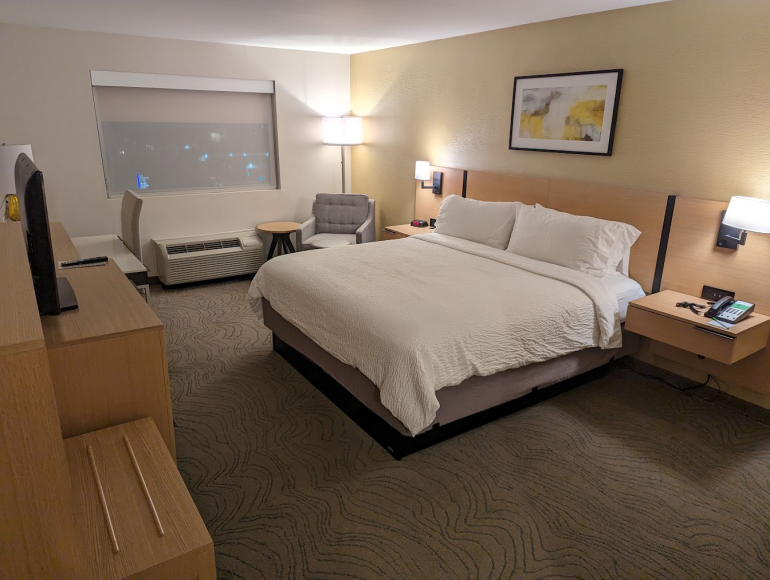 During my stay in April 2023, the hotel shuttle arrived quickly and the front desk checked me in efficiently, helping me make it from baggage claim to my room in only around 20 minutes.
I found the bed to be comfortable, with solid amenities in the bathroom and plenty of outlets to charge devices. As a Holiday Inn, only IHG One Rewards Diamond elite members get free breakfast — and only if they choose it as their welcome amenity. However, you can grab a quick bite to eat from the McDonald's located immediately in front of the hotel.
This hotel almost always has award availability for under 40,000 IHG One Rewards points per night — with some nights pricing as low as 19,000 points. This means you can reliably use an IHG free-night certificate earned through an IHG co-branded credit card to score a free night.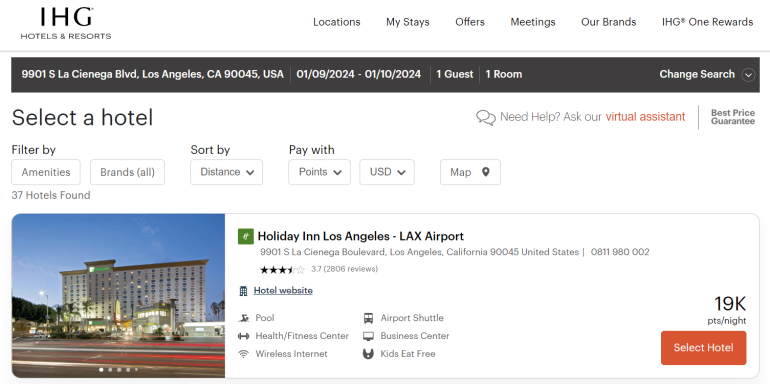 Best for families: Embassy Suites by Hilton Los Angeles International Airport North
Many LAX hotels feel designed for one or maybe two travelers — fittingly, as they mostly serve business travelers and airline crews.
If you're traveling with a crew of your own, such as a family, the Embassy Suites by Hilton Los Angeles International Airport North is a great way to get enough space to spread out.
When paying with points, the standard room is a two-room suite that sleeps four. And you can book award nights for as few as 50,000 Hilton Honors points, often making it the lowest-cost Hilton option around LAX. Plus, the evening reception and made-to-order breakfast keep meal costs from breaking the bank.
Best hotel to escape the airport: AC Hotel by Marriott
All of the hotels covered so far are along Century Blvd, located adjacent to the LAX runways. If you want a hotel that's convenient to the airport but that doesn't feel like you're still near the airport, the AC Hotel by Marriott is a great choice.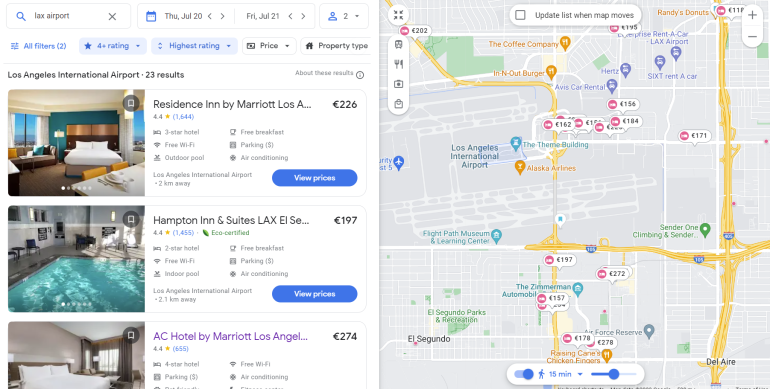 Google Maps reviewers give this hotel 4.4 stars, tying it for the highest-rated hotel in the LAX area. Marriott reviewers concur, giving the property a 4.5 for cleanliness and 4.4 for location.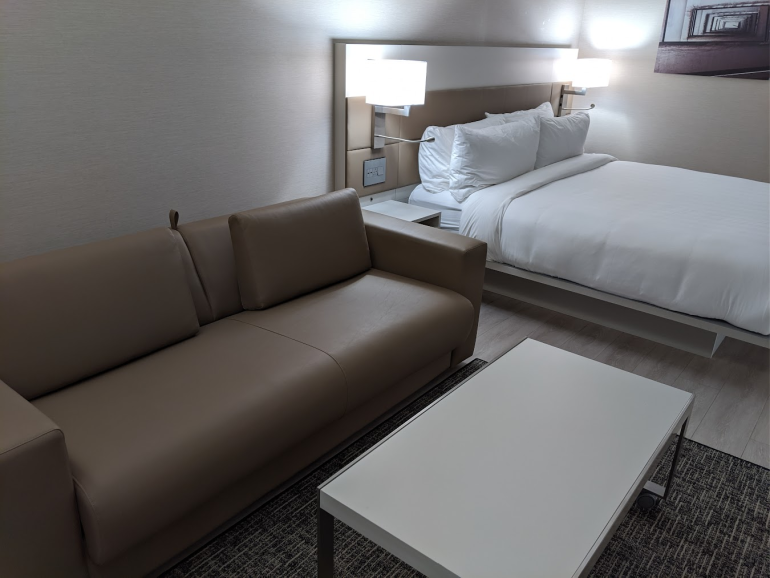 The hotel boasts "graceful European Style" rooms, which are sleek and minimalistic while still neatly providing all of the necessities.
In lieu of a traditional airport shuttle, the hotel arranges an Uber or Lyft to shuttle you between the airport and the hotel.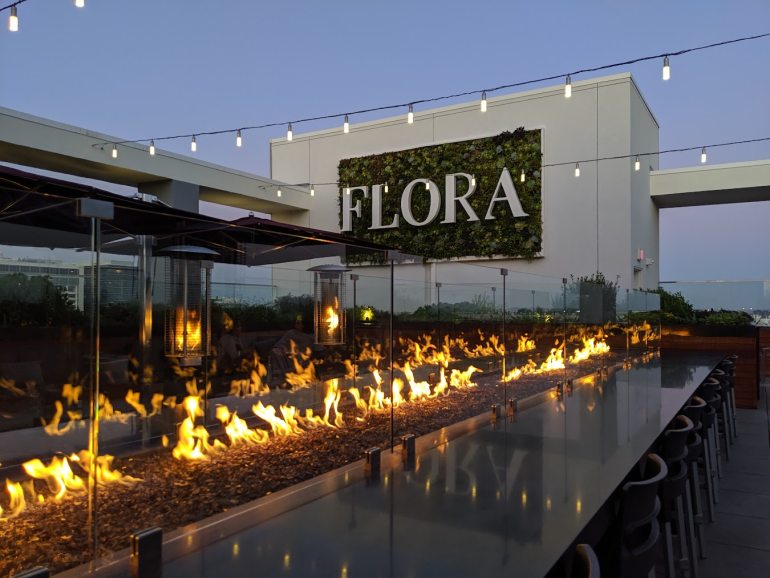 Once there, you're within short walking distance of a variety of cafes and restaurants. But for Instagramable views and sips, look no further than the rooftop bar.
Which LAX airport hotels to avoid
Unfortunately, several LAX hotels fall far short of guest expectations. Here are two hotels that I'd recommend avoiding around LAX.
Four Points by Sheraton LAX
After my two experiences at this hotel, the Four Points LAX is at the top of my list of hotels to avoid near LAX — and plenty of fellow travelers agree with this assessment. The hotel has earned a miserable 2.6 rating on Marriott's website. That makes it the lowest-rated of the 24 Marriott hotels located within five miles of LAX. The second-worst is a full point higher with a 3.6 rating.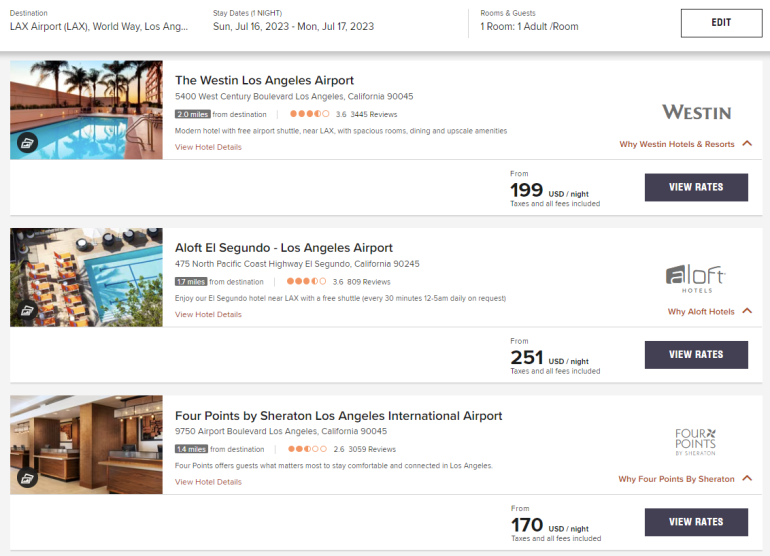 In addition to a steep nightly rate, this hotel charges a "daily Hotel Worker Protection Ordinance Costs Surcharge/local fee" of $10.95 per night. This fee is so egregious that guests are now suing Marriott over it.

If you search for cheap hotels around LAX, you're inevitably going to see the Skyways Hotel. But unless your budget is stretched really thin, I recommend paying more for another hotel. To be fair, I stayed at this hotel back when it was branded as a Super 8 by Wyndham. But, after my experience, I'm not surprised to see that it's no longer part of a major hotel brand.
Among the issues is a lack of soundproofing. This hotel is located directly under the approach path into LAX. Earplugs are recommended even in generally positive reviews of the hotel.
If you're looking for the best hotel near LAX …
As with so many things in travel the "best" option is going to depend on your travel situation — including your hotel elite status, which points or free-night awards you have, and the size of your group.
Travelers have plenty of hotel choices if they need to spend a night by LAX. Not all of these live up to their brand's standards, but there are some gems among the bunch.
If you're looking for a no-nonsense stay, the Holiday Inn LAX can provide an affordable place to get some rest. Meanwhile, Marriott elites can enjoy the lounge and hope to score an upgrade at the Sheraton Gateway, while Hyatt elites will likely want to opt for the Hyatt Regency. The AC Hotel is great for a modern stay away from the bustle of the airport, while the Embassy Suites is a top choice for families.
---
How to maximize your rewards
Get more smart money moves – straight to your inbox
Sign up and we'll send you Nerdy articles about the money topics that matter most to you along with other ways to help you get more from your money.