How to Get an Airbnb Discount
Booking longer stays, booking early and booking a new property can all save you some cash on your Airbnb stay.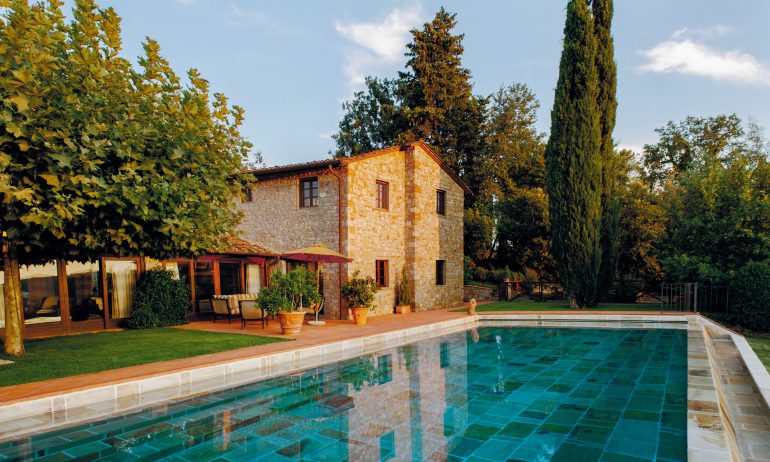 Many or all of the products featured here are from our partners who compensate us. This influences which products we write about and where and how the product appears on a page. However, this does not influence our evaluations. Our opinions are our own. Here is a list of our partners and here's how we make money.
Airbnb is a vacation rental website that changed the travel industry in many ways by building a home-sharing community.
With Airbnb, you can book an entire place or reserve a room in someone else's home for family getaways, workaways and group travel. Whether you're looking for a boutique hotel, a forest cabin or a UFO-shaped home, Airbnb has got you covered with its more than 6 million listings.
Unfortunately, Airbnb doesn't offer a loyalty program and doesn't offer frequent-traveler promotions. But there are still ways to get an Airbnb for cheaper.
Does Airbnb offer discounts?
For years, Airbnb offered cash bonuses through its referral program to both the referee and a first-time Airbnb user. Unfortunately, the referral program is no longer active, and you can't share referral codes with your friends anymore.
Now that the Airbnb referral program is done, you might wonder, "How can I get a discount on Airbnb?" Luckily, you can take advantage of several money-saving methods.
How to get discounts on Airbnb
Many hosts offer discounts when you reserve their place for a week or a month, so if you're wondering how to get discounts on Airbnb, one of the answers is to book a longer stay.
If you have a lot of time off or work remotely, we recommend booking an Airbnb for at least seven days to get a weekly discount or at least 28 days to get a monthly discount.
The discount isn't a fixed percentage and varies. Some hosts don't offer it at all, so the only way to find out how much a long-term discount will be is to start your search on Airbnb.com.
The discount is applied automatically, so you won't see it reflected until you click on the listing. Under price details, you should see the nightly price multiplied by the number of nights, a weekly or monthly stay discount, a cleaning fee (if one is charged) and an Airbnb service fee.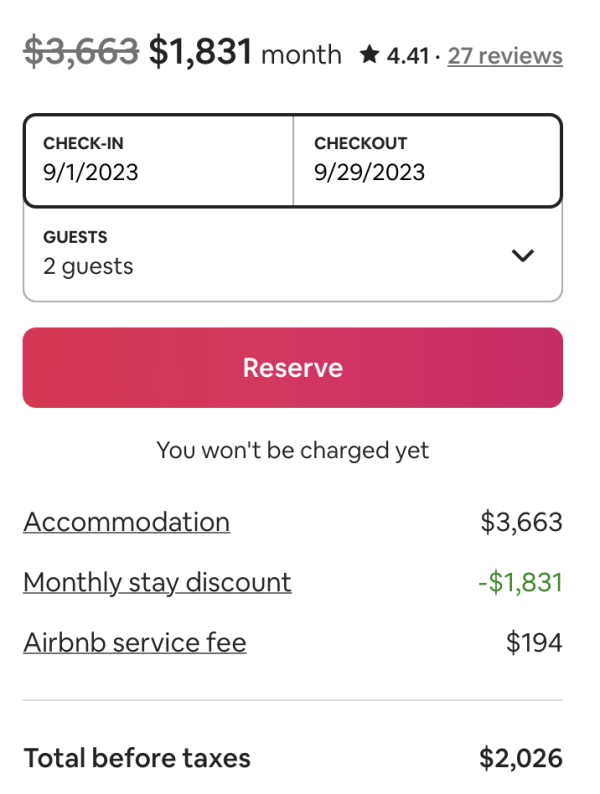 The monthly discount is typically much higher than the weekly discount, so you can save a lot of money by booking a longer stay.
Extend your trip by a few nights
Use the trick above to your advantage and extend your stay by several days even if you don't need that many nights. Sometimes, broadening a booking window can decrease your total price if you fall into the sweet weekly or monthly discount spot.
Let's take a look at an example. We found a 24-night stay at an Airbnb property that costs $1,127.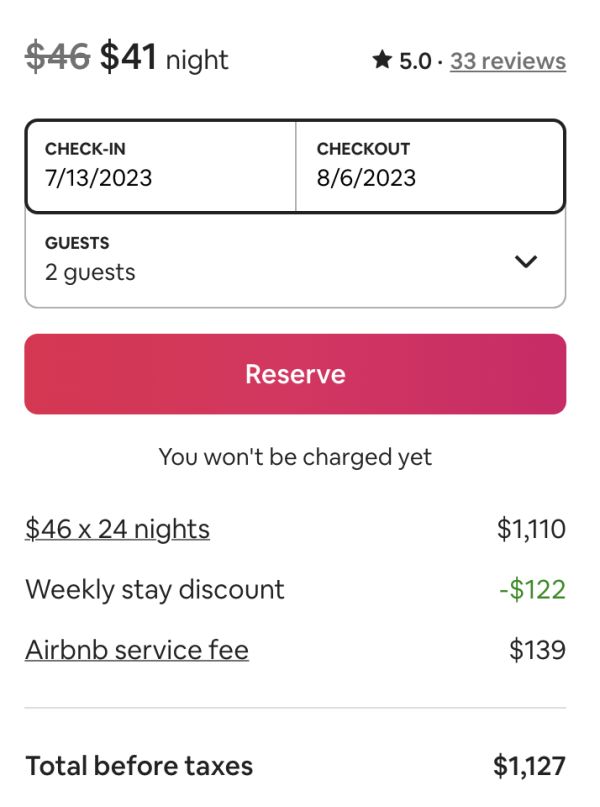 However, by extending the stay to 31 nights instead, the price drops to $612, which makes a huge difference for your budget.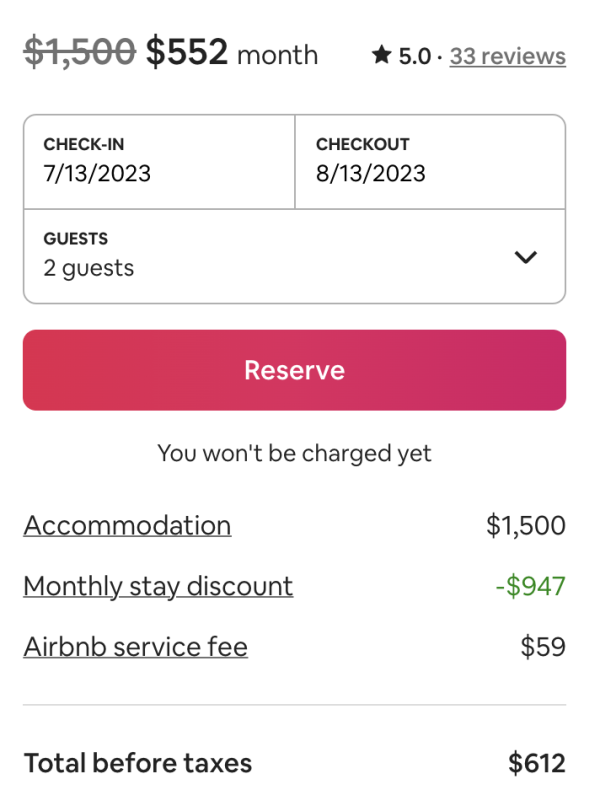 You can apply the same thinking to shorter stays (around a week). Extending your stay by a day can either yield savings or get you another night for the same price as before.
We found an example of a six-night stay and a seven-night stay charging roughly the same amount of money after the weekly discount was applied to the seven-night stay.
Book recently added properties
If booking an Airbnb with no reviews terrifies you, the platform offers a way to offset the fears by offering a special discount.
You can get a special offer by booking a stay for a recently added Airbnb listing. The first three bookings made on a new listing receive a discount. You can stack the weekly or monthly discounts with special offers, as well.
However, it might be risky, especially when you don't know what to expect from the vacation rental or the host.
Scroll down to the host to see if they have other listings and read the reviews left for those properties. Seeing positive reviews for the host and their other listings can put your mind at ease.
Take advantage of an early bird discount
Some hosts attach an early bird discount to their listings. Each host sets their own timeline for how far in advance you have to book to get the early bird discount, but it can be as few as 60 days, so you don't have to plan your next vacation a year in advance.
If you are booking far in advance — a year out or so — familiarize yourself with the property's cancellation policy to avoid surprises in case you need to cancel.
Even if the discount is small, anything helps with getting a more afforable Airbnb.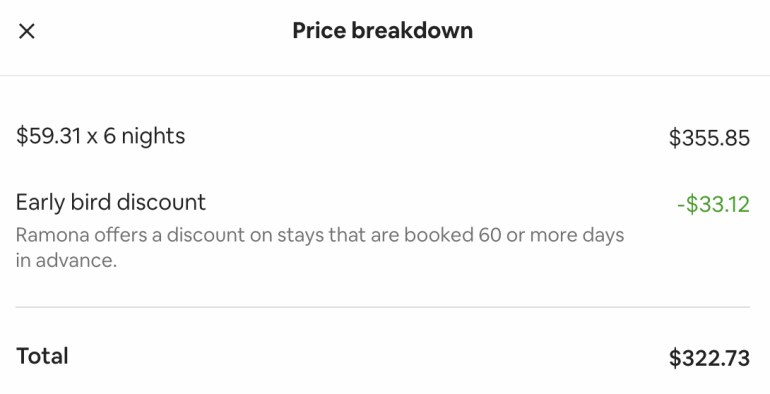 Purchase discounted Airbnb gift cards
Another way to get a more affordable Airbnb is to buy discounted Airbnb gift cards.
Although this method won't save you a ton of money, you can still save a few bucks, especially when you take advantage of the previously mentioned discounts too.

You can purchase discounted Airbnb gift cards on websites like Sam's Club or Raise and save a little cash. For example, a $200 Airbnb gift card is going for $193.92 from Sam's Club and for $188.69 from Raise.
Use a rewards card to pay for Airbnb
It won't get you an immediate discount, but you'll earn the rewards toward a future points redemption.
Another suggestion is to use specific credit cards to purchase Airbnb gift cards at stores and earn a rewards multiplier. For example, buying digital Airbnb gift cards from Staples will earn 5% back — on the first $25,000 spent — with the Ink Business Cash® Credit Card.
Book through an airline portal
This isn't a direct way to save cash per se, but several airlines offer ways to earn frequent-flyer miles on Airbnb stays. Earning airline rewards is akin to getting a small discount on an Airbnb booking.
You'll earn airline miles by making Airbnb reservations through the following airline programs.
| | First-time Airbnb user bonus | |
| --- | --- | --- |
| | A discount coupon for 3,000 Japanese yen ($22.70) and 2 miles per 200 yen ($1.50) spent with Airbnb. | 1 mile per 200 yen ($1.50). |
| British Airways Executive Club | | |
| | | |
| | 500 bonus points on the first Airbnb booking. | 1 Qantas point per 1 Australian dollar (67 cents). |
Keep in mind that to earn airline miles, you must go through the airline's respective portal they have in partnership with Airbnb. Make sure to enter your frequent-flyer number at the time of booking or no miles will be awarded.
This is by no means a guaranteed method of receiving a discount on your Airbnb stay, but in the words of the great Wayne Gretzky, "You miss 100% of the shots you don't take." It's possible to contact an Airbnb host before you make a booking through their listing.
So, if you're on Airbnb wondering how to get a discount, message a host and ask whether they'd come down on the price before you reserve a stay. If they agree, they'll send you an offer via a special link, and you can see the new rate before you lock down the reservation.
This approach might not work with every host, but it's worth a shot, especially on short-notice bookings.
Be polite and respectful to the host when requesting an Airbnb discount, even if they decline your request.
The cost of travel has increased significantly over the past year, according to NerdWallet's Travel Price Index, so we don't blame you if you're looking to save money. If you're looking for an Airbnb discount, you can get one by:
Booking an extended stay.

Adding some days to your booking.

Booking new-host listings.

Taking advantage of early bird pricing.

Purchasing discounted Airbnb gift cards.

Using a rewards card to pay for your Airbnb.

Booking an Airbnb through an airline portal.
At least one of these options, or multiple, will let you score an Airbnb property for less.
(Top photo courtesy of Airbnb)
All information about the
American Express® Green Card
has been collected independently by NerdWallet. The
American Express® Green Card
is no longer available through NerdWallet.
---
How to maximize your rewards
Get more smart money moves – straight to your inbox
Sign up and we'll send you Nerdy articles about the money topics that matter most to you along with other ways to help you get more from your money.