Is Disney Vacation Club Worth It?
Timeshares are almost never worth it — and only a few will find value in Disney's version, Disney Vacation Club.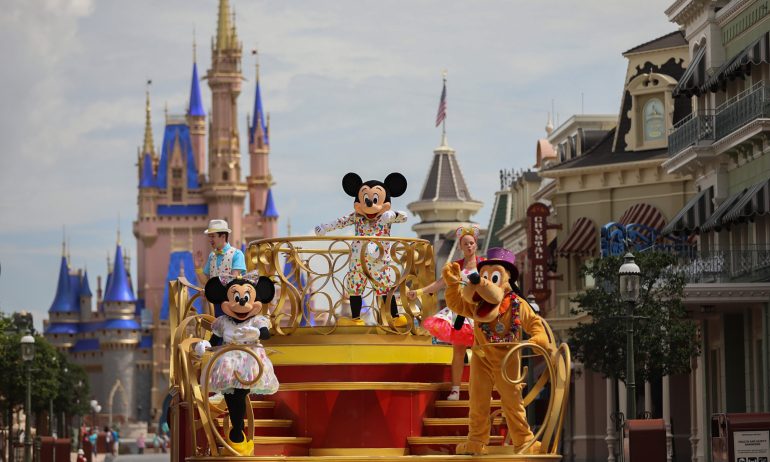 Many or all of the products featured here are from our partners who compensate us. This influences which products we write about and where and how the product appears on a page. However, this does not influence our evaluations. Our opinions are our own. Here is a list of our partners and here's how we make money.
Have you heard of timeshares?
These programs allow customers to purchase fractional ownership of a property, giving them a guaranteed vacation destination each year. Disney's Vacation Club is a timeshare program in which owners buy points; these points can then be redeemed in a variety of ways, including stays at Disney resorts.
But is the Disney Vacation Club worth it? Let's take a look at what it offers, its cost and alternative options.
What is Disney Vacation Club?
Historically, timeshares work like this: You pay a set amount of money granting you fractional ownership of a property. In return, you get access to that property during certain times of the year. It may be during the same week each year or the dates may rotate.
Disney's Vacation Club works a little differently. You do purchase ownership at a dedicated property. This becomes your home resort. However, in order to actually stay, you'll need to redeem points, which you accrue at a set rate per year.
These points can be redeemed at more than just your home resort. Disney offers options around the world for redemption, including the ability to use your points for cruises and even non-Disney resorts. The main idea behind ownership, however, is that you'll save money on stays at Disney properties, where nightly rates can be exorbitantly high.
As it stands, Disney advertises a potential saving of up to 50% for Disney Vacation Club owners compared to paying rack rates for rooms at Disney resorts. However, Disney's own website explains it may take six years or more before you actually start to see these savings — especially since you're putting down such a large sum upfront.
And these savings aren't a flat 50%. Rather, your total savings over the years "may add up to 50% over the Membership term," according to Disney's website.
How much does Disney Vacation Club cost?
Becoming an owner of Disney timeshare rentals isn't cheap. As of 2022, Disney is selling Vacation Points for $207 each. To start your membership, you'll need to purchase a minimum of 150 points, which means your initial out-of-pocket cost comes to $31,050 for just the points.
Disney also charges closing costs, though the amount for this will vary depending on the home resort that you're choosing. For example, the closing costs for Disney Vacation Club owners purchasing 150 Vacation Points at the Grand Floridian Resort came out to $828.30 in 2022.
Yet another one-time charge at closing is a $250 document preparation fee.
Nightly point rates will vary depending on the resort you're visiting, the timing of your vacation and the room type you choose.
There are also ongoing costs to being a Disney Vacation Club member. Monthly dues will vary based on your home resort, but the Villas at the Grand Floridian charges $87.63 in 2022. These dues pay for such things as the upkeep of the resort and will continue to be charged as long as you're an owner. Monthly fees can also be remitted one time annually if preferred.
So the answer to "How much is a Disney timeshare?" will vary based on the resort you choose, but you can assume that it will cost at minimum $32,985 when factoring in points, closing costs and monthly dues.
In some instances, you can find a timeshare on the resale market through a 3rd-party for a better value. Note: Some membership benefits may not apply if you choose to purchase from someone other than the Disney Vacation Club.
The best Disney Vacation Club benefits
There are benefits associated with being a Disney Vacation Club owner. These include:
Larger rooms. Vacation Club villas are geared toward those who tend to stay longer. As a result, you can expect more amenities than your standard hotel rooms, such as kitchens and in-unit laundry.

Guaranteed vacations. Each year, you'll receive points that can be redeemed for stays. These expire, so if you don't eventually use them, you lose them (and your investment). In this way, you're essentially stacking the deck such that you'll go on vacations.

Special offers. Disney offers additional benefits for its Vacation Club owners. These include members-only events and special discounts.
How to know if Disney Vacation Club is right for you
Is purchasing membership in Disney Vacation Club something you're interested in? Here are some questions to consider before you do so.
How often are you looking to go on vacation? Let's say that you've purchased the minimum 150-point option with Disney and you're looking to stay at the Animal Kingdom Villas.
The number of Vacation Points you'll pay per night will vary based on when you're traveling, the type of accommodation you're seeking and how long you're staying.
Let's say that you'd like to stay for a week in mid-September in a one-bedroom villa with a standard view. A quick look at the 2023 redemption chart shows you that it'll cost you 150 points per week — so your initial points purchase gets you a one-week stay at the resort.
But if you'd like a better room type, or to stay at a busy time, prices can rise dramatically. For example, during Christmas, that same villa will instead cost you 280 Vacation Points per week.
If you're someone who likes to travel, purchasing an interest in Disney's Vacation Club is an expensive way to limit yourself to specific vacations. And if you're traveling during peak periods, your membership won't get you very far at all.
How much do you love Disney?
This point goes hand in hand with the one above. Are you a Disney fanatic? Are you willing to commit to returning to Disney properties each year? Can you take advantage of the extra member benefits?
If this is the case, investing in a membership might be something you want to do.
Buying into the Disney Vacation Club is a significant expense with ongoing monthly costs. Depending on your age, especially if you're over the traditional retirement age, it may not be worth doing so. If you're younger, it may make more sense, since you'll have more years to break even on your investment and take advantage of the redemptions.
Membership fees are due as long as you maintain ownership, and they can rise as well. Be sure you're willing to spend that money each month.
You'll want to do the math; do you have enough time to break even on that $32,985 purchase price? Don't forget to factor in those monthly dues and closing costs, as well as the interest you'll be paying if you choose to finance your membership.
Alternatives to the Disney Vacation Club
Want to stay at a Disney resort but don't want to become a Disney Vacation Club member? There are other options available to you.
Disney Vacation Club members who aren't able to redeem their points can instead choose to rent them out. There are a wide variety of websites that specialize in this, so rather than becoming a member yourself, you can simply rent points whenever they're convenient for you. You'll receive similar savings, but offerings may be limited.
Using credit card rewards
So, is Disney Vacation Club worth it?
We don't generally recommend purchasing timeshares. This is because they can be expensive and are inherently limiting. The cost of Disney Vacation Club is no exception, but it may be worth it for some Disney die-hard fans.
Featured image courtesy of Walt Disney World Resort.
---
How to maximize your rewards
Get more smart money moves – straight to your inbox
Sign up and we'll send you Nerdy articles about the money topics that matter most to you along with other ways to help you get more from your money.