At NerdWallet, we strive to help you make financial decisions with confidence. To do this, many or all of the products featured here are from our partners. However, this doesn't influence our evaluations. Our opinions are our own.
Global travelers, rejoice: General tourism to Saudi Arabia is now open for the first time ever. Until now, Saudi Arabia has had little to no tourism,  opening its doors only to business travelers or pilgrims taking religious trips to Mecca or Medina under the Hajj or Umrah visas.
As a reminder: Saudi Arabia borders the United Arab Emirates, but the oft-confused countries are not the same thing. The United Arab Emirates began to put a heavy focus on tourism in 2013, aiming to attract millions of visitors by 2020. This initiative put world-famous cities like Dubai and Abu Dhabi on the map for global travelers and set the UAE years ahead of Saudi Arabia in terms of their tourism industry.
Now, Saudi Arabia has introduced an eVisa to citizens of 49 countries and potentially more to come. Several neighboring countries, the United States, a selection of European nations, Australia and a few East Asian countries have made the initial cut.
Unpacking tourism in Saudi Arabia
Critics of Saudi policies, particularly as they pertain to women's rights, have pointed out that the Kingdom will need to relax cultural requirements for foreign female visitors if they hope to attract 100 million visitors by 2030. This includes a less stringent dress code for foreign women at non-religious sites as well as the ability for women to travel without a male companion. Of course, everyone is expected to dress appropriately at sacred sites, similar to many places around the globe.
John Sfakianakis, chief economist at the Gulf Research Center, recently told TIME that the Kingdom's visitation goals are "very ambitious" and will directly depend on Saudi Arabia's ability to compete with more established neighboring destinations, such as Egypt, Jordan and the UAE. However, Saudi Arabia certainly has the draw. It's just a matter of getting the word out.
In addition to deeply revered religious destinations, Saudi Arabia also plays host to five different UNESCO World Heritage sites that will be glad to receive foreign visitors. These include petroglyphs in the Hail region, the Al-Ahsa Oasis and the Al-Hijr Archaeological Site, which may remind you of Petra in Jordan.
Saudi Arabia has some pretty lofty tourism goals, but assuming all goes well, it will be interesting to see how international visitors affect the previously closed-off nation.
If this announcement has you excited to visit Saudi Arabia, you'll want to look at flight options into Jeddah (JED) or Ridyah (RUH). Both airports offer multiple flight options spanning all three major alliances, so no matter what type of miles you have, you'll have reasonable redemption options. Here are some of the best award flight prices for flights from the U.S. to Saudi Arabia:
Flying to Saudi Arabia in economy class
One of the least expensive ways to get to Saudi Arabia involves redeeming Singapore Airlines miles to fly Star Alliance member airlines like Turkish Airways. Economy class tickets cost only 45,000 miles each way. United charged 42,500 miles for the same route until Nov. 15, 2019, when their dynamic award pricing went into effect.
American Airlines offers award flights in economy starting at 40,000 miles each way. If you have Delta Skymiles, you'll be looking at flights starting around 42,500 miles each way. Delta utilized dynamic award pricing, so redemption rates may vary.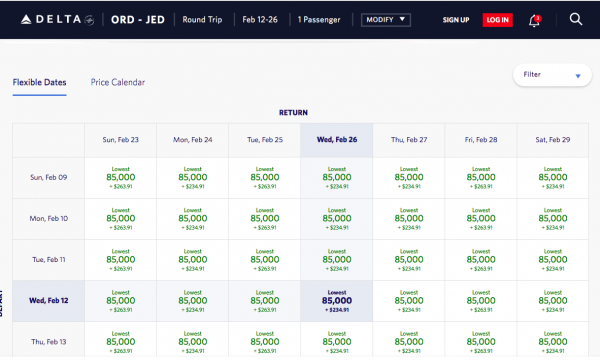 Flying to Saudi Arabia in premium cabins
If flying up front is more your style, you'll definitely want to take a look at using Singapore Airlines miles. You can book a business class ticket between the U.S. and Saudi Arabia for 76,500 Krisflyer miles each way. Through Nov. 15, United charges 85,000 miles for the same flights on Turkish Airlines.
American Airlines, with partners with Royal Jordanian and Qatar Airways, offers award flights in business class for 70,000 miles each way. Meanwhile, Delta offers premium flights starting at 85,000 miles each way.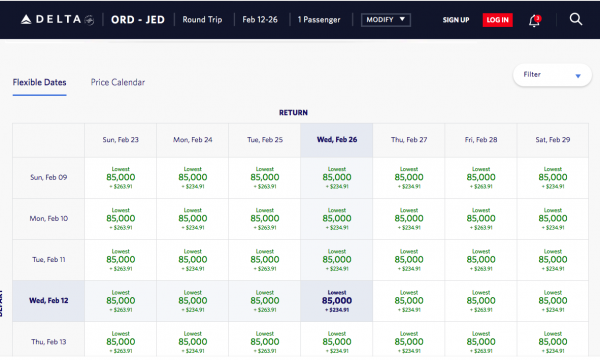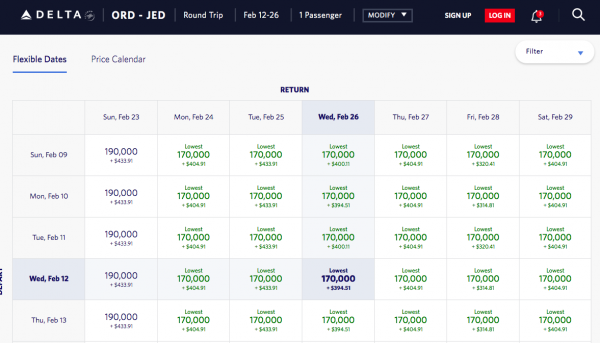 Now that it's possible to secure a tourist visa to Saudi Arabia, it's much easier to visit. For tourists looking to experience different cultures and amazing World Heritage sites, now is the time to head to Saudi Arabia. Luckily, there are many options for using miles to fly to both major airports.
How to Maximize Your Rewards