How to Navigate Airbnb Cleaning Fees
Cleaning fees can vary widely, sometimes into deal-breaker territory. Don't take the sticker price at face value.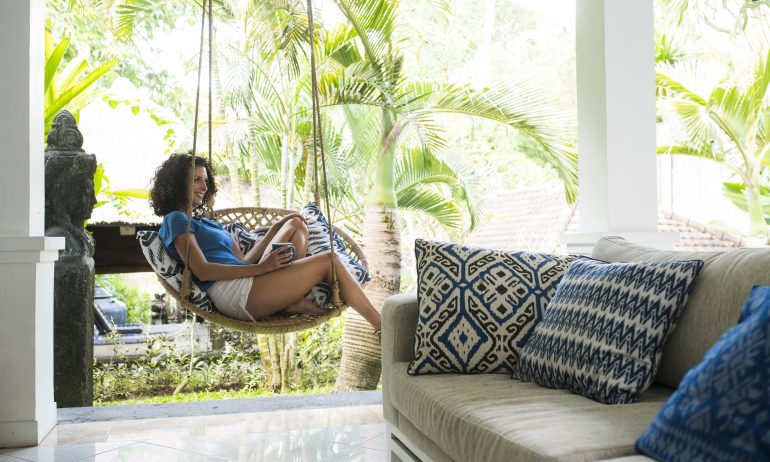 Many or all of the products featured here are from our partners who compensate us. This influences which products we write about and where and how the product appears on a page. However, this does not influence our evaluations. Our opinions are our own. Here is a list of our partners and here's how we make money.
There's no denying that Airbnb has revolutionized the way we travel. According to the company, there are more than 6 million listings worldwide in over 100,000 cities — that's no small feat.
But while many people have chosen to move over to Airbnb, they're often unprepared for the total costs of their stays, especially after factoring in service fees and cleaning fees. Cleaning fees, notably, can often be a surprise to travelers and drastically increase the cost of their stay.
Why does this happen and how do we navigate these extraneous fees? Let's take a look.
A 2020 survey from the open-access journal Sustainability found that the top reasons guests chose Airbnb over traditional hotels included price, location and size. That's fair. It's no stretch to understand that homes and apartments tend to be larger than hotel rooms. You'll also find a far more expansive home-to-hotel ratio in any given city, though you'll want to consider how many of those homes are rentable through Airbnb.
But what about the price? Hosts have the ability to set their own nightly rates, which means that you could find much cheaper accommodations through Airbnb than hotels.
NerdWallet crunched the numbers and found that when traveling in a party of two, hotels may be cheaper but saving money is still not out of the question. But the bigger the traveling party, the bigger the savings. For example, the price per head for a party of six at an Airbnb was 33% cheaper than booking three hotel rooms (with two adults per room).
However, the nightly rate isn't the only thing you'll be paying when making an Airbnb reservation.
Why are Airbnb cleaning fees so high?
There are three main types of fees that you'll find when booking an Airbnb. The first, the service fee, is charged by Airbnb. It's used to help maintain the platform and provide service.
Meanwhile, cleaning fees are set and maintained by your host, not Airbnb. Because of this, these fees have no set price. You can look for rooms with a rate of $85 per night and find that cleaning fees differ from property to property, despite the base rate being the same. Simply put, there is no pricing standard with these cleaning fees so hosts can make them whatever they would like.
That being said, Airbnb maintains that just 55% of hosts charge a cleaning fee and that the average cost of the fee is less than 10% of your total reservation.
A summer 2022 NerdWallet analysis of 1,000 Airbnb listings found the median cleaning fee to be $75. While cleaning fees did vary from property to property, the cost associated with the cleaning fee tended to correlate with the cost on a one-night booking. That is, a higher cost base rate usually means a higher cost cleaning fee. However, this isn't always the case. For example, in our analysis we found a property that charged $1,000 per night but had no cleaning fee.
Our analysis also found that 14% of the listings contained no cleaning fee, while 34% of listings had a cleaning fee that was 20%-29.9% of the room rate.
Depending on where you're staying, you may also need to pay an occupancy tax, which is assessed by the local government. Neither Airbnb nor the host has control over these fees.
Finding and navigating Airbnb cleaning fees
It's all well and good to understand that there are cleaning fees, but how does that impact your search? Since cleaning fees are set by the host, you can find a wide range of costs, from $0 to $150 and up for your stay.
In order to figure out what kind of cleaning fees you'll be paying, you'll first want to search for property on Airbnb's website. Navigate to the Airbnb homepage where you can conduct a search by inputting your information, including your destination, number of guests and dates of travel.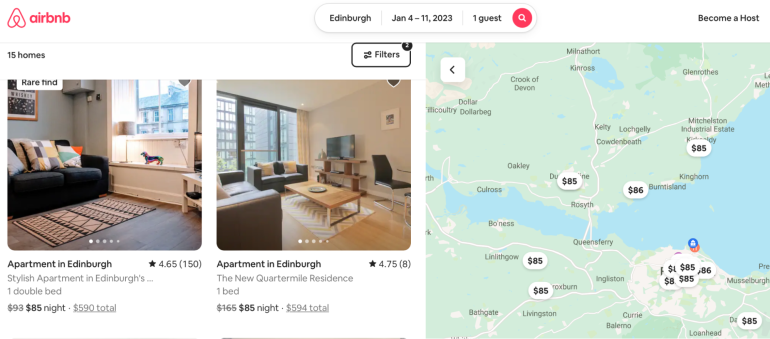 Once you've done so, Airbnb will bring up an interactive map displaying a variety of properties.
You can set all sorts of filters from here, including whether you'd like a private room or an entire residence. You can even choose preferred amenities such as washer/dryer setups, pet-friendly access and step-free entrances.
If you're filtering by budget, make sure to leave a little wiggle room on either end to account for fees, which are not factored into the nightly rate.
Airbnb is not entirely transparent when it comes to the fees you'll pay. When we did a search for properties in Edinburgh, Scotland, we found multiple choices that were charging $85 per night for a weeklong stay. We compared two of these properties, and despite charging the same nightly rate, the total cost between the two properties differed.
The reason for this becomes clear when you look at the breakdown of the total cost. The price breakdown can be found by selecting the total cost number listed under each property or by selecting the property and seeing a price breakdown on its dedicated page.
On this first property, the nightly rate came out to roughly $85 per night after factoring in its weekly discount. However, a $67 cleaning fee and $112 service fee bumped up the total overall price to $775 for a week.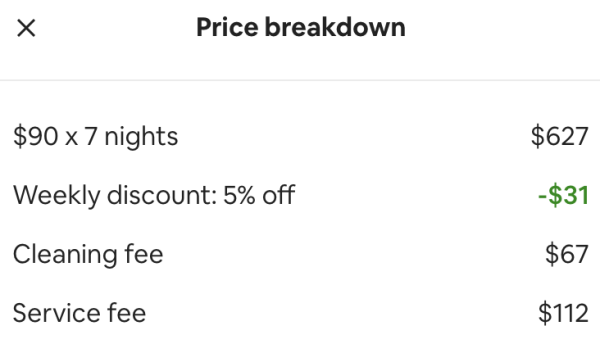 The second property, meanwhile, featured no cleaning fee or a weekly discount. Instead, you would be charged a flat fee per night, approximately $85, for a total of $594 for the week.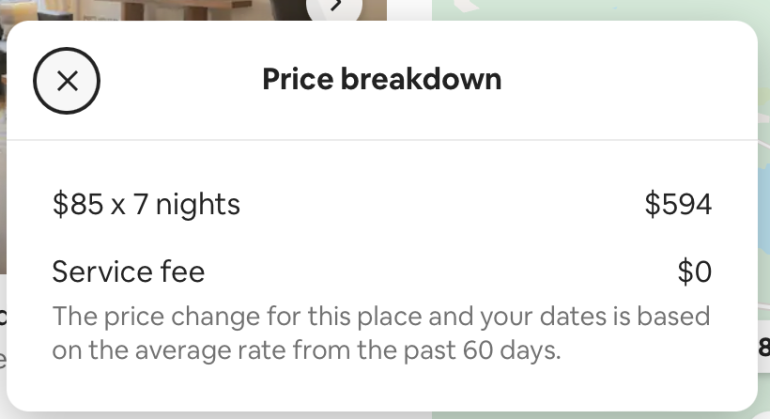 So although these two properties are charging the same nightly rates, you end up paying a significant difference over the course of a week. Keep this in mind whenever you're completing your searches. Cleaning fees can vary wildly and greatly impact the overall cost of your stay.
This won't be an issue for much longer, however, as Airbnb is in the process of rolling out a toggle function that allows you to see the total price (before taxes) at the search stage if you wish. The toggle is now live in the app and will be rolled out across platforms in early 2023.
Don't let a cleaning fee on Airbnb derail your trip — or your budget
Airbnbs are popular for a reason, but you'll want to be wary of additional fees when you're booking. Cleaning fees, which are set by hosts, can drag up the price significantly, depending on which property you choose. Keep an eye out for these fees and search for properties that don't charge them in order to find the best value.
---
How to maximize your rewards
Get more smart money moves – straight to your inbox
Sign up and we'll send you Nerdy articles about the money topics that matter most to you along with other ways to help you get more from your money.