A Beginner's Guide for Travel Points and Miles
Ready to get started with points and miles. Here's what you need to know.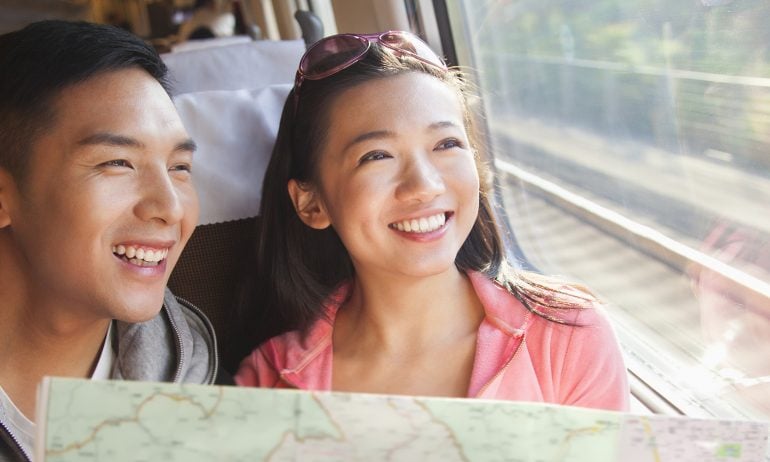 Many or all of the products featured here are from our partners who compensate us. This may influence which products we write about and where and how the product appears on a page. However, this does not influence our evaluations. Our opinions are our own. Here is a list of our partners and here's how we make money.
Welcome to the world of miles and points! We're glad you're here. In this beginners guide, we'll show you the basics of airline miles, hotel points and credit card points. We will explain this hobby, the different types of travel reward "currencies" and the best ways to earn and redeem miles and points.
So sit back and get comfortable as we help demystify the fun and exciting world of miles and points.
This is an important consideration when evaluating what you would like to get out of your points and miles hobby. Do you want to travel several times a year to an exotic location, flying in first class on miles and paying for your hotel on points? Do you want to fly to visit friends and family using miles (but don't care if you sit in economy or business class)? Or do you just want to learn what travel rewards are all about?
The good news is that regardless of your travel goals, understanding the basics of these currencies can make those goals a reality. Using points and miles to see the world can save a lot of cash. And when you get into this hobby, you begin to realize that all sorts of travel is affordable and within reach.
Setting clear travel goals can also help focus your attention and investigation. If you want to visit Japan, you can focus on relevant airlines and hotel programs while ignoring the rest (for now). This can help avoid overwhelm and the paradox of choice.
Think of points and miles (travel rewards) as another type of currency. Just like stocks, crypto, bonds or foreign currencies, travel rewards present a way to pay for your travel experiences and invest in your travel goals without using cash.
Each travel reward currency , just like a country's currency. Many points and miles are worth roughly a cent apiece, but values vary ... It's important to do the math whenever you're considering a particular offer or promotion to figure out the approximate cash value. 100,000 points might sound like a lot, but it depends on what kind of points they are.
There are three types of travel rewards: airline miles, hotel points and transferable points.
Airline miles are specific to each airline. One example of airline miles is miles. To earn United miles, you need to register for a frequent flyer account with United. Then, each time you fly with United (or another Star Alliance airline — more on alliances later), input your MileagePlus number on the reservation to earn miles for the flight.
United (and many other airlines) also has its own co-branded credit cards, such as the , which earns United miles every time the card is swiped. In addition to flying and earning miles on your flights, using this credit card for everyday purchases is the best way to earn United frequent flyer miles.
The number of miles earned on a flight depends on various factors including the type of seat you book, distance flown and cost of the ticket. Similarly, the number of miles earned with a co-branded credit card also depends on the type of purchase. For example, the earns 2 United miles per $1 on restaurants and hotels, and 1 United mile per dollar on everything else.
Then, you can redeem your earned miles for award tickets on that airline (and its partners). Generally, airline miles are not transferable directly from one airline to another.
Here are the major airlines you should pay attention to when getting started with points and miles, as well as some useful details about each:
There are several , but understanding your domestic options is a good place to start.
Hotel points work very similarly to airline miles. Many hotel chains have their own loyalty programs, including and .
You can earn hotel points via paid hotel stays or by using that . One example of such a card is the . Similar to airline credit cards, each hotel chain's credit cards incentivize members to use the card by giving bonus points for using the card at hotels. The , for example earns up 17 total points per dollar spent at over 7,000 participating hotels.
The best use of hotel points is usually for an award night redemption. Some hotel chains offer free nights to encourage members to use their loyalty points at the hotels (e.g., with Marriott you can book four award nights and get the fifth night free). In many cases, hotel points are transferable to airlines, but the transfer ratios are usually poor.
There are a few , even the popular ones.
Transferable points are the most flexible type of travel rewards currency. Examples of transferable points are and and  The points are extremely versatile because you can redeem them in a number of ways, including for gift cards, cash back or by transferring to specific airline partners.
For example, American Express points are transferable to 18 airlines and three hotels. Because of their flexibility, these points are often considered more valuable than airline miles or hotel points.
Unlike airline miles and hotel points, transferable points are earned by using credit cards specific to the transferable point currency. For example, the earns Chase Ultimate Rewards® points.  earns Membership Rewards points. You cannot register for one of these rewards accounts without having a specific card (see below).
Now that you know the three main types of travel rewards, you are ready to get started. So what do you need to know before you begin?
Travel rewards beginners would be wise to keep the following in mind:
Now that you know the basics of points and miles and what good habits to keep in mind, let's have some fun and look at the best ways to earn them.
Below, we have listed the five best ways to maximize earning points and miles.
The fastest and most efficient way to earn miles and points is by signing up for a credit card and using that card for everyday purchases. Credit card companies want to incentivize customers to use their products. For this reason, credit card companies will usually offer a sign-up bonus to a first-time holder of a credit card.
Sign-up bonuses can be as high as 100,000+ points depending on the offer. Usually, a higher offer corresponds to a higher minimum spending requirement. This makes perfect sense because credit card companies want to reward customers who use their products the most. As a rule of thumb, an offer of 50,000 points/miles or more is considered a "good" offer.
One example of a strong offer is the , which is currently offering the following:
Credit cards come out with limited-time offers all the time, so if you're considering getting a card but think the sign-up bonus is low, you can always wait to see if a better offer comes along.
To get started, sign up for a credit card that earns airline miles, hotel points or transferable points. If this is your first card, a transferable point credit card will offer the most flexibility for earning and redeeming points.
If you already have a transferable point card and want to add another card to your portfolio, consider your travel goals. Do you fly with United often? If so, think about a United credit card as your next card. Is Marriott your favorite hotel chain? Maybe it makes sense to add a Marriott card to your portfolio. Regardless of your plans, deciding which card to get is a personal decision and there is no right or wrong answer.
Below, we've included a list of some of the best credit card offers currently available, organized by airlines, hotels and transferable points programs.
Not all travel credit cards are created equal. Depending on which card you have, the card will offer bonus points for spending in a specific category. For example, the earns bonus points on travel and dining at restaurants. So, if you hold this card along with another credit card, you'd probably use the for all your travel and dining expenses.
Another excellent card to have in your portfolio is the , which offers rotating quarterly bonus categories.
As seen above, in the second quarter of 2020 (April 1-June 30), you can earn 5% cash back on up to $1,500 spent at grocery stores, gyms and select streaming providers.
Furthermore, you can turn the 5% cash back earned on the into Chase Ultimate Rewards® points. If you hold a premium travel card like the , you can pool your points, and get 25% more value when you redeem your points for trips through the Chase Ultimate Rewards® travel portal.
You can maximize your point earnings by using the for all purchases that earn 5 points per $1 and using the for all other purchases. If you max out the bonus category, you will earn 7,500 Chase Ultimate Rewards® points per quarter. Earning 30,000 points per year on a no-fee card is a pretty sweet deal.
Each time you or , make sure that you've registered for the airline or hotel chain's loyalty program and input your loyalty number into the reservation. Although this is a very straightforward way to earn travel rewards, it is often overlooked. Make it a habit to not skip this step.
An extremely easy way to earn points and miles is by shopping online via shopping portals. lists all shopping portals currently offering cash back, airline miles, hotel points or credit card points (transferable points).
Let's say for example you want to make a purchase from Nike.com. Check CashbackMonitor for current shopping portal offers.
As seen above, many shopping portals offer cash back for Nike.com purchases. To earn the points, simply click on the portal you would like to earn points with. If you want airline miles, you could earn 6 British Airways Avios per $1 or 2 United miles per $1 (at the time of this offer). If you'd prefer to have a more flexible currency, choose to earn 3 Chase Ultimate Reward points per $1 instead.
And don't forget that these portal points are in addition to what you'll earn from spending on your card. Let's say you're making a $100 Nike purchase and want some British Airways Avios. By simply clicking through the British Airways shopping portal, you will earn 600 BA Avios on the transaction. If you use your for this purchase, you would also earn 100 Ultimate Rewards® points.
Dining rewards programs provide an excellent and easy way to pick up some airline frequent flyer or hotel loyalty points just by dining at a participating restaurant. First, you sign up for an account with a dining program and add a credit card to your account.
Then, every time you visit a participating restaurant and use the card on file, frequent flyer miles will automatically post to your dining account. Currently, Alaska Airlines, American Airlines, Delta, JetBlue, Southwest, Spirit, United, Hilton and IHG offer .
These dining programs are run by the Rewards Network, so you can earn loyalty points on only one program at a time. At this time, only U.S. restaurants participate in the dining programs.
You can also earn extra points when you sign up for a new account. For example, at the time of publication United was offering a and completed a dine within 30 days.
Now that you know about some of the best ways to earn travel rewards, let's take a deeper look into how to redeem points.
Each airline that offers a loyalty program allows members to redeem frequent flyer miles for award seats. In addition, some airlines are members of alliances. Airlines that are part of the same alliance include codeshare agreements with one another that allow passengers to fly on one another's flights and earn/redeem miles with each other.
For example, United Airlines is a member of Star Alliance, and so is Lufthansa. When you fly on Lufthansa, you can input your United Airlines MileagePlus number on the reservation and earn United miles.
Redemptions work the same way. You can use your United miles on United.com to book a Lufthansa award ticket. The ability to fly on alliance partner airlines opens up a world of possibilities for award redemptions.
The three main alliances are Star Alliance (26 member airlines), SkyTeam (19 member airlines), and Oneworld (14 member airlines).
Star Alliance is the largest of the three and provides the most flexibility for earning and redeeming miles. Let's say you hold the , which is currently offering the following sign-up bonus: .
After meeting the minimum spend requirement, those bonus United miles are redeemable for award tickets on all of Star Alliance's 26 member airlines — so you have numerous redemption options all over the world.
When applying for a credit card with a specific airline, consider which partner airlines you want to fly and redeem points with. Remember, airline miles are not easily transferable from one airline to another.
Hotel reward programs are similar to airlines, but much simpler. There are no alliances to worry about, or complicated transfer partners. These are the major hotel brands with reward programs:
To use your points with each of these programs, you'll search for hotel rooms through the website or app, usually selecting "use points" or a similar function on the search tool. For some programs, you have to be logged into your reward account in order to make these searches.
The number of points needed per stay should be displayed in the search results.
Unlike airlines, which offer spotty award availability, most hotels offer award availability whenever there are any rooms available. This makes it much easier to use these points, especially when booking at the last minute.
Unlike airlines and hotels, which follow similar rules across most brands and programs, rental car rewards are more of a wild west. Each program has its own rules for earning and using points.
That said, the basic reward approach applies: You'll earn points or credits by using a single rental car company, and can then use these rewards to book future travel. The biggest trick, for a beginner, is to stick with one program for enough consecutive rentals to make use of the rewards.
If you have a card that earns Chase Ultimate Rewards®, American Express Membership Rewards, or Capital One Miles you can transfer points from those cards to member airlines or hotels. Citi ThankYou only has airline transfer partners. The advantage of having a credit card points is that you can keep your points in their most versatile form (with the issuer's program) until you are ready to transfer them to an airline or hotel. Once transferred, the points cannot be refunded back.
Chase has several transfer partners (10 airlines and three hotels). Generally, transferring points to hotels isn't advisable due to the lower valuation of hotel points.
AmEx has even more transfer partners (18 airlines and three hotels). Although AmEx has more partners than Chase, Chase's transfer partners include United, .
Given the numerous transfer partners available between Chase and AmEx, it's easy to see why these programs are so valuable. Deciding which program to prioritize can be based on which companies you want to fly or stay with.
Each of the airlines and hotels shown above has different award charts and redemption requirements. When electing to transfer miles, consider the value of your transferable points compared to the value of the redemption you have in mind.
Although Citi lists 16 airline partners, they are only available if you have a premium Thank You card such as the or . If you have a no fee card like the , you will only be able to transfer your ThankYou points to JetBlue.
Capital One is one of the newer programs and has done a good job of adding new partners and currently has 19 options for customers.
We've thrown a lot of information at you already in this guide, but don't worry: As you get more practice with earning and redeeming travel rewards, the easier it will all be to understand. Here are some tips to help you get started on those first redemptions, as well as some common pitfalls to avoid.
One of the biggest misconceptions about travel rewards is that they are only useful for frequent travelers. After all, weren't the original rewards called "frequent flyer" programs for a reason.
Infrequent travelers can get just as much value from these rewards by focusing on a few priorities:
When you start researching travel rewards redemptions online, you'll likely notice an emphasis on "maximizing" value. On the surface that makes sense — isn't that what we're trying to do with all currency, from dollars to miles?
Yet it's important to accept good-enough reward redemptions, especially when starting with this hobby. Your goal should be to offset or eliminate the cost of your travel goals, not to fly around the world in first class (unless that is your goal). In other words, the way to get the most objective value from your points might not align with your other priorities.
If travel rewards were easy, everybody would be doing it. The companies that run these programs want to entice you with big welcome bonuses and flashy promotions, but often make the work of actually redeeming points and miles confusing and complicated.
Here are some common pitfalls to avoid as a beginner:
Although the world of miles and points can seem daunting, it doesn't have to be. The best way to get started is to apply for a travel credit card that matches your needs. Then, learn how to maximize earning travel rewards.
The last step is knowing how to redeem points for the best redemptions, though this is more of an art than a science. There is no right answer and no ideal redemption that is right for everyone. However, getting started can put you on the path to traveling the world for nearly free. Think of travel rewards as another currency to add to your portfolio.
You want a travel credit card that prioritizes what's important to you. Here are our picks for the , including those best for: