Royal Caribbean vs. Carnival: Which Is Right For You?
Royal Caribbean wins out in most categories, but Carnival offers a solid budget- and family-friendly option.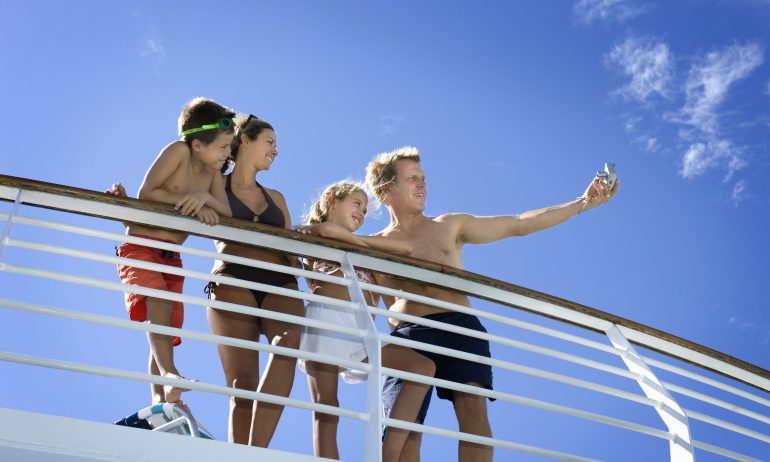 Many or all of the products featured here are from our partners who compensate us. This influences which products we write about and where and how the product appears on a page. However, this does not influence our evaluations. Our opinions are our own. Here is a list of our partners and here's how we make money.
Both frequent and first-time cruisers are sure to recognize brands like Royal Caribbean or Carnival. As two popular cruise lines in the U.S., both have plenty to offer passengers who are looking for sun, fun and adventure.
But which is better, Carnival or Royal Caribbean? Or is there much of a difference? The answer lies in where you want to go and the kind of experience you want to have.
Depending on what you're looking for in a cruise vacation, the Carnival Cruise versus Royal Caribbean debate has fans on both sides of the aisle (or should we say pier).
Here's a thorough comparison so you can decide between Royal Caribbean or Carnival.
Both cruise lines have many ships in varying sizes, including several new and elaborate ships. Both companies are market leaders in terms of fleet sizes.
That said, Royal Caribbean has more ships and they're often larger, which means additional dining, activities and lodging options for passengers.
Royal Caribbean has 27 ships, with more on the way. While ship size isn't always a deciding factor on which is better, Royal Caribbean tends to have larger ships with flashier amenities. In fact, Royal Caribbean has five of the largest passenger ships in the world based on gross tonnage and passenger capacity.
Its largest ship at the moment, Wonder of the Seas, weighs 235,600 gross tons and can carry more than 9,000 passengers and crew members. Its oldest ship is the Grandeur of the Seas, which launched in 1996. Its ships range from accommodating 2,400 up to nearly 7,000 guests.
Carnival has 23 ships in its fleet with more on order. Its oldest ship is Carnival Sunshine, which made its first sailing in 1996.
Its ships range in size, hosting around 2,100 to 5,200 guests. Carnival Celebration is the line's largest and newest ship with a gross tonnage of about 180,000 tons and space for over 5,200 passengers. 
This is hard to compare because the cost varies depending on the date you're traveling and where you're going to. Like airlines and hotels, demand can vary, which means the price does, too.
Other factors that can influence price are holiday periods, cabin type and advance purchase time. 
In general, both lines compete in the same space. While other cruise lines like Seabourn, Regent Seven Seas and Silversea may specifically target the upscale sector, both Carnival and Royal Caribbean offer a wide range of price points.  
Given the wide range of cabin types, including high-end suites and typically more elaborate decor, it's not uncommon to see higher prices with Royal Caribbean. 
When searching for a three-night Bahamas cruise departing from Miami in August 2023, Royal Caribbean is offering a cruise for $403 per person for an interior cabin, not including taxes or fees. A suite will run you $609 before taxes and fees.
This price point is higher than Carnival for the interior cabin, but lower for the suite.
When it comes to Carnival or Royal Caribbean, the prices hover in the same range — although on many dates and itineraries, Carnival tends to underprice Royal Caribbean.
For a three-night Bahamas cruise, also departing from Miami in August 2023, Carnival has interior rooms starting at $274 per person before taxes and fees. A suite costs $786 per person before taxes and fees.
Both lines offer a range of accommodations, from inside cabins to top-notch suites with luxurious extras.
This category would otherwise be a tie were it not for some of the unique features that Royal Caribbean has added on its newer ships on both ends of the pricing scale.
In the interior cabins of its newer ships, Royal Caribbean has added real-time, virtual balconies that provide the sensation of having an actual balcony (without the breeze or temperature, of course). This is a unique way to balance price with experience, but of course, nothing can replace a real balcony.
On the high-end, some of its newest family suites have in-room slides and game rooms spread across two floors. 
Like its competitor, the cruise line has something for every budget. It doesn't have the same bells and whistles as Royal Caribbean offers, though.
Both lines offer plenty to keep you busy without ever needing to leave the ship. These include a daily itinerary of events from contests, game shows, live entertainment and casino specials.
While not every ship has every type of amenity, both lines do an excellent job of creating variety. Royal Caribbean wins this category because of its additional and unique activity offerings.
Onboard activities of Royal Caribbean
What gives this line the win in this category is that it has special amenities that others don't — like the FlowRider surf simulator, where guests can try their hand at a free surf lesson.
Simulated skydiving, ice skating, trapeze lessons, escape rooms and rock climbing walls add to the fun. Don't miss the SeaPlex, which has plenty of indoor activities like roller skating, basketball courts and bumper cars.
Royal Caribbean is one of the largest producers of live entertainment. Each year, it runs more than 13,000 performances, surpassing Broadway and London's West End combined. This includes those conducted in or under the water at the cruise line's AquaTheater, specifically built for aqua acrobatics in the world's deepest pool at sea.
You'll also find the world's tallest viewing deck on a cruise ship, according to Guinness World Records.
Onboard activities of Carnival
The family-style activities on this line range from pools with waterslides and kids' clubs to playgrounds, ropes courses, mini golf and basketball courts.
Carnival also has plenty of evening entertainment from musical productions and Broadway-style shows to headlining entertainers and comedians. There are game shows, like Family Feud, that guests can be a part of for added fun.
The Carnival Mardi Gras and Celebration ships offer rides on the first roller coaster at sea, and three ships have the SkyRide (aerial biking).
If you're sailing with the family, both cruise lines offer kids' programs, swimming pools and waterslides. Also, both have private islands in the Bahamas with pools and water parks.
On board, the mix of other passengers can determine the overall experience, but both cruise companies do an excellent job of offering fun for all ages. Carnival wins this category for its more laid-back atmosphere and the number of children-specific activities.
Royal Caribbean for families
Perfect Day Island at CocoCay is Royal Caribbean's expansive private island with water activities, dining areas and plenty of beach. It also has the region's largest wave and resort pools.
Back on board, young guests can explore the adventure science lab or a 3D puppet show.
Royal Caribbean has so much that knocks it out of the water on the unique onboard amenity front, but most activities are geared toward all ages. When it comes to youth-oriented variety, it generally offers a bit less.
Half Moon Cay is Carnival's private island with horseback riding in the sea, a mock pirate ship, water activities, villas to rent and a coastline with lounge chairs.
The Seuss at Sea program offers fun for young travelers, including costume parties and themed breakfasts with their favorite Dr. Seuss characters. Even the spa has treatments for teenagers seeking a little pampering.
There's also a NASA-inspired space program for kids, an IMAX theater and a thrill theater that simulates being on hair-raising roller coasters.
Both cruise lines offer excellent dining options that span a global palate profile, but if you're looking for specialty dining, Royal Caribbean has more options.
Still, if you're looking for variety, it's hard to tip the scale in favor of either brand — although Carnival deserves props for offering more well-known food options without an extra fee.
It's hard to go hungry on a Royal Caribbean ship because of its numerous dining options and specialty dining choices. One area where it falls short is name recognition, with fewer celebrity chefs lending their brand to its onboard eateries. Jamie Oliver is one, and a familiar favorite is Johnny Rockets. Carnival still has more specialty venues.
This brand is well-known for its tasty food and celebrity partnerships with names like Guy Fieri and Emeril Lagasse.
If the names mean nothing, the brand may still resonate, with partnerships like Guy's Burger Joint and Guy's Pig & Anchor Smokehouse. Many of these celebrity chef and specialty dining venues are complimentary, unlike those on Royal Caribbean.
Both lines deploy their fleets on substantial itineraries in many parts of the world. Interesting options include both the Panama Canal and trans-Atlantic crossings.
Royal Caribbean itineraries
The route map for Royal Caribbean ships is widespread, covering the Caribbean, Mexico, Alaska, Hawaii, Europe and Australia, among other places.
It has a large number of North American departure points. The line even offers a South Pacific sailing that visits places like Vanuatu and New Caledonia.
Carnival does a lot of Caribbean and Mexico itineraries from more than a dozen North American ports of call. It also sails around the world, including to eclectic places like Papua New Guinea and Greenland.
Both cruise lines offer plenty to do after the sun sets — from live entertainment and karaoke to dance clubs and comedy hours. But Royal Caribbean has a greater number of head-turning evening activities to please night owls.
Royal Caribbean nightlife
From sublime jazz club vibes to thumping nightclub venues, Royal Caribbean offers several options for after-dark entertainment.
Among its offerings are Playmakers Bar & Arcade, which pairs drinks with arcade games, and Boleros, a Latin-themed nightclub with music, dance and cocktails. Most spectacularly, many ships have robotic bartenders that can prepare special cocktails at the touch of a button and a bar that levitates within the inside of the ship.
Live music is available in many venues, but it's the DJs in the nightclub that keep things busy late into the night.
There are also piano bars and spots to take free dance lessons. Havana Bar mixes in some Cuban flavor to cocktail hour while the tiki bar switches the theme to a South Pacific atmosphere.
Overall, however, the after-hours entertainment just seems less flashy and sophisticated.
Both lines offer loyalty programs with substantial perks depending on your status level. Those who aren't members of the program can still opt to pay extra for those perks.
Still, it's better if you get perks for free as part of the loyalty program. In this realm, Royal Caribbean wins — it has a reciprocal partnership with sibling companies like Celebrity that can increase the benefit opportunity.
Royal Caribbean loyalty program
Special onboard events, discounts and benefits are available for members of Royal Caribbean's loyalty program, the Crown & Anchor Society. The number of perks rises based on the status you hold.
Members earn status by sailing often with Royal Caribbean. The program also offers a status match if you have elite status on Celebrity cruises, making it easier to attain status.
Carnival's loyalty program — cleverly dubbed the Very Important Fun Person Club, or the VIFP Club — operates in a similar manner. The more points you earn and the more often you cruise, the more perks you get.
A great way to earn points is with The Carnival World Mastercard, but with few non-cruise perks, it's not the best option to use when making other purchases.
VIFP Club's scale is smaller, since it doesn't provide reciprocal perks on other sibling brands. This is an immediate drawback when comparing the two, but it still makes sense to join the program if you sail often with Carnival.
Carnival vs. Royal Caribbean recapped
Is Royal Caribbean or Carnival better? Assuming both cruise lines can fit your date, destination and amenity preferences, Royal Caribbean comes out ahead. This is particularly true if your budget can accommodate the higher cost for interior cabins and/or you aren't traveling with kids. 
Meanwhile, more price-sensitive solo/couple travelers may prefer Carnival. It offers ample specialty dining and activity options, not to mention a good experience at a generally cheaper price point. While suites are more expensive for traveling families, the entertainment available to young cruisers is hard to beat.
---
How to maximize your rewards
Get more smart money moves – straight to your inbox
Sign up and we'll send you Nerdy articles about the money topics that matter most to you along with other ways to help you get more from your money.