Double Take: Should Young Flyers Book Premium Class Flights?
Two travelers share whether you should splurge on business or first class tickets when you're younger or wait.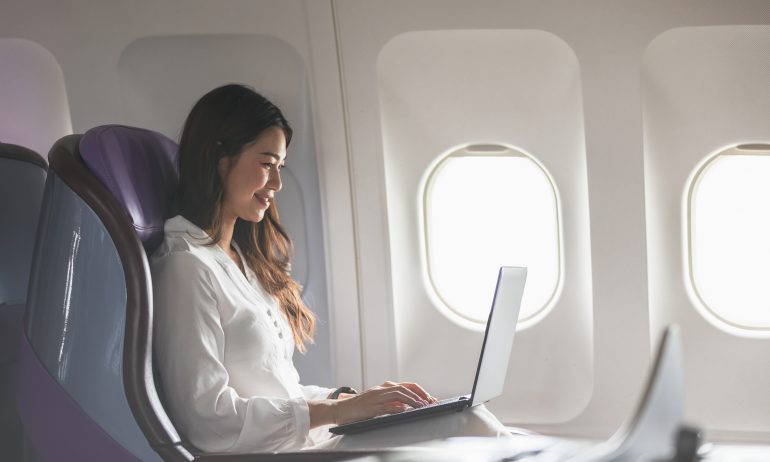 Many or all of the products featured here are from our partners who compensate us. This influences which products we write about and where and how the product appears on a page. However, this does not influence our evaluations. Our opinions are our own. Here is a list of our partners and here's how we make money.
Flying in the front of the plane in either business or first class can often be an amazing experience that supersedes anything you experienced as an economy flyer. That said, the tickets are nearly always more expensive, regardless if you're paying in points/miles or cash.
Two of our travel writers have different thoughts on when you should start flying in premium cabins. Here they make the case for their point of view.
Elina: Prioritize flying business or first class early and often
One of my first redemptions, after I became acquainted with the points and miles hobby, was when I flew in first class from New York to London, then to Amsterdam on British Airways, in 2011. I also stayed in hotels on points in both cities. The value of the trip was easily over $20,000; all I paid were the flight taxes (around $500 at the time).
On both the outgoing and return leg, I visited the Concorde Room at New York-JFK and London-Heathrow airports. The entire experience was incredible and luxurious — it completely opened my eyes to a new way of travel.
At the time, I was living in New York City, working in finance and taking two two-week vacations per year. I was able to splurge on flights because my trips were infrequent. However, when I moved to London for graduate school and became a digital nomad, I started mixing business class redemptions with economy class. I was traveling a lot more, and if I continued splurging on extravagant redemptions, I'd run out of miles quickly.
How she thinks about points and miles today
However, the pandemic brought my travels to a screeching halt and also made me reevaluate my flying strategy. Keeping a large number of points, which in itself is a depreciating asset, isn't smart. Plus, what am I really waiting for? Why not just fly in business or first class as much as I want, and book these tickets with points?
If I start running low, I can always fly in economy or tailor my spending to earn more of one point currency than another.
When it's safe to travel again, I will start flying more in business and first class on my miles.
The logic is even more true for those who aren't digital nomads, have location-based jobs and take one or two big vacations per year. Whether you're sitting at home earning points from your credit cards or just sitting on an existing pile of points, treat yourself to business and first class redemptions when it's safe to travel again. These premium redemptions are truly the best way to experience travel.
Josh: Wait to fly business class because it's really hard to go back to economy
I'll never forget my first international business class flight — it was back in June 2011, and it cost me 30,000 Continental (now United) miles to travel round trip from Guam to Bali on a mixture of Thai Airways and Continental flights.
I was 26 years old at the time and knew right away that I was hooked. Having access to a preflight lounge, a lie-flat bed on board (particularly helpful as one of my flights was overnight) and meal service from an actual menu completely upgraded my flying experience.
For the first time ever, I actually looked forward to the flight home rather than dreading it, knowing it was going to be a great experience.
How he thinks about points and miles today
Fast-forward nearly a decade later and I've been lucky enough to travel international business class on a number of airlines, including Qatar, South African Airways, Cathay Pacific, Virgin Australia, Philippine Airlines, United, Turkish Airlines, Copa Airlines and Air Canada using points, miles, upgrades and vouchers.
But I wish I had waited until I was a bit older to take my first international business class flight and, if you're younger, you should consider holding off as well.
Why? It's easy to get hooked on the premium class flight experience. I'm not the only one who believes this — an article from Psychology Today (aptly titled "Can Flying Be Addictive?") argues that individuals can become addicted to the feeling of being attended to or catered to in business class.
Personally, I'm at the point where I will rarely book trips to Europe, Asia, Africa or Oceania if they aren't in business or first class.
For most people who want to travel the world, getting accustomed to flying in premium classes at a younger age isn't ideal. Although you can often get the best redemption value for your hard-earned miles by booking long-haul international business and first class flights, it almost always costs more points or money to book business class compared with economy. You'll often get fewer trips with the same amount of points or cash.
If you're younger, have limited access to cash and points and have a goal to see the world, the last thing you should do is get used to flying in business class. Instead, use your points and funds to take as many flights as you can. Focus on business class travel in the future, when you either have more resources or you have other responsibilities that limit your time to travel.
If you're considering premium class tickets
There's no right or wrong answer when it comes to deciding if you should start flying business or first class. Your individual stockpile of points and miles combined with your personal travel goals will help you formulate a good strategy for yourself.
Finding the right balance between the quantity of trips versus the quality of seats is one of the key elements in making a travel plan.
---
How to maximize your rewards
Get more smart money moves – straight to your inbox
Sign up and we'll send you Nerdy articles about the money topics that matter most to you along with other ways to help you get more from your money.