Hardsided vs. Softsided Luggage: Which Is Best?
Hard-shell luggage is the way to go for durability and maneuverability, but soft-shells often pack more easily.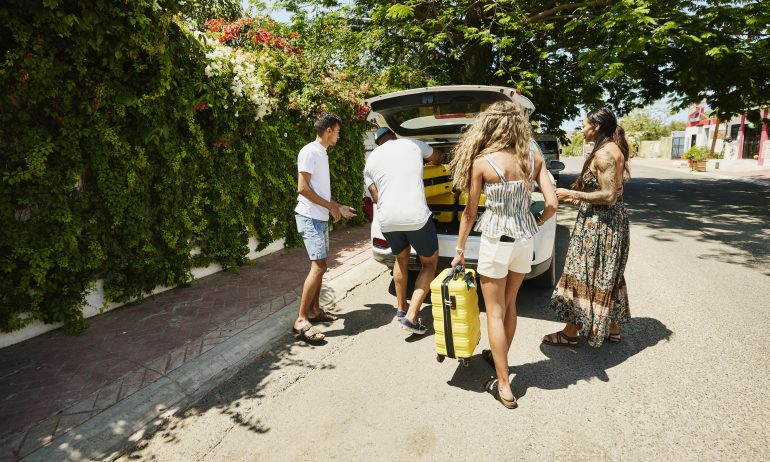 Many or all of the products featured here are from our partners who compensate us. This influences which products we write about and where and how the product appears on a page. However, this does not influence our evaluations. Our opinions are our own. Here is a list of our partners and here's how we make money.
With so many styles of travel bags available, finding the right bag for you can be overwhelming. When you're on the market for new luggage, one main factor could be the difference maker: the material it's made of.
It's a debate as old as time (or at least as old as air travel): softsided versus hardsided luggage. What's the difference and which one is best for you? The answer can be tricky as each has its pros and cons.
Before you set off on your next trip, here's how to decide whether softsided or hardsided luggage is right for you.
Pros and cons of hardsided luggage
There are lots of reasons you might pick hardsided or softsided luggage. Let's start with why you may want to consider a tougher exterior.
There's not a major difference in size when you compare hardsided with softsided luggage, but before making a purchase, check the baggage and carry-on size restrictions of your airline to ensure it falls within the required parameters.
Then make sure to look at bag measurements that include the total exterior height of the suitcase with the wheels. Spinner wheels on hardsided bags can make for a taller suitcase.
Which type of luggage is more durable, hardsided or softsided, depends on the potential pounding your suitcase may experience. Hardsided luggage tends to be more waterproof than its softsided counterpart, so if you're trudging through rain or snow, your clothing may stay drier longer.
However, hardsided luggage may sustain more scratches and scuffs when exposed to thrashes and bumps. In extremely high-impact scenarios, it might be more likely to crack or dent if it falls from a significant height or gets thrown aggressively into a cargo area.
That said, a hard case around your valuables can also mean they stay more protected during rough handling. Fragile items are less likely to break since the bag won't compress. Hard shell bags may also be less susceptible to slashing by thieves armed with blades.
Because spinner wheels tend to be found on hardsided luggage and cut down on usable packing capacity by a few inches, hardsided luggage typically offers slightly less interior room than the softsided variety (more on wheels below). But softsided luggage varies in how that inside space is divided.
Hardsided luggage features a butterfly opening with two separate but similarly sized compartments on each side of the zipper.
An interior zippered divider with pockets often separates the compartments. This has the dual purpose of keeping small items organized and keeping what's in the front compartment in place when the bag is opened and closed.
Whether that's a pro or a con depends on your packing style.
Wheels and maneuverability
Another standout feature that separates hardsided from softsided luggage is the wheels. Hardsided suitcases almost always feature four spinner or caster wheels instead of two stationary inline wheels.
These casters can make maneuvering through crowded airports or city streets easier while keeping your luggage close. They can be rolled upright or behind you.
Sometimes they don't function as smoothly over uneven terrain such as cobblestoned streets in Europe.
Hardsided luggage tends to be more expensive, though the price varies based on the brand.
Pros and cons of softsided luggage
If you're trying to decide between hardsided or softsided luggage, consider the unique characteristics of soft-shell suitcases.
Soft-shell luggage, while similar in external size to hard-shell luggage, can frequently offer slightly more internal storage space (as long as inline wheels and not spinners are part of its features).
Likewise, soft-shell suitcases have more flexible exteriors, meaning you may be able to compress them in order to squeeze them into tight spaces such as overhead bins or crowded luggage racks.
More and less durability can be found in softsided luggage than hardsided luggage. On the one hand, it is more prone to scratches and stains, harder to clean and less protective of valuables if the bag is thrown or pushed around during transit. But, on the other hand, softsided luggage is more likely to recover from rigorous handling than hardsided luggage.
Nevertheless, fabric suitcases are sometimes easier to steal from thanks to their non-rigid construction.
The storage space in a soft-shell bag is distributed differently than in a hard-shell. A soft-shell suitcase typically has one large compartment for packing with perhaps a few internal organization pockets on the inside of the front flap.
This makes it easier to pack large, bulky, or oddly shaped items as there are more open spaces sans dividers.
Additionally, this setup, combined with a flexible exterior, means you can unzip a small section of your bag to reach in and procure an item or two instead of unzipping and opening your whole bag like you'd have to with hardsided luggage.
But while that means there's potentially less opportunity for organization inside your bag, softsided luggage more frequently offers pockets on the front of the bag for stashing items you want to easily access.
Wheels and maneuverability
While softsided luggage is increasingly outfitted with spinner wheels, you're still more likely to find inline wheels in soft-shell luggage as opposed to hard-shell luggage. These wheels let you roll your bag in two directions: forward and back.
That means they may not have the extreme maneuverability of spinner wheels, mainly featured on hard-shell luggage. However, inline wheels set into the back of the case tend to be more sturdy and capable when it comes to rolling over rougher surfaces.
An oft-overlooked pro of inline wheels: if you're stopped on an incline, your bag won't roll away if you let go of it.
If you're on a budget, softsided luggage is typically less expensive and available in more wallet-friendly models, though not always.
Hardsided vs. softsided luggage weight
When it comes to weight, there's no telling which type of bag will come out on top, though softsided bags are generally a pound or two lighter. Check product details to see how much the models you're considering weigh.
The debate between softsided versus hardsided luggage comes down to personal preference, travel plans, and packing style.
Consider hard-shell luggage if you want durable, easy-to-maneuver luggage with a robust exterior to protect your valuables. Soft-shell luggage can be for you if you're seeking versatility, ease of packing, and a big interior.
---
How to maximize your rewards
Get more smart money moves – straight to your inbox
Sign up and we'll send you Nerdy articles about the money topics that matter most to you along with other ways to help you get more from your money.