What to Do When Southwest Delays Your Flight
You can ask, but Southwest isn't required to compensate you for a delay, so consider travel insurance as backup.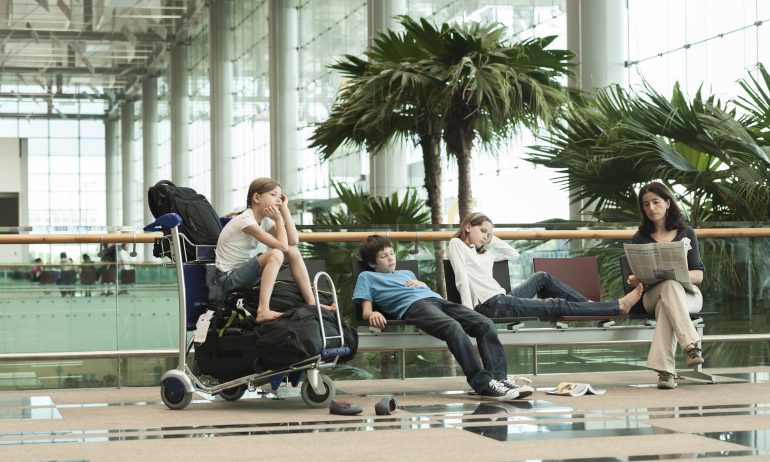 Many or all of the products featured here are from our partners who compensate us. This influences which products we write about and where and how the product appears on a page. However, this does not influence our evaluations. Our opinions are our own. Here is a list of our partners and here's how we make money.
It's no secret that flight delays have been on the rise lately as more travelers are eager to get away. These unexpected flight delays can be stressful and can negatively impact your vacation. If you're flying with Southwest Airlines soon, you may wonder what to expect if delays occur.
Southwest Airlines flight delays can and do happen. Therefore, it's essential to plan how you will handle the situation if your trip plans are altered due to delays.
The information below will help you better understand what to expect before you head to the airport for your next Southwest Airlines flight.
What Southwest considers a flight delay
Unfortunately, Southwest doesn't officially outline a specific timeline about what it considers a flight delay. You'll need to make a judgment call based on the length of your delay or disruption in regards to whether pursuing compensation is worth your time and effort.
For example, a delay of 40 minutes might not be worth it since that's not a lengthy delay. However, if you experience a two- to three-hour delay, it may be worthwhile to check in with airline staff to see if they will offer compensation for the disruption.
Is Southwest required to offer compensation for flight delays?
You may wonder if Southwest is required to provide compensation to passengers when flight delays happen. The answer is no.
The United States Department of Transportation outlines regulations that airlines must follow for flights that depart from the United States. According to the DOT, airlines must alert customers of a flight's status change if the flight is departing within seven days. And that's it. There are no federal guidelines on how airlines must handle compensation for flight delays departing the U.S. Each airline can outline its own policies.
The DOT notes that customers can ask the airline for compensation with amenities like food when delays occur. But note that airlines aren't required to cover food or other costs when delays happen. You may need to pay for these costs yourself.
Southwest's commitment to notifying customers about disruptions
In Southwest's Customer Service Commitment, the brand outlines how it handles certain situations and what the airline is committed to doing for its customers. For flights within seven days of departure, Southwest is committed to alerting customers about known disruptions.
The airline has an automated system in place to notify customers of delays. Within 30 minutes of Southwest knowing about a delay, cancellation or diversion of 30 minutes or more, customers will be notified by email, voice or text. Flight information screens and the boarding gate screens will also provide this information once it's known.
What Southwest will provide when flight disruptions occur
The brand's Customer Service Commitment also outlines steps the brand will take to reduce inconveniences when irregular flight operations occur.
Southwest will do its best to operate flights as scheduled. However, there may be situations beyond the company's control that don't allow flights to operate as planned.
This is what Southwest is committed to doing if a flight is delayed, canceled or diverted:
Rebook you on the next available Southwest Airlines flight with seats available to your destination.

Issue a refund of the unused portion of the Southwest ticket.
If situations within the airline's control cause you to miss the last possible flight or connection of the day to your destination, staff members can arrange the following at no additional cost to you:
Ground transportation to the overnight facility.
If you're in this situation, you should ask a staff member if they can help. However, if the issue is beyond the airline's control, don't expect Southwest to cover these costs for you. Instead, Southwest will do its best to secure a discounted rate at a hotel at or near the airport. That means the cost of a hotel and transit to and from your lodging would be your responsibility.
How to protect your money
You work hard for your money and flights can be a significant travel expense that eats up your budget. It's important to your investment, so your money doesn't go to waste if your travels don't go as planned. You can take the following steps to help protect the money that you've spent.
If you're dealing with delays or other flight operational issues, you can ask a Southwest Airlines staff member if they will compensate you for the inconvenience.
When asking for compensation, you'll want to consider the specifics of your delay, such as what caused it and how long you've been delayed.
Most airlines, including Southwest, don't guarantee compensation when disruptions occur due to issues outside their control, like weather-related incidents. On the other hand, airlines may be more likely to offer compensation if a disruption occurs due to the company's mishandling.
Consider these factors before asking Southwest for compensation due to flight delays.
Get a stand-alone travel insurance policy
If you're worried about the potential for flight delays on Southwest, you may want to invest in travel insurance. Depending on your policy and coverage, travel insurance may reimburse you for eligible costs if your trip doesn't go as planned.
You can purchase a travel insurance policy directly through an insurance agency. Another option is to use an insurance comparison tool to compare the prices of different policies from various insurance agencies.
Compare insurance rates, and make sure you research the details of each policy to ensure you're getting the right coverage for your needs.
Check travel card insurance benefits
Another way to secure travel insurance is through a travel card. If you have a travel card, it may include some travel insurance as part of the card's perks. This may include coverage for trip delays, trip interruptions, baggage delays and lost baggage. You'll need to pay for travel reservations with your eligible travel card to use these benefits.
Some examples of travel cards that offer these kinds of perks include:
Before your trip, review the terms of any included insurance or protection perks to ensure you know the coverage details and if any exclusions are outlined. This way, you'll know what's covered and how to make a claim if it becomes necessary during your travels.
If you experience Southwest flight delays, the exact details of your situation will determine how the airline handles flight disruptions. The airline isn't required to offer compensation, but it may cover some costs for you in some situations.
Knowing the brand's customer service commitments may help you get a more attractive outcome and resolution when experiencing delays or other issues.
You may want to use a credit card with travel insurance or purchase a travel insurance policy before your next trip. You'll feel more confident knowing you have some protection if your trip doesn't go as planned.
---
How to maximize your rewards
Get more smart money moves – straight to your inbox
Sign up and we'll send you Nerdy articles about the money topics that matter most to you along with other ways to help you get more from your money.