What To Do if Your Trusted Traveler Application Is Denied (TSA PreCheck, Global Entry, SENTRI)
These Trusted Traveler Programs offer ways to appeal if your application is denied or if your status is revoked.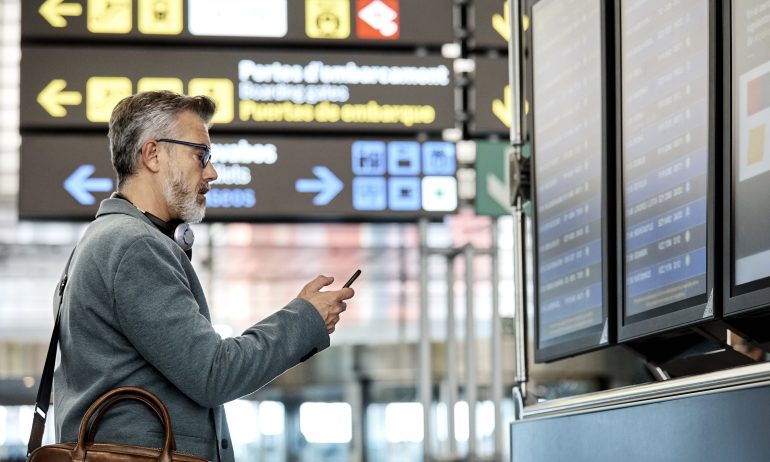 Many or all of the products featured here are from our partners who compensate us. This influences which products we write about and where and how the product appears on a page. However, this does not influence our evaluations. Our opinions are our own. Here is a list of our partners and here's how we make money.
Trusted traveler programs rely on interviews, government data and other systems to verify your information and grant entry to these expedited services. There are several reasons why people may not qualify or may have their status revoked. Unfortunately, mistakes also occur. Here is a rundown of why your TSA PreCheck, Global Entry or SENTRI status may be revoked and what you can do about it.
TSA PreCheck offers dedicated airport security lines and streamlined screening at around 200 airports across the U.S. for approved members. It helps travelers avoid removing shoes, jackets, toiletries and electronics when moving through the checkpoint, making the process faster and more efficient.
Once approved, members receive a Known Traveler Number that works with more than 85 participating airlines. Membership costs $78 and lasts for five years. After this time period, you can renew your membership for another five-year period. You can renew online for $70, or in-person at an enrollment center for $78.
Travel cards that cover the cost of TSA PreCheck
Reasons TSA PreCheck can be denied
It is possible to lose TSA PreCheck by committing federal security violations or crimes. These include both on an airplane or even when not flying. On the plane, these can include:
Intimidation or interference with flight crew.

Physical or sexual assault (or threat of assault) on an aircraft.

Interference with security operations.

Bringing a prohibited item to an airport or on the plane.
Beyond the airport, there is also recurrent criminal history vetting to assure that only lawful travelers have access. This can include:
Reviewing terrorist watch lists.

Past criminal convictions.

Imprisonment for more than 365 days.

Unlawful possession of a firearm.

Having outstanding warrants or being under indictment for a felony.
There are a few avenues that you can follow if you are denied or considered ineligible. This includes contacting the case manager that is provided in an ineligibility letter, calling the TSA Contact Center (866-289-9673) or submitting an online form.
Offered by the Department of Homeland Security, Global Entry provides approved, low-risk travelers access to an expedited immigration line when returning to the United States.
Following the one-time $100 application fee and background check, conditionally approved members must take an in-person interview. If approved, members will have access to the program for five years before needing to reapply. Even better, the application fee can be refunded if you hold a qualifying travel card that covers the fee as one of its benefits.
Cards that reimburse Global Entry fees
If you do not meet eligibility requirements, there are several Global Entry denial reasons. Even if you were approved previously, it is possible to have status revoked if you no longer meet those requirements for membership.
During the application process, travelers should disclose all pending or past criminal convictions as failure to do so could lead to disqualification. A DUI, for example, less than a decade old could be a problem. If you have been denied purchase of a firearm or been subject to a criminal pardon from any country, you may also be ineligible.
Failure to provide all required information on the application could lead to denial if it is discovered during the background check.
Another reason you could lose Global Entry after being approved is failure to declare certain items when passing through customs upon return from an international trip. You may be surprised at the lengthy list of things that should be declared. It includes things such as:
Agricultural items like food, plants, seeds and fruit (yes, even that apple from the plane).

Items over the limit of personal exemption (that shopping spree could get you in trouble).

Cash over the amount of $10,000.

Items containing dog or cat fur.

Game and hunting trophies.
Violations could lead to losing Global Entry. Even being uncooperative could have repercussions on your membership.
Was your Global Entry revoked? Or was Global Entry denied after conditional approval or you were declined membership from the start? There are a few options for recourse. Keep in mind that it is possible for mistakes to be made, especially if your name closely resembles another person who may not qualify for the program and you are often incorrectly stopped.
If you believe you had Global Entry revoked for no reason, reconsideration requests can take time. They can be made through the Trusted Traveler Program website by including the following:
Date of the denial and, if known, what the reason was (many people may not be aware of why they were denied or had status revoked).

Information to clarify or explain an incident or arrest.

A PDF of court disposition documentation showing any arrests or convictions (even if expunged).

Other supporting documentation.
If you were declined due to a previous denial of the purchase of a firearm, you can contact the FBI to challenge that denial at https://www.edo.cjis.gov/.
This expedited traveler program is designed for those that cross the U.S.-Mexico border frequently. SENTRI provides dedicated processing lanes when crossing the southern land border. Being approved also gives access to Nexus (for Canadian border crossings) and both TSA PreCheck and Global Entry at U.S. airports.
Status may be denied or revoked if you have:
Provided false information during the application process.

Been convicted of any criminal offense or have pending criminal charges.

Violated customs policies.

Received a criminal pardon from another country.

Been denied the purchase of a firearm.
If you believe the revocation or denial to be inaccurate, an appeal can be made via the Trusted Traveler Program application website by including the following:
Date of the denial and, if known, what the reason was (many people may not be aware of why they were denied or had status revoked).

Information to explain an incident or arrest.

A PDF of court disposition documentation for all arrests or convictions (even if expunged).

Other supporting documentation.
If your trusted traveler application is denied, recap
If your application is denied or your membership gets revoked, it is possible to seek reconsideration. Some may also choose to seek help from a lawyer if they don't make headway another way. Nothing is guaranteed, but trusted traveler programs can provide convenience at the airport or on the road.
It is important to follow instructions and be truthful in the application, but also to be informed of things that can make you ineligible. You may just be surprised at some of the things that must be declared at customs.
---
How to maximize your rewards
Get more smart money moves – straight to your inbox
Sign up and we'll send you Nerdy articles about the money topics that matter most to you along with other ways to help you get more from your money.