TSA PreCheck vs. Clear: Which Is Better?
TSA PreCheck speeds up the luggage screening portion of the security and is more widely available than Clear.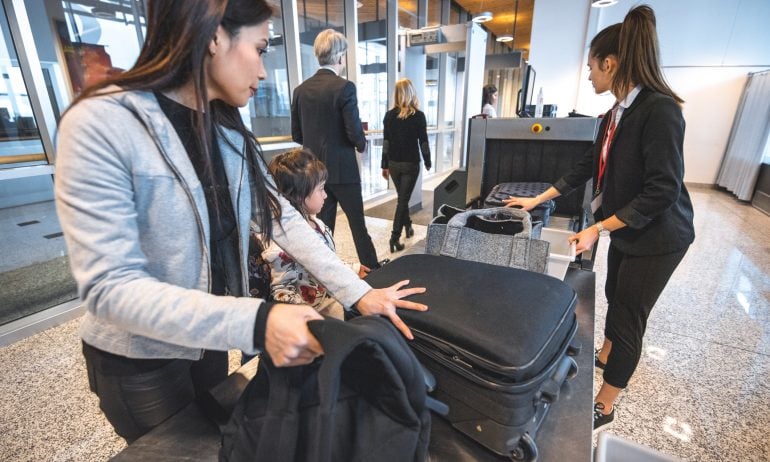 Many or all of the products featured here are from our partners who compensate us. This may influence which products we write about and where and how the product appears on a page. However, this does not influence our evaluations. Our opinions are our own. Here is a list of our partners and here's how we make money.
TSA PreCheck and Clear can both get you through airport security faster. But which is better?
Here's a look at the benefits, requirements and price of TSA PreCheck versus Clear to help you decide which will work best for you — and even whether you should get both. Plus, learn all the ways you can get one (or both) for free.
TSA PreCheck, managed by the Transportation Security Administration, is available to low-risk travelers who undergo an advance screening process. Open to U.S. citizens and certain foreign citizens, this includes a background check to determine eligibility for passing through airport security without having follow certain protocols.
Examples include removing your shoes and belt, taking out liquids or electronics (like laptop computers), and taking off outer garments, like a light jacket.
Once you're approved for TSA PreCheck, you're issued a Known Traveler Number, which you provide to your airline by storing it in your frequent flyer account or entering it into your reservation. Your boarding passes will henceforth include a TSA PreCheck designation that authorizes you to use an expedited security screening lane in more than 200 domestic airports. More than 80 domestic and international airlines participate in the program.
TSA PreCheck members pass through a traditional metal detector rather than a full body scanner (which some people find invasive). And you'll usually get through security much faster: According to the TSA, more than 97% of PreCheck-eligible passengers waited five minutes or less in June 2021.
TSA doesn't guarantee expedited screening with PreCheck. Occasionally, you may have to go through a random secondary check of your bags by security personnel.
If the TSA PreCheck designation doesn't appear on your boarding pass, you can ask an airline agent to reenter your information. This usually fixes the problem, and an agent can reprint the boarding pass with the necessary TSA PreCheck information.
U.S. citizens and foreign citizens who meet particular residency requirements are eligible to apply online and pay the $85 fee (good for five years and easy to renew online for $70 per renewal after five years). After applying online and receiving conditional approval, your final application step is to visit an enrollment center for a brief interview.
Children under 12 can also apply, but if you travel with them, they can also access the TSA PreCheck line with you without paying to be a member.
Cards that cover the cost of TSA PreCheck
Nerdy tip:
If you have been approved for Global Entry, you do not need to apply separately for TSA PreCheck. It comes automatically with Global Entry, so do not double pay.
If you travel internationally often, applying for Global Entry would make more sense, but if you are a mostly domestic traveler, you should stick to TSA PreCheck as the application process is simpler.
Using biometric data to identify travelers (rather than manually checking photo identification), Clear machines allow flyers to bypass long security queues and get to a TSA screening point faster. Clear does not include the membership features of TSA PreCheck, however.
After passing through a Clear kiosk, if you have PreCheck, you can go directly to the PreCheck lane (ahead of other passengers waiting in line); if not, you must use the regular screening line (also ahead of other passengers waiting in line). The real benefit of Clear is saving time, although there is still some hassle at the checkpoint.
This means that if you value not having to remove shoes, electronics, liquids and outerwear, you will also want to apply for TSA PreCheck. If you only want to bypass the line, but don't mind removing items and passing through a body scanner, then Clear may be worth it on its own.
Unlike TSA PreCheck, Clear is only available at a few dozen domestic airports. Members use a faster line to scan their fingerprint or iris before moving directly to the security lane. Clear is also available at other venues that require lining up for a security check, like stadiums.
Unlike TSA PreCheck, there is no background check needed to apply for Clear, although you must be a U.S. citizen or permanent legal resident 18 or older. You can apply in minutes online or via an airport Clear kiosk by showing valid government-issued identification.
Clear costs $179 for an annual membership (auto-renewals are possible and do not require any additional verification), and members can add up to three family members for an additional $60 per person. Children under 18 can use a Clear lane for free if they are traveling with a Clear member.
Clear offers a free two-month trial if you want to test it out, and if you are a United Premier 1K or Delta Diamond Medallion member, you get an annual membership free of charge. Other Delta and United elite members get a discount.
Cards that cover the cost of Clear
Which program is the best?
Since it is available at more airports and provides expedited security wait times as well as an easier screening process, the winner is TSA PreCheck. Those with Clear membership only have access to faster security lanes. Without TSA PreCheck, Clear members must still remove their shoes, electronics, liquids and outerwear.
But the choice of TSA PreCheck versus Clear doesn't have to be an either-or proposition. Many TSA PreCheck members value having Clear, as it further expedites moving ahead of the occasionally long TSA PreCheck lane in dozens of airports.
Still, TSA PreCheck remains the best way to make your way airside without wasting time in lines.
The only real upside to having Clear alone, without TSA PreCheck, is if you plan to use it exclusively at stadiums, where it will get you to the front of the line faster.
Not all U.S. citizens will be approved for TSA PreCheck for various reasons, including problems with a background check. If that's you, Clear alone can be worthwhile if you fly regularly from an airport that has Clear lanes.
If you're considering TSA PreCheck or Clear
TSA PreCheck is the best option for frequent travelers. If you can apply for and afford both TSA PreCheck and Clear, you are even better off. Why waste time in line when you can be on your way to the gate or a comfortable airport lounge?
All information about the American Express® Green Card has been collected independently by NerdWallet. The American Express® Green Card is no longer available through NerdWallet.
---
How to maximize your rewards
Get more smart money moves – straight to your inbox
Sign up and we'll send you Nerdy articles about the money topics that matter most to you along with other ways to help you get more from your money.