Will My Airline Go Out of Business? Probably Not.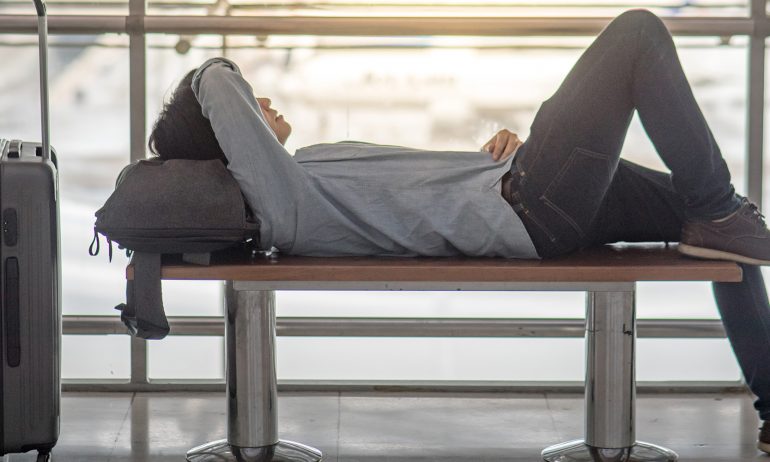 Many or all of the products featured here are from our partners who compensate us. This may influence which products we write about and where and how the product appears on a page. However, this does not influence our evaluations. Our opinions are our own. Here is a list of our partners and here's how we make money.
Note: As you plan travel during the coronavirus pandemic, please check the CDC and State Department websites for current guidance and travel restrictions.
---
---
There's not an industry in the world that hasn't been impacted by the COVID-19 virus, but out of all of them, the airlines may suffer the most. Many airlines have eliminated almost all of their international flights, and are planning out worst-case scenarios. Edward Pizzarello at the travel blog Pizza in Motion compiled research showing that there are likely over 10,000 planes grounded right now that are usually in the air.
United Airlines estimated that in a worst-case scenario, revenue might be down as much as 70% in April and May. The situation sounds dire, and without aid, it would be difficult for any airline to remain solvent. But they will likely have a lot of help coming their way from several sources.
NerdWallet Guide to COVID-19
Get answers about stimulus checks, debt relief, changing travel policies and managing your finances.
It's hard to kill an airline
One thing that we know about the airline industry is that it's hard to eliminate an airline altogether. For the purpose of this article, I'll consider "out of business" to mean that the airline will go away entirely, as opposed to declaring bankruptcy. While airlines have a long and glorious history of going bankrupt, they rarely disappear completely.
In the past 20 years, almost 70 U.S. airlines have gone bankrupt, but only 13 actually disappeared altogether, and most of their assets were bought by other carriers, according to an unofficial list compiled by Airlines for America. The remaining ones renegotiated their loans and lived to go bankrupt another day. Why? Because the collateral for their loans is often aircraft. The manufacturers don't want the planes back, and other creditors would have no place to sell them.
The government is stepping in
In the end, politicians will likely help the industry out. Why? Because they have to. Four airlines (American Airlines, Delta Air Lines, Southwest and United) control over 80% of the seats in the sky, and that's just domestic. Add in international flights from U.S. airlines and that number goes way up.
If one of those carriers went away entirely, it would result in not only hundreds of thousands of lost jobs in the industry, but it would also cause airfare on the remaining carriers to soar while devastating global trade.
At the time of this writing, the industry is poised to get nearly $60 billion in government aid, and it's tough to bet against them.
Oil prices may save the day
If you buy gas, you've probably noticed that the price of oil has fallen more than 50%. That's good news for your wallet but even better news for the airlines since fuel is usually their second-largest cost after labor.
American Airlines, for instance, spent $7.5 billion on fuel and taxes in 2019, paying $2.05 per gallon on average. If fuel stayed at the current price of about $1 per gallon, it would save the airline almost $5 billion over the next 12 months (assuming it were to fly a similar schedule as in 2019).
Airlines are happy to sell miles to their partners
This one could end up working out in your favor. Airlines sell miles to their financial services partners, who in turn give them as rewards to you for using their credit cards. Given the airlines' need for cash, they could forward-sell miles to the banks, who will then have to find something to do with them. I'm guessing that six months from now, we may be seeing some great credit card promotions.
What about the low-cost carriers?
Worried about the low-cost carriers, like Southwest, JetBlue Airways or Spirit Airlines? Don't be. They were built for tough situations. These airlines tend to have lower costs than their major counterparts, meaning they are less affected by a demand shock.
In addition, as a whole, these carriers tend to have less debt than the bigger airlines. They may not charge a lot for their tickets, but they're in good shape financially. Southwest has the best balance sheet among U.S. carriers, and both Spirit and JetBlue have strong cash positions. These three rank near the top of the industry in terms of cash as a percentage of trailing 12-month revenue, a common measure of immediate liquidity.
What about the regional carriers?
The position of regional carriers is somewhat more tenuous. Wholly owned regionals, such as Endeavor Air (which is owned by Delta) are likely more secure. Delta needs the capacity, and grounding its own aircraft while outsourcing that business is not feasible.
Independent carriers that partner with multiple major airlines could be in rougher shape. Skywest Airlines, the largest of the regional carriers, should be fine given its size and liquidity, but smaller operations face a tougher environment. If we see consolidation in the business, it will likely come in the regional space.
Are your miles safe if your airline goes under?
That's the 64,000-mile question. If history is a guide, your miles will probably end up with another carrier in the event that your preferred airline fails, most likely the airline that buys the majority of its remaining pieces.
For example, when American Airlines bought the remaining assets of TWA in 2001, it allowed customers to transfer miles into the American Airlines AAdvantage program. The same has been the case for every major merger in the past 20 years.
Airlines aren't honoring your miles to be generous, of course. Those miles represent a built-in customer base. If the carrier eliminates your miles, you become a free agent. Allowing you to transfer your miles into any new program makes it that much more likely that you'll stick around.
COVID-19 has changed all of our lives, probably forever, and it will also change the way that we travel. But I think it's unlikely that we will lose any major domestic airlines. While all of them will certainly be smaller for the next year or two, I expect they will make it through the crisis intact.
Get more smart money moves – straight to your inbox
Sign up and we'll send you Nerdy articles about the money topics that matter most to you along with other ways to help you get more from your money.