Your Guide to Hotel Travel With Pets
Finding a pet-friendly hotel can seem complicated unless you know what to look for.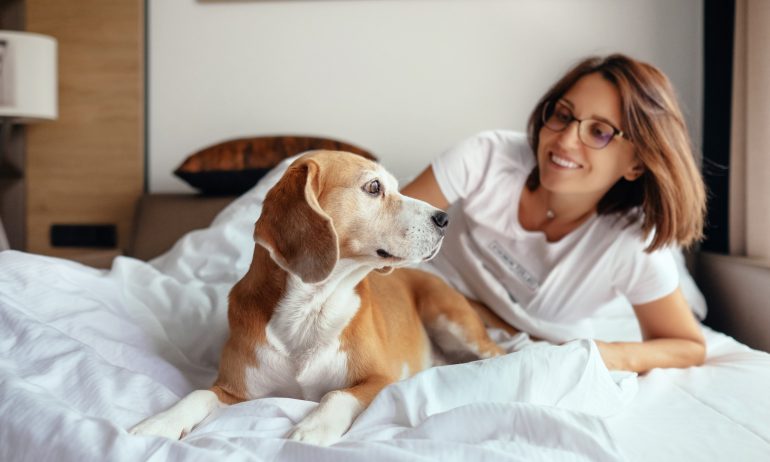 Many or all of the products featured here are from our partners who compensate us. This may influence which products we write about and where and how the product appears on a page. However, this does not influence our evaluations. Our opinions are our own. Here is a list of our partners and here's how we make money.
Traveling with pets can seem like a daunting task. Hotel pet policies are complicated, inconsistent and full of gotcha fees. But with a bit of preparation and an understanding of how the policies work, you can avoid these costs and headaches.
Here's the basics of staying at hotels with your pets.
A pet-friendly hotel is generally one that allows some animals on the property under some conditions. However:
Make sure to check the specific policy for the hotel property you're considering before clicking "book."
Generally, each hotel property has its own pet policy. There is no blanket pet policy for, say, every Holiday Inn. Every Holiday Inn location has its own policy.
These policies have become so complex, a mini-online industry has sprung up around providing clear, easy-to-understand information about specific policies. Sites such as BringFido and Petswelcome host individual pages for each hotel property with reviews from pet owners and a simple summary of the pet policy. Here's an example from BringFido:
These sites are a great resource. The only drawback is that they are updated manually, so if a property changes its pet policy, it may not be immediately reflected. To ensure you're getting the correct information:
Although individual hotel properties often have their own pet policies, some hotel chains and brands are generally more pet-friendly than others.
As traveling with pets becomes more common, more hotel brands are pitching themselves as pet-friendly while charging exorbitant pet fees, which are often buried in the fine print. To shed some light on these fees, we compared dozens of properties within seven major hotel brands to see which charged the lowest pet fees.
Keep in mind that these are average fees, and the actual rates vary significantly from property to property. Still, it gives travelers with pets a good understanding of which brands to target and which to avoid altogether when planning where to stay.
Pets are part of the family, so why board them when you go on vacation? Although hotel pet policies can seem like a complex maze, they are easier to understand and navigate once you know the basics.
Use a third party website to check individual property pet policies, target brands like Kimpton and Aloft that are truly pet-friendly, and watch out for sky-high pet fees from some big-name hotels.