Charles Schwab Bank
NerdWallet's rating: 4.0 / 5.0
Sure, it's known primarily as an investing platform, but Charles Schwab also offers banking products, such as checking accounts, savings accounts and certificates of deposit. And here's the thing — they're each pretty darn good. Take a look at our Charles Schwab investing review, too.
The bottom line
With no fees or minimum balances, High Yield Investor checking and savings accounts offer stress-free banking.

Its ATM coverage is superior to most competitors, and it offers unlimited fee rebates at any ATM worldwide.

Interest rates on High Yield Investor checking and savings accounts are low, but they're stellar on certificates of deposit.

The difficulty of depositing cash — you'll need to convert it into a check or money order first — and lack of branch access mean Charles Schwab isn't for everyone.

Be aware the bank will do a hard inquiry on your credit when you apply for a new Schwab account. (Not sure what a hard inquiry is and why it matters? Find out here.)
» Traveling soon? Check out our best banks for international travel
Read on for more information about Charles Schwab's checking and savings products, CDs, customer experience and overdraft fees.
Checking
4.5 / 5.0
Pros
Cons

No monthly fee or minimum opening deposit
Unlimited ATM fee reimbursements, domestically and abroad
Free checks


Difficult to deposit cash: You'll have to convert your cash into a money order or check and send it in via mail or mobile check deposit
Other banks offer higher interest rates than Schwab's 0.35%
Schwab has one of the best ATM fee reimbursement programs in the game, and its lack of monthly fees is a big bonus. You'll have to open a Schwab One brokerage account at the same time that you open the checking account, but you're not under any obligation to use the brokerage account. Just keep in mind that Schwab will conduct a hard inquiry on your credit if you choose to apply for an account.


How does Schwab Bank compare?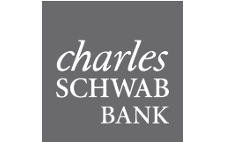 High Yield Investor Checking®
NerdWallet Rating

Spending Account
NerdWallet Rating

Fee-Free Checking Account
NerdWallet Rating
Not for you? Read more bank reviews
» Looking for other good checking accounts? Browse NerdWallet's best checking accounts
Savings
3.5 / 5.0
| Pros | Cons |
| --- | --- |
| No monthly fees or minimum balance requirements | Relatively low APY of 0.45% |
The High Yield Investor savings account isn't flashy, and low rates mean you'll see your money grow more quickly elsewhere. But because it doesn't charge monthly fees or require a minimum balance, it's simple and stress-free to use.
» Looking for higher savings rates? Explore NerdWallet's best savings accounts
Certificates of deposit
5.0 / 5.0
Pros
Cons

APYs go up to 3.50%, outshining many competitors
Large range of term lengths, typically from one month to 10 years


Require minimum balance of $1,000
Charles Schwab's certificates of deposit, whose terms typically range from one month to 10 years depending on the issuer, come with top-notch interest rates. They often fluctuate, though, so call the bank to confirm them before you open a CD. Compare other banks' CDs by rates, terms and more.
» Want to see the best rates? Check our list of top CDs for this month
Bank experience
4.0 / 5.0
Charles Schwab is an online bank, but it provides customer service through multiple avenues, including Twitter and 24/7 chat support. Schwab Bank's phone support is available between 4 a.m. and 8 p.m. PT on weekdays and between 6 a.m. and 7:30 p.m. PT on weekends, and its Android and iOS apps are favorably rated by customers.
Overdraft fees
3.0 / 5.0
When you overdraft, Schwab may pull money from funds in your linked Schwab One brokerage account or your Schwab savings account, free of charge, if you set them up as sources for funds. If you don't have enough money in either, Schwab may deny the transaction — or you may be hit with a $25 nonsufficient funds fee, up to $100 a day. You might also qualify for an overdraft line of credit.
» Know how much your bank charges for overdrafts? Find your bank and others 
Quality, stress-free banking
Banking with Charles Schwab is a no-brainer if you don't pay much attention to checking and savings interest rates and don't deposit cash too often. The lack of fees or minimum balances and the perk of unlimited ATM reimbursements mean you'll be able to bank without constantly worrying about racking up avoidable charges. High CD rates and having multiple customer service channels also give Schwab a boost in our ratings. Be careful of nonsufficient funds fees, and Charles Schwab bank should provide a smooth banking experience.
» Want to dip your toes in investing? Learn how to invest your money
Amber Murakami-Fester is a staff writer at NerdWallet, a personal finance website. Email: amufe@nerdwallet.com. Twitter: @iamyams.
---
Ratings methodology
NerdWallet's overall ratings for banks and credit unions are weighted averages of several categories: checking, savings, certificates of deposit or credit union share certificates, customer experience and overdraft fees.
Factors we consider, depending on the category, include rates and fees, ATM and branch access, account features and limits, user-facing technology, customer service and innovation.
The stars represent ratings from poor (one star) to excellent (five stars). Ratings are rounded to the nearest half-star.