Advertiser Disclosure
NerdWallet Engineering New Grad Profile: Akshay Nanavati

Last year, through our University Relations program, we successfully hired our first new graduate to join the engineering team, Akshay Nanavati. Akshay's contributions have added significant value to the program. His work has raised the profile of NerdWallet's brand in the Silicon Valley engineering community and brought stronger awareness of new grad engineering opportunities.
Here, Akshay shares his experience interviewing in the valley for engineering positions and describes how he chose NerdWallet: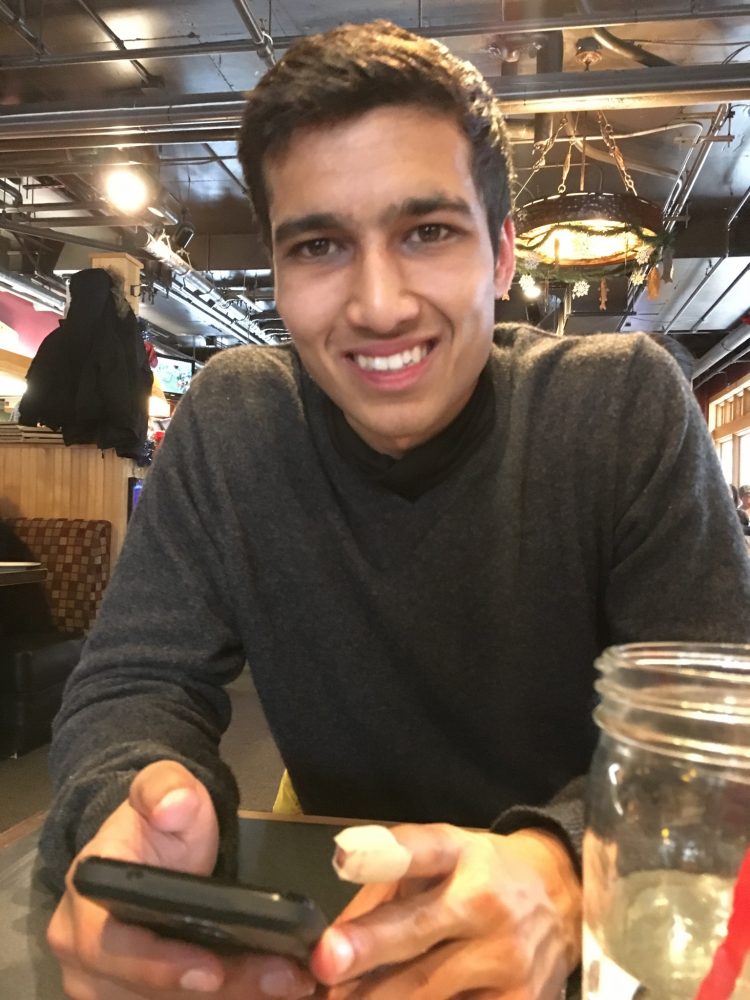 I graduated from Carnegie Mellon University in December 2014 with a degree in computer science. When I began my final semester, I had no idea what I wanted to do. Should I stay in school to get a master's degree or a Ph.D.? Should I go into industry? If I go into industry, what would I want to work on? Without a clear answer to these questions, I did what the rest of my classmates were doing: I interviewed at various tech companies in Silicon Valley. Eventually, I decided to go with NerdWallet.
NerdWallet stood out to me for many reasons. I was inspired by its mission, excited by its technical challenges, and stimulated during the interview. I full-heartedly took the opportunity with NerdWallet, but while interviewing at several companies and evaluating the offers I received, I developed key criteria to help inform my final decision. These criteria were: team size, team and company culture, and the actual work. Throughout each of my interviews, I looked for signals to gauge how that company fit each of the criteria. Here is what I learned throughout the process and why NerdWallet stood out to me.
Team size
The first thing I looked for when choosing a company was my personal growth as an engineer. The smaller the team, the larger your impact will be, the more responsibility you'll get, and the more ownership you'll have of your work. Minimizing team size will maximize these three elements, which in turn will maximize growth. But only to an extent. You'll also learn by surrounding yourself with brilliant engineers. Thus, simply joining a small team is not enough; you must find the critical balance of impact and a number of talented engineers.
Throughout my NerdWallet interview, I was blown away at how passionate and knowledgeable the engineers were. They were able to describe their work to me in great detail to a point where I could understand the types of challenges they were facing. At this time, the engineering team had around 12 to 15 engineers (when I joined, I was engineer No. 20). Given the sheer volume of projects at NerdWallet and how few people the team had at that point, I knew that if I were to join I would be given high-impact, challenging work.
Culture
If you're going to join a small team, you're going to work, speak and collaborate with every single person on that team on a daily basis. Therefore, it is imperative that you get along with the full team. Are they friendly? Are you comfortable approaching them for help? Are you confident that you can learn from them? By asking questions such as "Why do you use technology X?" or "How does technology Y solve this problem?" I was able to gauge the NerdWallet team's ability to explain something to me. I was pleasantly surprised at how well they were able to answer my questions, and I felt like I left the interview smarter than when I had come in. In addition to learning from them at work, I felt like I could hang out with them outside of work and during lunch, rather than having yet another technical session, I was able to talk about fantasy football — clearly we shared common interests outside of engineering at NerdWallet.
Aside from team culture, something else that stuck out to me about NerdWallet was that first moment when I walked into my interview; the first thing I saw was "Welcome to NerdWallet, Akshay!" on the whiteboard. This seemingly small personal touch made me feel like NerdWallet actually cared about me as a candidate. It conveyed a friendly vibe before we even spoke. I also felt the interview panel I went through was well-suited to my interests, further demonstrating that I wasn't just another candidate; NerdWallet had actually listened to my interests and taken the time to personalize my interview experience!
The work
The types of projects you'll be working on when joining a company might be the most important thing to consider. When I was interviewing, I had no idea what exactly I wanted to work on; all I knew was that I didn't want to do front-end. What stood out to me about NerdWallet was the number of potential projects they had for me and the level of detail at which they described each project to me. The vice president of engineering told me that I would be given a problem, be told to figure out how best to solve it (potentially by seeing how other companies have solved the same problem), and bring my learnings back to NerdWallet.
Having the ability and freedom to design solutions and learn from other companies seemed absolutely amazing. It was also an incredibly exciting time to join NerdWallet's fledgling data infrastructure team, as it had just started thinking about data collection. The opportunity to be one of the first to work on the infrastructure at NerdWallet inspired me.
So, what has my time at NerdWallet been like?
My time at NerdWallet has been incredibly rewarding. During this time, I have:
Built a mission-critical pipeline for collecting event data from our site
Contributed source code to an early-stage open source project (Gobblin)
Given a tech talk at the Gobblin meetup
Handled and implemented requests for data across multiple teams
Mentored an intern
Collaborated with and learned from other companies such as Uber, Airbnb, and LinkedIn
Helped define NerdWallet's brand and product
Taken part in redesigning our critical data infrastructure layer
I was given incredible ownership of critical work and responsibility from day one. At times it was overwhelming, but reflecting on my time at NerdWallet, I can proudly say that I've been able to learn by necessity and apply what I learned to each project that I was tasked with. I've had to learn the trade-off between getting my work done and helping others with theirs. I've learned the importance of deadlines and communication.
By working on a horizontal team, I've learned how to work and get along with many different types of people and make decisions after receiving conflicting opinions. At NerdWallet, we firmly believe in "Healthy Relationships, Hard Conversations" and "Relentless Self-Improvement," and both values are evident in my day-to-day work and interactions with people. This culture of openness and feedback has been invaluable in my growth as an engineer.
The fintech space, of which NerdWallet is a part, is so new that no single company has won out yet. Thus, it's impossible to know what will and won't work, and that is exciting.
One thing I didn't give enough thought to before joining NerdWallet is something I've learned from our VP of engineering: As a junior engineer, it really doesn't matter how "sexy" a company's brand is, how successful a company is on paper, or how well its product is doing. What truly matters are the opportunities and types of problems available to work on, what you'll be learning, and who you'll be working with.
At NerdWallet, I'm solving very interesting problems, learning from the most talented engineers, and taking part in the emergence of the fintech industry.