You may have tried a 30-day diet and maybe even a 30-day exercise plan, but chances are, you haven't tried a 30-day money plan. And if you've gotten in the habit of ignoring your credit card statements, shopping without comparing prices and losing track of your investments, a 30-day money plan might be exactly what you need to get back on track.
Do you know your "need" categories?
Get the app to track your spending and break down your trends before you build your 50/30/20 budget.
Instead of berating yourself for last year's bad decisions, use this month to get a start on improving your financial wellness.
Use this calendar print-out to help you turn your finances around in 30 days: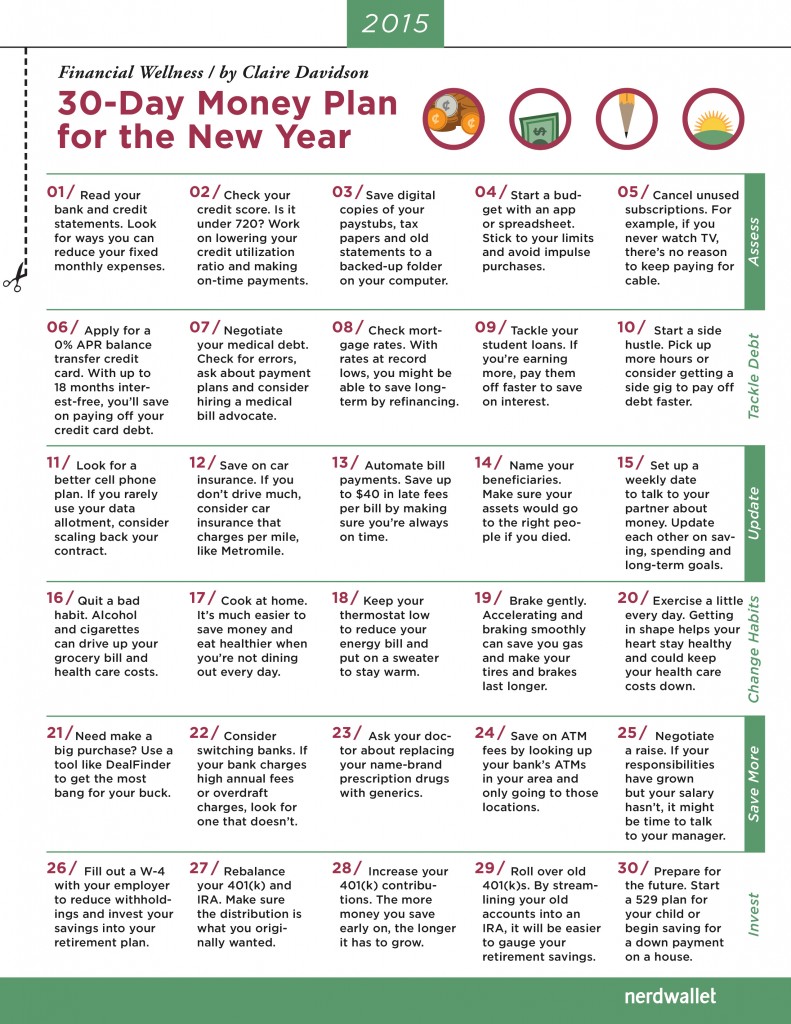 30 tips, 3 takeaways
Simplify, simplify, simplify: Automate payments whenever possible. Organize your budget so that you can access information easily and quickly. If you have multiple IRAs and 401(k)s, focus on consolidating them.
"It's simpler to keep track of and it makes it easier for your heirs," says Allan Moskowitz, a financial advisor at Affirmative Wealth Advisors and NerdWallet advisor. "It's easier to monitor performance."
Invest your extra income: You might look forward to that annual tax refund, but if it's too big, you might be better off getting that money in your paycheck and investing it instead. Use the Internal Revenue Service's withholding calculator to see if you should fill out a W-4 with your employer. If you recently got hitched or had a baby, you might be surprised by how much you could save every month by completing this form.
"Adjust your withholding so that you get a very small refund or owe less than $500 when you file," writes Curtis Sheldon, a financial advisor at C.L. Sheldon and Company and NerdWallet advisor. "Use the extra money in your paycheck to fund your investment plan."
Look for value: It can be tempting to shop the sales just because it feels like you're saving money. But don't waste money on clothes you won't wear, technology you won't use or food you won't eat. If you decide you really want to go through with a big purchase, compare prices and make sure you're getting the best deal.
"Rather than focus on what you can't have or can't afford, try to improve the way you are spending the money that you DO have," writes John Buerger, financial advisor at Altus Wealth Solutions.
---
Infographic by Brian Yee.
Main image via iStock.