How much will you pay for an Apple Watch, the "revolutionary" smartwatch rolled out by the tech giant on Monday?
Well, that all depends.
At an event in San Francisco, CEO Tim Cook unveiled a lineup that starts at $349 and ranges all the way up to a staggering $10,000 or more.
"Apple Watch is the most personal device we have ever created — it's not just with you, it's on you," Cook said. "Since what you wear is an expression of who you are, we designed Apple Watch to appeal to a whole variety of people with different tastes and different preferences."
Materials range from aluminum to stainless steel to 18-karat gold. Bands can be anything from plastic to leather to … again … 18-karat gold.
If you want an elegant wrist accessory to rival the fanciest Rolex, or a watch face that features a dancing Mickey Mouse, there will be an option for you, Cook said.
Apple Watches will be divided into three categories.
The Apple Watch Sport, designed, as its name suggests, to take advantage of exercise and fitness apps, begins at $349 for a version with a 1.5-inch screen and $399 for a bigger, 1.65-inch display.
Apple Watch will start at $549 for the 1.5-inch version and $599 for the bigger one. This tier features the widest variety, with sport, leather and metallic bands, a stainless steel construction and a range of colors including one Apple calls "Space Black."
These watches can range all the way up to $1,049 based on the selection of watch band.
Then, there's Apple Watch Edition.
Available in limited quantities from select retailers, Edition will be made from solid 18-karat gold and come with a selection of custom-designed wrist bands.
"The Apple Watch Edition is the most beautiful expression of the Apple Watch," Cook said.
He said prices will start at $10,000 and ramp up from there, presumably, based on selection of watch band.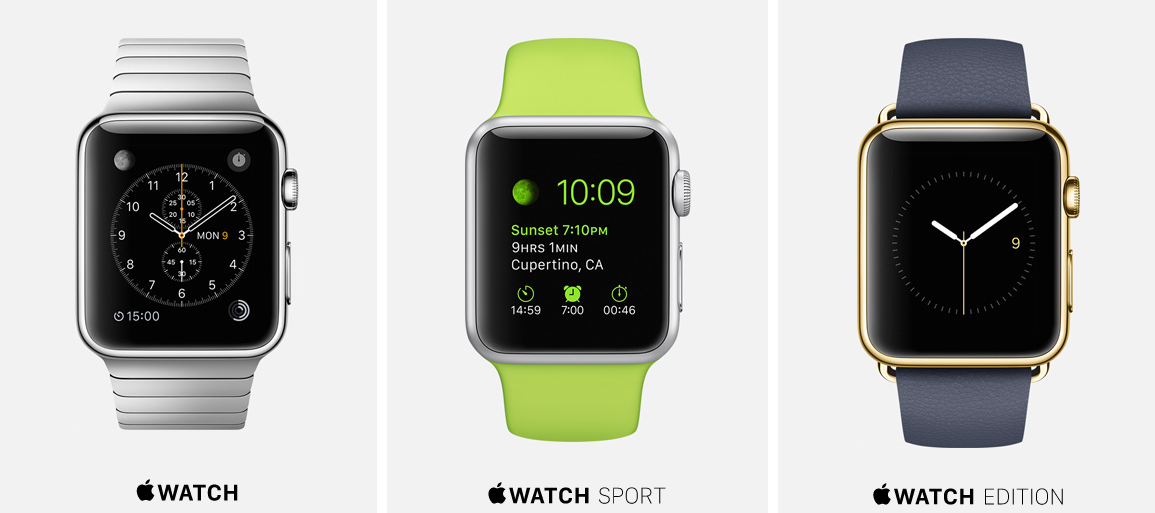 Preorders for Apple Watch will begin April 10, when consumers will be able to check them out at Apple retail stores.
They'll be released April 24 in "many countries throughout the world," according to Cook.
Apple Watch will have an estimated battery life of 18 hours for normal use. It integrates with the iPhone, for which there will be an Apple Watch app, and comes packed with its own set of built-in applications.
They include Glances, which allows users to swipe up on the touch screen to quickly check things like weather, calendars and even their heart rate.
Users will be able to get emails and text messages on the watch; they will also be able to answer phone calls.
Another features called Digital Touch will let users stay in touch with their friends list and a suite of health and fitness apps will do everything from providing a constant check on the wearer's heart rate to sending a weekly summary of their exercise regimens.
Apple Watch also will work with the Apple Pay mobile payments system. On Monday, Cook said Apple Pay, which started with deals with six banks, now has partnered with more than 2,500 banks. He also said that 700,000 retail locations, including vending machines, now accept payments via the system.
---
Images via Apple.