Fancy gowns and suits can be expensive, so you'll want to choose your wedding attire carefully, but there are plenty of easy ways to dress up while keeping your costs down.
Watch for low prices at outlet stores. Many name brands have discount shops; Nordstrom Rack, Saks Off 5th and Barneys Warehouse are just a few. Use coupons or loyalty programs to lower your bill. Easily find out if your favorite stores have loyalty programs by asking next time you shop there or by visiting their website. If you prefer to shop online, you can find coupon codes on sites like RetailMeNot, brands' social media channels or in email newsletters.
When you're trying to reduce how much you have to spend to properly outfit yourself for an upcoming wedding, accessories are your friend. If you're a guy, treat yourself to a new shirt or tie to refresh a suit you already own. Ladies, a memorable necklace, shoes or purse can put a new look on a dress that's already hanging in your closet. Shop at stores known for their extensive, but inexpensive, accessories sections. H&M, Forever 21 and Zara are a few options.
When you're trying to reduce how much you have to spend to properly outfit yourself for an upcoming wedding, accessories are your friend.
Don't want to spend any money at all? Borrow from your friends! You probably have at least a few friends who also have weddings to go to. Settle on the dress codes before everyone meets up, then gather and see what you can swap with friends. Even if you're not the same size, they might have accessories you can use to style something you already own.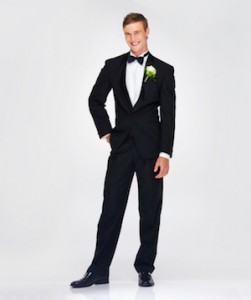 As you use these tips to save on your wedding outfit, you'll also need to consider what sort of attire is expected. Here's what the most common dress codes mean.
Black-tie optional
Opt for a full-length gown or neutral-color cocktail dress. If you don't already have one you can wear, consider renting a stylish dress from a service such as Rent the Runway. On its site, for example, you can rent a floor-length gown for $70 that would cost you $880 to buy.
Wear a tuxedo or dark suit to match the formal dress code. If you don't already own a tux, think about how many formal events you'll go to over the next few years and decide whether buying or renting is better for your budget. If you purchase a tux, you can get it tailored to fit you better than a rental will, something to consider if you want to look your best in those wedding photos.
Semiformal or dressy casual
Slip into your favorite little black dress or a long gown. Although your dress may be similar to what you'd wear for black-tie optional, your accessories, hair and makeup should be less fancy.
Stick with a classic, well-fitting suit. If you don't own a high-quality suit, use this as a chance to buy one. You'll be able to wear it to weddings, parties and interviews. You can buy fitted suits online at sites such as Indochino, Black Lapel, Modern Tailor and Combatant Gentlemen. Depending on the weather forecast for the wedding day, a dark or light suit is acceptable. If you're attending multiple weddings this season, switch out your shirt and tie to use the same suit for all of them.
Beach formal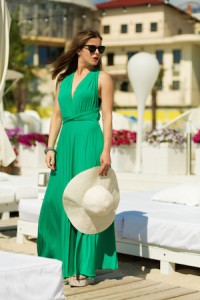 Channel beachy vibes with a sundress and natural hair and makeup. Wear flat sandals to avoid sinking into the sand when finding your seat for the ceremony. Save on a sundress by shopping during the offseason. Since you'll know in advance if you're attending a beach wedding, comb sales racks in the fall for a stylish sundress.
Stay cool in a linen suit with a white shirt. Embrace the relaxing beach atmosphere and skip the tie. If don't have a linen suit, go for another lightweight and breathable fabric like cotton. Bring along a pocket square or handkerchief to dab away any sweat.
Casual
Relax in your favorite blouse and skirt or pants combo. This is one of the most affordable wedding dress codes because you can easily shop your own closet. Even though you'll be going casual, still choose a nice outfit. Think business casual rather than jeans and a T-shirt.
Keep it classy but comfortable with dress pants or khakis and a button-down or polo shirt. You'll likely be able to wear things you already own, but if not try outlets for lower prices.
Heather Yamada-Hosley is a content strategist at NerdWallet, a personal finance website. Email: [email protected]. Twitter: @Curious_Heather.
---
Photos via iStock.