Each October during National Breast Cancer Awareness Month, consumers donate money to charities for research and support efforts. After all, the health statistics are startling: As of 2014, more than 2.8 million women in the U.S. have a history of breast cancer, and about one in eight women is at risk of the disease over the course of her lifetime, according to breastcancer.org.
If you decide to donate, you will likely want to know where your dollar will go the furthest in supporting breast cancer research and programs. But making sure your money does the most good for those affected by breast cancer is not as easy as it may seem. Some organizations allocate the majority of donations for fundraising or administrative costs rather than supporting programs.
Organizations that use about 75% or more of funds for programs, services and research will take your dollar further than those that use 33% or less for programming, suggests the nonprofit watchdog Charity Navigator.
Research resources
Donating directly to reputable breast cancer research charities is the safest way to support the cause. You can research organizations by using tax return reports garnered by the Better Business Bureau's Wise Giving Alliance, a standards-based evaluator and accreditor of charities, Charity Navigator and the American Institute of Philanthropy's CharityWatch.
The Lynn Sage Cancer Research Foundation, for example, has raised more than $29 million since 1985 and partners with Chicago's Northwestern Memorial Hospital and the Robert H. Lurie Comprehensive Cancer Center of Northwestern University.
The foundation keeps administration costs low so 94% of funds raised go to research and education, according to the foundation. Charity Navigator gave the foundation a five-star rating, and the Better Business Bureau issued a May 2014 report stating the foundation meets all 20 standards for charity accountability.
Sometimes, misleading charities, including the now-defunct Coalition Against Breast Cancer, deceive donors into contributing money without actually funding breast cancer research and support efforts. Others simply allocate the majority of donations for fundraising and to pay for administrative costs.
One of the worst charitable offenders is the United Breast Cancer Relief Foundation, according to the watchdog groups. This organization claims to provide grants to hospitals and screening, treatment, after-care and other assistance to breast cancer patients and their families. In reality, the foundation uses nearly 88% of its revenue for administrative and fundraising expenses, not programming, according to Charity Navigator, which gave the foundation a one-star rating. The Better Business Bureau also found that United Breast Cancer Relief Foundation did not meet many of its standards, including its board, program expenses, budget plan, website disclosures and more.
Look for transparency, facts and figures
When choosing a breast cancer-related charity, seek one that is transparent about how the funds are spent, particularly those that disclose financial records. Look for figures and percentages on their website indicating how much of your donation will go toward programs for prevention, treatment, support or research, depending on your interest.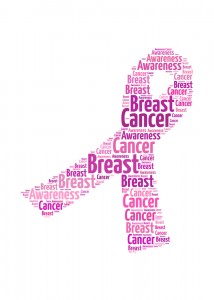 "So many promotions are fueling awareness," says Karuna Jaggar, executive director of Breast Cancer Action. "In the 21st century when you'd be hard pressed to find someone not aware of breast cancer, you need to ask yourself, is more awareness what we need? A lot of people also assume donations will go to breast cancer research and it goes to awareness."
Other less reputable organizations may use vague language such as "a portion of proceeds" rather than a fixed dollar amount or percentage. You also should be wary of solicitors from sound-alike charities that have names similar to more reputable organizations, as these tend to be fruitful for scammers. A simple Internet search can also alert you to those duplicitous organizations.
"There is no one best mission; it depends on what you want to do," says Bennett Weiner, chief operating officer of the Better Business Bureau Wise Giving Alliance. "One of the challenges people have in identifying organizations of interest is that they need to go to the website or go to a third-party source for information and find out more about the cause."
Weiner adds if you don't know more than the name of the organization you're considering, these research practices are the only way to ensure your dollar is spent wisely.
---
Breast cancer awareness race photo and ribbon illustration via Shutterstock.