Whether you're embarking on a new job in a foreign country, or just fulfilling a long-held dream of living abroad, prices matter. But how do you make a budget for a place you've never lived before?  As international travelers and relocated employees alike can tell you: location matters. When it comes to stretching your dollar across the world, not all cities are created equal.
To help, we've put together a breakdown of average expected costs in eleven major cities across the world: San Francisco, Rio de Janeiro, New York, London, Berlin, Johannesburg, Mumbai, Singapore, Shanghai, Hong Kong, and Tokyo.
The comparison consists of estimations of a monthly budget for expenditures like housing, transportation, food, and entertainment. The budget represents a person living in a one bedroom apartment in a better part of town, who travels exclusively by public transport, who cooks most of their meals, and who goes out to the movies and for beer once a month. Data is self-reported from ex-pats, travelers, residents and others familiar with the cities in question, averaged from two different cost of living comparison sites. All prices are reported in US dollars.
A general rule: no matter where you move, housing will likely end up consuming the largest share of your budget. That said, prices differ dramatically: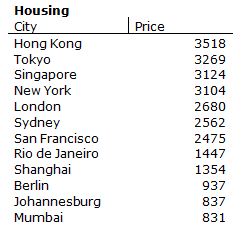 You can find yourself paying on average $3,269 a month for a 900 sq ft. apartment in Tokyo or just $831 a month in Mumbai. Cities with a premium on space or rapid property development and speculation are to be avoided. Data on prices were reported for more expensive areas of the city, and may represent upper limits on costs.
Transportation, calculated as the price for a monthly public transit pass, was the next greatest cost: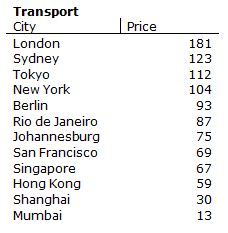 When estimating a transportation budget, it's important to consider the quality of the transit you are paying for as well as actual transportation patterns in your city of choice. You may, for example, get good use out of your monthly public transit budget in the London tube ($181), while finding yourself eschewing Johannesburg's lower prices ($75) in favor of a car or taxi to get around the city's largely private roadways.
Food comes next. While the comparison can tell you nothing of the taste of each city's unique cuisines, it can help you approximate where you could spend your days languishing in restaurants and where you may find yourself shopping at the grocery store, recouping costs: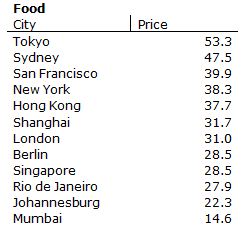 This table on food prices represents a basket of common goods like eggs, bread, milk, etc. for a three-week period. One important note—the omission of rice prices because of missing data is an important consideration in comparisons between places like Tokyo or Shanghai and the rest of the world. The basket of goods is representative of a typical "western" diet, and local substitutes could alter actual values.
What would life be like without movies or beer? Luckily, you won't have to find out in any of these cities: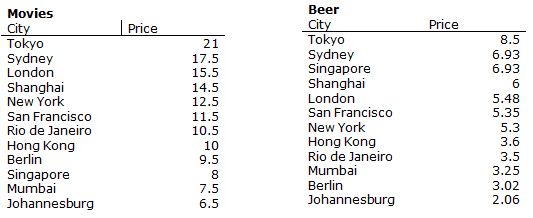 Entertainment prices will influence how you spend your leisure time.  The high price of a movie ticket in Sydney ($17.50) for example, may convince you to catch that new Adam Sandler movie on Netflix. The cheap beer in Rio ($3.50) or Berlin ($3.02), meanwhile, may just be incentive enough to keep your butt out of the theaters and planted firmly at a bar stool. Prices reflect the cost of a ticket to a current release film and the price of beer at a local bar.
So, what's the verdict for overall most expensive city?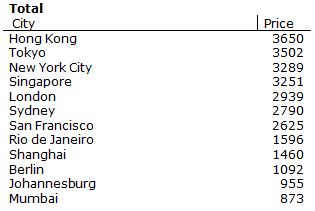 Surprisingly, Tokyo—consistently ranked as one of the most expensive cities in the world—does not come out at the top in our analysis. Hong Kong rates as more expensive due to the high housing costs reported in the data. Mumbai, India came in as the cheapest city in which to live with a monthly budget of approximately $873. Berlin ($1092) appears a relative steal when compared to more expensive alternatives like Sydney ($2790) or Rio de Janeiro ($1596).
Expert Recommendations:
Jennifer Wham, Global Assignment Manager at XONEX Relocation, had this advice for people eyeing a move abroad:
"When someone is moving abroad, they typically consider the costs of housing and transportation. But it is important for them to also consider the cost difference of goods and services (their purchasing power in the host location). Depending on your family size and salary, the cost difference of goods and services could use a much bigger amount of your salary than it does in the US. Lately, I have seen a lot of frustration from transferees regarding banking issues. It takes time to set up international accounts and a lot of information is required. However, unless you dedicate time while you're still in the US to set up your international account, you may not have immediate access to your funds when you arrive in the new city, and that can be devastating."
Vincenzo Villamena, CPA with Online Taxman, had this to say:
"A mistake people make is taking U.S. dollars abroad and exchanging them at a change house or the airport. The best advice would be to get either a bank account with an international bank (such as Citibank or HSBC) so they can withdraw more funds without fees and with a better exchange rate. Better yet, they should get a Schwab checking account that offers no international withdrawal fees so they can go to any ATM anywhere and not worry about fees. Furthermore, they should also get a credit card without any international fees such a Capital One, Chase sapphire card or British Airways card."
Colin Fitzpatrick and Phil McCusker from international healthcare comparison site BrokerFish, had this to say:
"In some parts of the world [healthcare costs] can be similar to the cost in the US. If you have inadequate insurance and something serious happens, you could be in a very difficult situation. We know of real life scenarios where parents have had to re-mortgage their home to cover medical costs for their adult children who didn't have adequate insurance. Many assume that because they are moving to a developing country, health costs will be cheap.  Unfortunately this is usually not the case. In the excitement of getting ready for their new adventure overseas many neglect this critical area. Health insurance is possibly the biggest cost, especially for those that are reliant on public health services in the U.S. By in large free healthcare for all provided by the government simply doesn't exist throughout most of Asia, and as a new expat, eligibility in for healthcare in those countries where it is offered is limited, requires waiting periods, or is not permitted at all."
Tokyo image via Shutterstock