By Brian McCann
Learn more about Brian on NerdWallet's Ask an Advisor
Americans are enamored with debt. We can't stop ourselves from buying things even if we don't have the money to pay for them.
This is bad for obvious reasons. Paying off debt crowds out other spending, so that you don't really get to spend your money on what you want anymore — you spend your money on what you used to want. In essence, you are trading an immediate purchase for an ongoing payment stream, reducing your financial flexibility. Almost every terrible financial situation I have seen has been a result of overindulgence in debt.
Occasionally you will hear people assure you that there is "good debt" and "bad debt." I think this is a terrible rule of thumb. Better that you think of all debt as bad. At best, some debt is not so good. The rest is truly terrible. The worst of the worst? Credit card debt.
Not-so-good debt
Some debt may be necessary and, if used prudently, can help you to meet your financial goals. This can include a mortgage with payments that fit well within your monthly cash flow. Often, however, this can get out of control.
When I first moved to California — land of high-priced real estate — I bought a townhouse at a price that was well within my means. But the mortgage lender encouraged me to borrow much more than I was willing to take on. The payment would have represented more than 60% of my take-home pay.
This kind of ludicrous thinking was brought on by some financial advisors and the real estate industry, who encourage us to "buy the most house you can afford — you'll grow into it." I prefer to buy only what I need and sweat the asset as long as possible. If you must take on not-so-good debt, stay away from adjustable-rate mortgages and low-down-payment options. Mortgages may be a necessary evil, but make sure to keep yours on the "necessary" end and not the "evil" one.
Student loans can also be a necessary evil. Given the earning ability that a degree can convey, it can be a wise move to borrow for school. But borrow only what is necessary.
Taking the trash out and cleaning the bathroom are necessary. Keep debt in the same category.
Truly terrible debt
Debt that most people consider merely bad is in fact truly terrible. Credit card debt and car loans are two of the worst offenders.
New cars lose a substantial chunk of their value as soon as they leave the dealer's lot. Borrowing heavily to buy one is a bad use of money. I often recommend that clients take money that they would use for a new car payment and save it until they have at least 50% of the purchase price of the car. This ensures that the goal is truly important. Often, once they have worked to save that cash, they decide a new car isn't so important after all.
But I save most of my scorn for credit card debt. This is truly terrible debt and in most cases is totally unnecessary. Consider this chart from the Federal Reserve Bank of St. Louis, which compares the total amount of revolving credit (mostly credit card debt) in this country to the U.S. population: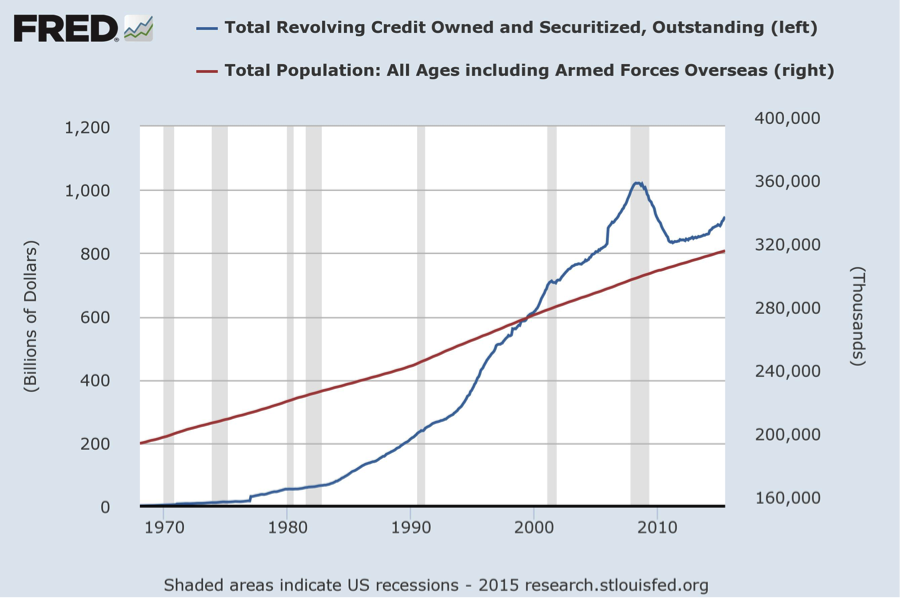 After the financial crisis of 2008, it looked like we were developing good habits, and revolving debt started to decline. More recently, it has started to climb back to previous trend lines. We never learn.
Given that interest rates on credit cards are often north of 14%, this is a horrible use of borrowing power. Consider this: If you pay $30 for a pizza dinner and then carry the debt at 14% annual interest, you will owe about $45 in three years. Do you really want to pay 50% more for your pizza to avoid paying for it today? If you're truly interested in improving your financial situation, eliminate credit card debt as soon as possible. Put the extra cash toward funding your goals in advance.
I work with a lot of young families. Often new clients have a mortgage, student loans, a car loan and credit card debt. This makes it a challenge meet any long-term goals. Debt payments are crowding out families' ability to fund any long-term goals — including retirement.
Next time you're tempted to borrow, consider debt a four-letter word.
---
Top image via iStock; infographic via the Federal Reserve Bank of St. Louis.