Traveling to just one wedding can put a serious dent in both your bank account and your vacation time, but it doesn't necessarily have to. With a little planning, you can turn a wedding trip into a vacation of its own without overdrawing your travel fund.
Out of approximately 1,700 wedding guests we surveyed, 25% are spending $501 to $1,000 to attend weddings this year. If you have to fly to get to the wedding, it can cost you even more. Of those who attended destination weddings, 27% spent on average a total of $1,001 to $1,500 for the flight, hotel, food and other transportation.
With amounts like these, all that fun can turn frightening. Here are some tips to help keep that destination wedding from decimating your bank account.
Research airfares
If you have to fly to a wedding, it's probably not going to be cheap. The good news: There are tons of tricks, tools and sites you can use to save money.
Start looking at fares as soon as you decide to attend a wedding. You'll get an idea of what the cost may be, so you can start saving in steps instead of having to come up with the money all at once. You'll also have time to set up deal alerts for your favorite airlines. Get deal notifications from flight search engines such as Kayak, Google Flights and SeatGuru. Follow your preferred airlines on Twitter and Facebook, because many release deals there first.
Use the travel search engine you're most familiar with since most will have the same prices. Besides the more commonly used ones like Kayak or Priceline, try sites that use different filtering techniques. Adioso and Hopper are good options.
Find lower fares by searching for flights in and out of all nearby airports or that have multiple stops. Don't forget to add in the cost of renting a car or taking public transportation to get to the wedding spot.
Fly on weekdays if you can. Fares are generally lower during the week than they are on weekends.
Check for fees when buying your ticket. Just because an airline has low ticket prices doesn't mean it won't tack on fees for luggage (carry-on and checked) as well as food.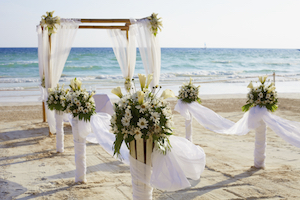 Beyond finding good deals on flights, you can use travel rewards credit cards to cover part or all of your wedding travel costs. If you already have a rewards card, make an effort to earn as many points as possible in the time leading up to the wedding. If you want to focus on covering the cost of flights, use an airline credit card. If you have a general travel rewards card, you can use those points to cover the costs of your flight or your lodging (or both if you have enough points). Need tips on how to maximize earning points? Check out advice from our credit card experts.
Find reasonable accommodations
When it comes to lodging, there are many fairly inexpensive (but still comfortable) options to choose from. Saving money on your accommodations means you can afford to stay longer and turn your wedding trip into a respite.
Find possibilities within your budget by using search sites like All the Rooms, which compares inventory from many sites, including Airbnb, VRBO, Expedia and TripAdvisor.
Some other options:
Rent from a local. This can save you money on food since you can use a kitchen to prepare meals instead of eating out. Make it more relaxing by renting in a less touristy part of town. The best part of a rental? You can usually fit more people into one than you could a single hotel room, so you can divide the cost into smaller amounts.
Go traditional with a hotel. This is a great option if you already belong to a loyalty program for certain hotel groups and have points you can use. The wedding couple may also have reserved a block of rooms at a nearby hotel for a reduced rate. If they have, book early so you don't lose out to other wedding guests seeking to snag that special deal. You can also share the cost of a hotel room with friends or family.
Stay for free with friends or family in the area. This is likely the cheapest option, since you need to spring only for a host gift and a meal or two out (depending on the length of your stay) as a thank you. However, this arrangement will place more restrictions on you because you'll need to respect your host's schedule and house rules. You may also be farther from the wedding location than if you stayed at a hotel or rental.
Knowing how much you'll have to spend on lodging will give you an accurate idea of how much you have left over in your trip budget to spend on non-wedding fun.
Upgrade your trip to a vacation
If you're headed to a destination wedding this year, you'll likely be spending more than guests at other types of nuptials. Almost 56% of those we surveyed spent at least $1,001 on average to attend one destination wedding. Here's how you can cut down on those costs while making the expedition feel like a vacation, too.
If you're going international and have a few days to spare, booking a stopover flight can save you big bucks. A stopover flight lets you spend time in one city en route to your destination, essentially giving you two trips in one. You can stay for a few days at the hub city before continuing on to the wedding or heading home. Many major international airlines offer these types of flights.
Once you're at the destination, watch out for high exchange rates. Bring a no foreign transaction fee credit card with you and make as few ATM withdrawals as possible to cut down on fees. Call your bank and credit card company to let them know you'll be traveling; otherwise, they might mistake your unfamiliar activity as fraud and put a hold on your account.
Since many destination wedding invitations are sent out nine months to a year in advance, time is on your side. As soon as you decide to attend the wedding, start saving up for the cost, which may include unpaid time off if you don't have enough accrued vacation.
If the wedding requires travel but not to an exotic, enticing locale, you can still turn it into a vacation.
"Rent a car and spend a few days at a nearby attraction, especially if the wedding location isn't your ideal vacation spot," suggests NerdWallet staff writer Arielle O'Shea. "The car will also double as your transportation back to the airport, because you can just return it before you fly out."
Consider declining the invitation
Finally, if after all this investigation of travel and time off costs you realize you can't make it work, the best reply is a sincere no. Allie Rice, another Nerd, shares how she dealt with turning down a destination wedding invite:
"I was invited to three weddings this season, but I will be attending just two. I declined because it was going to take about 14 hours to get there. So as much as I wanted to be there for my family friend, it was a bit too much for my budget and my time," she says. "I've actually come across this at least once a year, where I've had to make the hard decision to decline, and I do always send a gift."
Methodology
NerdWallet conducted a national online survey of 1,775 randomly selected Americans ages 18 and older on July 22-24, 2015, via SurveyMonkey. Respondents were 52% female and 48% male. All respondents have attended a wedding in the last year or will attend one this year.
Heather Yamada-Hosley is a content strategist at NerdWallet, a personal finance website. Email: [email protected]. Twitter: @Curious_Heather.
---
Images via iStock.