Advertiser Disclosure
Should You Place a Fraud Alert on Your Credit?
A fraud alert requires businesses to take extra steps to verify your identity before opening new credit lines.

When you're worried about identity theft, the simplest way to add a layer of protection to your credit file is a fraud alert. It's a free service that requires businesses to take extra care when issuing credit in your name. As of Sept. 21, an initial fraud alert will last for one year.
If you've been a victim of identity theft, are deployed on active duty or are simply concerned about identity theft, a fraud alert, at a minimum, is a good idea. If you decide you prefer a credit freeze, you can still get one.
IN THIS ARTICLE
3 times a fraud alert makes sense
How to renew or lift a fraud alert
» SIGN UP: Monitor your credit report and score for free
How to place a fraud alert
All you need do to place a fraud alert is to contact any one of the major credit-reporting agencies, and it will notify the other two.
You can call, go online or write to any one of the three major credit bureaus: Experian, TransUnion and Equifax.
Experian: 888-397-3742; Experian, P.O. Box 9554, Allen, TX 75013
TransUnion: 800-680-7289; TransUnion Fraud Victim Assistance Department, P.O. Box 2000, Chester, PA 19016
Equifax: 888-766-0008; Equifax Consumer Fraud Division, P.O. Box 740256, Atlanta, GA 30374
Make sure the credit bureau has correct contact information for you.
An initial alert can be renewed.
Each credit bureau should contact you to confirm the alert and offer instructions on how to get a free copy of your credit report in addition to the one you can get every 12 months by using AnnualCreditReport.com. Keep the letter or email verifying the alert in case a lender doesn't follow the requirements and someone opens a fraudulent account.
3 times a fraud alert makes sense
NerdWallet recommends a credit freeze, also known as a security freeze, for most consumers. It offers the best protection against your personal data being used to establish a credit account in your name.
A fraud alert can be useful, especially when you know you'll need to access your credit files.
However, it can be more cumbersome to deal with than a fraud alert. A fraud alert can be useful, especially when you know you'll need to access your credit files. Consider getting at least a fraud alert:
1. If you're a victim of identity theft: If you've created an identity theft report with the Federal Trade Commission, you're eligible for a seven-year alert. Extended fraud alerts also come with additional free credit reports. Identity theft means that someone has used your personal data, usually for personal gain, without your knowledge or permission.
2. If you're an active-duty military personnel: Service members can place an active-duty credit alert to protect their credit while they're deployed. It lasts one year and can be renewed to match the period of deployment. This also removes you from marketing lists that are used to send pre-screened offers for credit and insurance products to your home. Less mail can reduce your risk of identity theft. You can also appoint a personal representative to act on your behalf while you are away.
3. If you're worried about potential identity theft: It's impossible to escape the steady stream of news reports about data breaches. Some identity theft experts suggest acting as if your personal data has fallen into the wrong hands. It's entirely possible that a smart fraudster will wait months or years before using stolen personal data.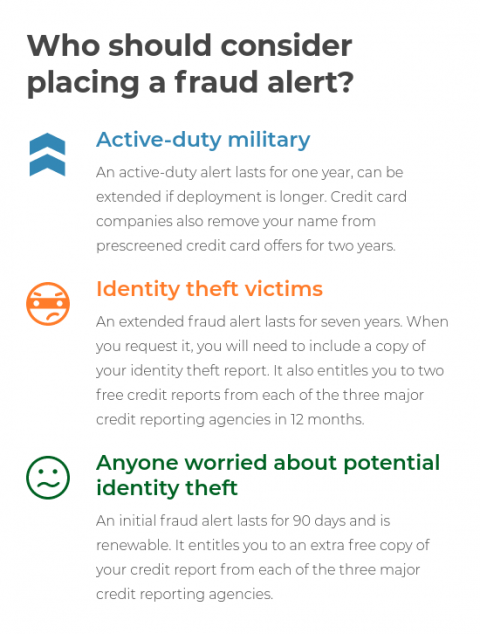 How to renew or lift a fraud alert
You can lift a fraud alert early by calling one credit bureau and providing identifying information. However, there's little reason to do so.
Alerts expire on their own unless you renew them.
Alerts expire on their own unless you renew them. Mark your calendar and contact one of the credit bureaus if you wish to extend the protection.
Because alerts are the lowest level of added protection and expire, if you find yourself continually renewing an alert, consider stepping up to a lock or freeze.
Staying vigilant
Fraud alerts, credit freezes and locks all aim to prevent new accounts from being opened fraudulently. They don't prevent fraudulent charges from being made on an account you've already opened.
Stay on the lookout for fraud in your existing accounts:
Check credit card statements for charges you don't recognize. Often there's a phone number listed with the merchant name on transactions, so you can investigate anything that looks off.
Sign up for text or email alerts about credit transactions. Many issuers let you set a transaction amount so you're alerted to anything over that.
If you see a charge you think isn't yours, call your issuer right away to dispute it. Your card issuer can't charge interest or fees on the transaction while it's being investigated.
Updated Feb. 6, 2018.