Career experts often say the key to professional success is finding a vocation that matches your passion.
By that measure alone, Robert Dunn is a success. As a credit counselor for Consumer Credit Counseling Service of Buffalo, Dunn spends his days helping people understand their finances and make better decisions about their money.
"My strength, and what makes my heart beat, is helping people who need help," says Dunn, who also manages community and creditor relations for the CCCS of Buffalo, which serves western New York.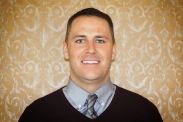 "A lot of people come in here very anxious and nervous, ashamed that they've fallen behind" on their bills and other financial obligations, he says. "My goal is for them to leave stress-free. To have no judgment [about their particular situation] and to deliver a solution for them."
CCCS of Buffalo is a nonprofit credit counseling, financial education and debt management organization that serves eight counties. It offers housing and student loan counseling, homebuyer education, small business coaching, bankruptcy counseling, creditor repayment plans and other services. Founded in 1965, it is a member of the National Foundation for Credit Counseling, the nation's largest nonprofit financial counseling organization.
Using finance training to help others
Dunn, 30, has worked for the organization for three years. After attending the University of Oregon, where he studied accounting, Dunn worked as paraplanner to a financial advisor in Portland. "I grew up loving stocks and investing — that's what I found exciting," he says.
Dunn moved to Buffalo to work for AmeriCorps VISTA, a national service program that fights poverty in America. After being placed with CCCS of Buffalo, Dunn realized he wanted to use his financial acumen to help people with diverse economic backgrounds and experience.
"My focus [with VISTA] was going into elementary schools, working with young people, teaching them about financial literacy, about the difference between credit cards and debit cards," Dunn says. Today, he works with adults, helping them with household budgeting and planning, as well as paying their debts.
"We're community-based, we've been here for 50 years, we work here because we want to help the community and help people," Dunn says.
CCCS of Buffalo is a member of NerdWallet's Ask an Advisor platform. Dunn and other counselors have answered more than 80 consumer questions on AAA. (Dunn has fielded about 65 of those.) Anyone can ask a question and get a free answer from a credit counselor at nerdwallet.com/ask.
Regional economy struggling
Many people who contact CCCS of Buffalo have lost their jobs in the struggling economy of western New York, where employment opportunities continue to decline. Most are having trouble making their housing payments, paying their utility bills or keeping current with a car loan or credit card bills. Some are having problems with overspending, gambling or substance abuse. More than a few come to CCCS as a last resort.
"We try to help people confront their financial challenges head-on,'' Dunn says. "Sometimes it's tough to admit you have weaknesses.
"There's a numbers part of it and a psychological part of it. It all starts with budgeting, planning and writing things down."
As part of his work at CCCS of Buffalo, Dunn counsels people every Monday at the Veterans One-stop Center of Western New York.
"That's where we see most of our veterans," Dunn says. The ones he helps are "typically low income, many are on disability or not working, a lot have substance abuse problems or psychological, military-related hurdles like PTSD."
All active-duty, Guard and reserve military servicemembers are eligible for free financial counseling at CCCS of Buffalo. The organization charges for some services to other clients, "but our fees are very low," Dunn says, typically in the $25 range. CCCS of Buffalo, operated as a nonprofit, also relies on grants and funding from some creditors who take part in its programs.
Empathy for the client
Dunn says CCCS of Buffalo counselors always try to empathize with their clients. They know how stressful financial hardships can be.
"We had a woman come in who was recently divorced and living on a single income," Dunn says. "She was struggling a bit, in tears pretty quickly. She thought her only solution was bankruptcy and losing her home. We were able to get her on a creditor repayment plan, something manageable for her, and she was very appreciative.
"We have client surveys, and we get some pretty good feedback. Our clients tell us they're able to sleep again at night."
More from this series
Credit Counselor Thomas Nitzsche: Once Helped, Now He Helps 
Credit Counselor Sunshine Hefferon: Smiles Are Her Reward
---
Photo courtesy of CCCS of Buffalo.