NerdWallet's How Do You Do Money? series asks people from various walks of life to share their attitudes and approach to personal finance, with the goal of bringing transparency to discussions surrounding money. In this installment we speak with Ester Bloom, a 31-year-old writer and editor living in Brooklyn, New York. This is how she does money.
What do you do for your main source of income and how did you get into that line of work?
As I've written, I left my job at a small arts-and-culture non-profit, where I had worked for four years doing Development and Communication, to take a year and focus on writing. It's been an exciting adventure but not a lucrative one.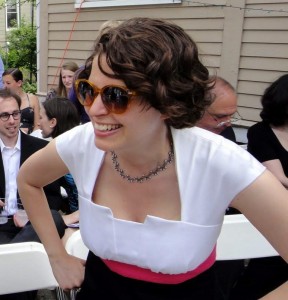 Would you like to be doing something else instead?
This is exactly what I want to be doing. Now if only I can manage to get paid for it.
About how much do you earn before taxes per year?
About nothing, though this reprieve from salaried work is only possible because my husband has been a corporate lawyer. Starting this summer, he'll be doing something else—TBD, though whatever it is will almost certainly be much less well paying—and I'll be back to the salt mines.
Do you feel secure with that amount? If not, how much would make you feel secure?
At some point in the working world I realized no amount of money would make me feel secure. I'm an anxious person; when Worry faces off against Logic, Worry wins. But I'm working on it. My husband and I are meeting with a planner this spring for the first time and I'm hoping she'll help me devise some strategies for feeling both more financially literate and more comfortable.
Meeting with a financial planner or advisor is a great idea! I hope she helps relieve some of your worries. Do you have any debt?
Thanks to parents and grandparents who were able to start saving for me when I was born, I graduated from college with no debt. It was an incredible gift.
I only got a credit card out of duress in order to build the kind of credit one needs to function in New York City and I use it like a debit card.
I do something similar with my main credit card, but mostly to build up the rewards.  Do you have any savings goals?
My goal is to save enough money that I can say no to a gig if I'm not particularly interested in it. Though I have no idea what that amount of money might be.
Are there any resources or tools you've used to learn about and manage your personal finances?
Mint.com is pretty great, and occasionally I listen to Planet Money, which I would like to do more. I also benefited tremendously from a WAM-NYC seminar led by Manisha Thakor, who helped me to make more intelligent decisions about my IRA .
How was the topic of money approached in the home you grew up in? What factors do you think influenced that approach?
My parents were typical second-generation American Jews: their parents had started poor and worked their way up to middle class, so my parents were expected to solidify that position. Sure enough they both became lawyers. My dad especially liked being very open-handed with money—it pleased him that he could be generous. At the same time, I never had anything as predictable as an allowance, so my "Just sock it away" attitude toward money developed early.
How do you think that affected your attitude money and your personal finances?
Before I had a savings account, I had a drawer in my dresser where I collected cash, at least until other members of my family realized I was a reliable source of loans and gradually "borrowed" it all until it was gone. I am exactly the same person I was when I was eight, though maybe I'm a little less of a soft touch.
Has your approach toward personal finance changed from the time you left home and how so?
I feel much more independent about money. Starting at some point in college, I realized I felt better making it than taking it. That's part of why I chose to get a job instead of going to grad school or accepting the awesome internship I was offered, and I still wonder what might have happened if I had been a bit more relaxed about going into debt or relying on my parents for help for longer.
What is the best monetary investment you've made?
Definitely buying our apartment in Brooklyn. According to Zillow, it has already appreciated just in the past couple of years. That means if my husband and I want to take our baby daughter and decamp someplace cheaper where we can both do creative things part- or full-time, we'll have a cushion.
Real estate isn't always a great investment, but it seems to have turned out for you! What monetary investment do you regret the most and why?
My first two jobs, including the one I turned down grad school and that exciting internship for, were in Entertainment, and both were total flops. I don't regret generating my own income but I could have done it a smarter way. Maybe if I had been willing to plan long-term I would have built a career without so many false starts and so much frustration.
What does financial stability mean to you?
My ideal is to have enough money that I don't have to worry about money. By some measures I am there right now, thanks to my husband's salary for the past few years, but I've never been able to see his money as OUR money, or as fully real, or something. Stability feels abstract and somewhat unattainable and I would like that to change. How can I reframe it for myself?
What financial accomplishment are you most proud of?
Marrying someone who was willing to be a corporate lawyer in Manhattan for a while? No, hm. I think not going into debt even when Ben was a student and I was making under $30K in NYC, or living off of unemployment, is something of an accomplishment: I cooked a lot and went to clothing swaps and walked for fun.
Are there any questions you've ever wanted to ask a financial advisor?
And as a budding freelancer, how should I think differently about my new Schedule C earnings as opposed to the W2 earnings I have been more used to from office jobs?
We asked Guy Baker, a CFP from NerdWallet's Ask an Advisor, about Ester's question and this is what he had to say:
It is a big transition from employee to owner. One of the keys is record keeping as you have to verify all of your business expenses. This is what you put on your Schedule C when you file your return. As a business person, you need to have profit and loss as well as a balance sheet. They tell you if you are making a profit or losing money. Read Michael Gerber's books, the E-Myth, to get some ideas on how to think like a business person.
Do you need help getting your money in order? Tell us why you need a financial makeover and you could win a customized financial plan from a Certified Financial Planner!  Details here.