NerdWallet's How Do You Do Money? series asks people from various walks of life to share their attitudes and approach to personal finance, with the goal of bringing transparency to discussions surrounding money. In this installment we speak with Manda Osborn, a 23-year-old communications worker living in Washington, D.C. This is how she does money.
What do you do for your main source of income and how did you get into that line of work?
I work in communications, which is exactly what I want to be doing considering that was my college major! I held a total of four internships as a college student. Three were unpaid; the fourth was paid and led me to my first post-grad job. All of the internships were in the field of communications.
Would you like to be doing something else instead?

Yes and no. I love communications and what I'm doing now, but ultimately I'd like to somehow intertwine it more with my international background and experiences. Whether it is through traveling for work or working with other cultures, I'm not sure. For now, though, I'm pretty happy.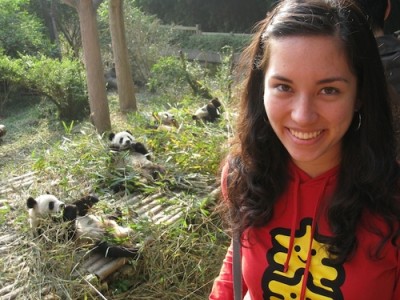 Do you have any savings goals?

I would like to save at least three months' worth of my salary for an emergency fund. I do have a (small) emergency fund that I probably should prioritize over other savings goals, like traveling. I'm lucky that I have job security, but I'd sleep better at night knowing that I have enough saved up to cover unexpected expenses without having to tap into a line of credit from the bank to make ends meet.
Having that fund does bring peace of mind. What is a question that you've had related to your personal finances, either in the past or recently?
I remember feeling so overwhelmed when I opened a 401(k) at my first job. Employer matching? Pre-tax? IRA? I had no idea what any of that meant, which concerned me, as I knew that it all had to do with my hard-earned paycheck! I was lucky that I worked at a small company with a very kind and wise office manager, who told me that her personal advice was to start saving for retirement immediately. And I did!
Are there any resources or tools you've used to learn about and manage your personal finances?
I use Mint.com on and off. It's a great resource, but I'm skeptical of what the strings are because it's free and nothing in life is truly for free. I've also learned a ton about personal finance from personal finance blogs! That's really where I've learned most of it. Cait from blondeonabudget.ca and Esther from nzmuse.com are my favorites.
How was the topic of money approached in the home you grew up in?

I'll never forget getting my first credit card. I insisted on getting one because I knew I needed to start building my line of credit for when I would eventually move out of home and start renting. My mom accompanied me on my trip to the bank, where I was immediately approved for my first credit card. On our way home, she made me swear up and down that I understood a credit card was not free money and that I should never, ever purchase what I cannot afford. In this age of consumer debt, that was probably the best advice I could've gotten.
How do you think that affected your attitude toward money and your personal finances?
I kept my promise to my mom! I've never carried a credit card balance.
Has your approach toward personal finance changed from the time you left home and how so?
My general baseline is that if a purchase means I can't pay my credit card off in full at the end of the month then I can't afford it and won't buy it.
What is the best monetary investment you've made?
Travel, hands down. I've been to some pretty amazing places on my own dime, and while it might hurt to press "purchase" on that plane ticket, the experiences I've had in Taiwan, Boston, New York City and Southeast Asia (to name a few!) can't be beat.
Travel is a great investment! What does financial stability mean to you?
A fully funded emergency fund, decent saving power and the means to achieve both.
What financial accomplishment are you most proud of?
Like I said earlier, I've never carried a credit card balance. My mom is very proud of me!
Do you need help getting your money in order? Tell us why you need a financial makeover and you could win a customized financial plan from a Certified Financial Planner! Details here.
---
Illustration by Brian Yee.