NerdWallet's How Do You Do Money? series asks people from various walks of life to share their attitudes and approach to personal finance, with the goal of bringing transparency to discussions surrounding money. In this installment we speak with Toby Osbourn, a 28-year-old developer living in Belfast, Northern Ireland. This is how he does money.
What do you do for your main source of income and how did you get into that line of work?
I am a developer for Rumble Labs in Belfast. I have been fascinated by computers since I was about 11 and got into development in a big way when I was in school. Everything I have done from that point on has been geared toward working professionally in development. It is the best industry in the world.
Would you like to be doing something else instead?

I wouldn't want to be doing anything else. Development is my passion and my hobby, getting paid to do it is like a dream come true!
If for some reason I couldn't do development work, I have a bit of an obsession with niche communities and finding out what makes them tick. A lot of my side projects have been to do with exploring these communities, so I would probably go into something like that.
About how much do you earn before taxes per year?
Including other income from sites and projects I run, I make roughly £45,000 per year. More than half of that comes from my 9-to-5 job. [Note: This is about $75,600 at the current exchange rate.]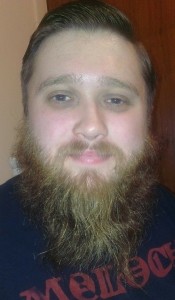 Do you feel secure with that amount?
Yes, I do, although I would prefer if a higher percentage of that income was self-generated recurring revenue. I have always thought if I could generate £40,000 a year in recurring revenue I would feel very secure.
Do you have any debt?

As of this very moment I have about £500 worth of debt on a credit card. I am just being lazy about not paying it off, but will likely do it at the end of the month. My student loan was paid off last year, and I have car payments that will eventually require a payment of around £5,000.
Do you think incurring that debt was worth it?
I believe so. The £500 credit card debt was some wedding expenses, and my wedding was totally worth it!
Owning a car is a necessary evil in Northern Ireland, and I wanted to buy a new car because I have no knowledge of cars and didn't want to buy something secondhand that I might need to put a lot of work into eventually. Buying new means it is the dealership's problem if it breaks!
True, you do get more security that way! Do you have any savings goals?

I would like to always have access to £10,000 should I need it, but I have set no solid goals as such. I currently put £200 a month into my personal savings and £500 a month into a joint savings account with my wife. 
 Why did you and your wife decide to have separate savings accounts?
Great question. I think having our own savings plus a joint [account] makes things very straightforward. If I want to buy a shiny bit of Apple tech, I shouldn't have to dip into money we have set aside for us, that feels wrong. It equally feels wrong if the boiler breaks that one of us should have to fork out money, so that would come out of the joint account!
I think that's an approach many couples take. What is a question that you've had related to your personal finances, either in the past or recently?
I have often thought about what I should be doing with regards to a pension and preparing for the future.
That's always a good thing to consider! Are there any resources or tools you've used to learn about and manage your personal finances?
I used to read MoneySavingExpert.com quite frequently, but that was a few years ago. When I started making my own money I spent a considerable amount of time looking up UK tax using the HMRC website. Apart from that, nothing.
How was the topic of money approached in the home you grew up in? What factors do you think influenced that approach?
Money wasn't something that was ever discussed at length growing up, but I was very aware that my family always saved and always wanted a safety net. I was brought up to value money and things and appreciate that money doesn't grow on trees!
How do you think that affected your attitude toward money and your personal finances?
I wish the desire for saving rubbed off on me a bit more but I can't say it did.
Has your approach to personal finance changed from the time you left home and how so?
Honestly, no. I have always been a little slap-dash with money, so long as I see some progress in my savings I am generally quite frivolous with my money and value experiences over savings.
What is the best monetary investment you've made?
This will sound silly but it was probably investing £30 in a new theme for a website I was running. I bought it from a theme vendor and spent like 30 minutes tweaking the site, and the next month I saw around a £300 increase in revenue from the site.
Sounds like that really paid off! What monetary investment do you regret the most and why?
In a previous relationship I lived with my partner in an apartment that, in hindsight, was well above our means. The hefty monthly cost was just money down the drain. It was over a year of wasted money that could have been put to much better use.
What does financial stability mean to you?
It means being able to do what I want when I want without having to worry about the future financial implications of doing it. For example, if I want to go to London for the weekend I should be able to do that without needing to consider if I will have enough money for food and bills next month.
That sounds great! What financial accomplishment are you most proud of?
Getting my taxes all in order the first time I had to do that would have to be up there, or perhaps the first time I launched a site that had recurring revenue. I love the idea of putting in work once and getting money for that work on a recurring basis.
Are there any questions you've ever wanted to ask a financial advisor?
Apart from what I mentioned about my pension, one thing I haven't heard from any personal finance advisor is their opinion on digital currencies like bitcoin and litecoin. I would love to know if anyone has recommended investing in them before?
One of our writers, Hal Bundrick, CFP, recently wrote about digital currencies as investments. His article can be found here.
---
Do you need help getting your money in order? Tell us why you need a financial makeover and you could win a customized financial plan from a Certified Financial Planner! Details here.
Illustration by Brian Yee.