The average cost of college climbed 3% between 2008 and 2009 and 32% between 2000 and 2009 . This trend is on the rise – far in excess of the inflation rate. As a parent, you should consider ways you can start saving for your child's increasing college costs. The 529 plan is one of the lesser known but increasingly popular college savings vehicles.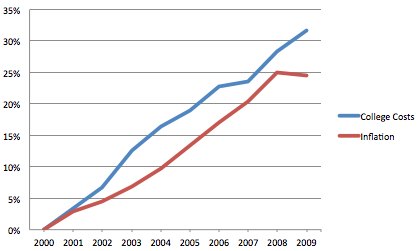 The above graph shows the percentage increase in college costs and inflation relative to 2000. The blue line shows the percentage increase in college costs and the red line shows the percentage increase in inflation from 2000 to 2009.
What are 529 plans?
The 529 plan is a savings vehicle similar to a 401(k) retirement plan in that the earnings from your investments are tax-free, but a 529 plan is designed specifically to encourage saving for future educational costs. There are two types of 529 plans – savings and prepaid.
The 529 savings plan allows you to put money in an account to be used to pay for educational expenses in the future. The earnings on your account grow tax-free and can be used for educational expenses in the future. On the other hand, the prepaid plan allows you to buy college credits at today's prices at eligible colleges, universities and community colleges. You can think of it like a contract or an insurance policy to lock in tuition prices. For example, four years of tuition purchased now would pay for four years of tuition at any in-state college starting in 2022.
When deciding between a prepaid and savings plan, consider the following:
What is your risk level?
Go with a 529 savings plan if you're comfortable putting your money in the market and are willing to deal with market fluctuations. Nearly every state now has a 529 savings plan and depending your state's plan, you can choose from a lineup of different investment options based on factors such as age of the child, investment risk level or asset allocation preference. Once you choose the investment option that's right for you, your money is invested in a portfolio of stocks, bonds and/or money market funds.
If you're on the conservative end of the investment risk spectrum and don't want to deal with fluctuations in the market, go with a prepaid plan. Prepaid plans are not dependent on market performance, and most of them are backed and guaranteed by the state.
What are the costs?
529 plans are relatively easy to open and manage but many of them come with fees – application fee, annual account fee, management fee, administrative fee and change of beneficiary fee. Some fees are one-time or annual, ranging from $5-$50. Some are based on a percentage of the account's assets. Most states don't require in-state residency in order to participate in their 529 plan and fees vary from state to state, so shop around for the best deal and do your research. Even a 0.5% difference in fees can mean less out of your pocket come time to send Baby Joe to college.
Go with a 529 prepaid plan if you don't want to deal with so many fees. The Private College Prepaid 529 Plan, which currently includes 270 colleges and universities, does not charge any fees. Other prepaid plans also have fewer fees, as they don't include fees associated with managing investments.
What expenses does the plan cover?
The qualified education expenses differ between the savings plan and the prepaid plan. The prepaid plan only covers tuition and mandatory fees. The savings plan covers tuition, mandatory fees, room and board, books and computers.
What happens if your child does not go to college?
Both the savings and prepaid plans have a 10% penalty if you withdraw from your account to pay for non-educational expenses. The withdrawn earnings are also subject to federal (and state if applicable) income taxes.
There is a way you can avoid the penalty. Since the 529 plan gives you control of your account, you can roll over your account from one member to another or change the beneficiary named on your account.  So if one child decides not to attend college, you can use that money toward another child's tuition. If you think that your child will want to take a break before going to pursue a higher education degree, go with a 529 savings plan. There is no age/time limits with the savings plan, whereas most prepaid plans have such limits.
What are the other benefits of a 529 plan?
Earnings on a 529 plan grow tax-free where earnings from other taxable accounts, such as savings accounts or mutual funds, are taxed in the year realized. When your child student is ready to go to college, withdrawals used to pay for higher educational expenses are exempt from federal income tax. Some states also offer a break on state income tax.