Never was such a sad predicament sugarcoated with such an innocuous name. Here's the scenario: you're on Medicare, and you're making ends meet. But then your medical expenses (not to mention your personal pain and suffering) start spiraling out of control. Just as you wonder if you can handle all the co-pays for your medications, it turns out that you've maxed out on your Medicare Part D prescription-drug benefits. And you won't get any more until you're really hurting, and what they call Catastrophic Coverage kicks in. Bingo! You're in the doughnut hole.
Doesn't sound like such a good thing, does it? Back in 1966, it meant that you were suddenly responsible for 100% of your drug costs. But insurance companies have to make a living, too, and one of the ways they do it is by capping the amount of prescription meds they'll pay for. The majority of people won't reach the Coverage Gap, (the official term for the doughnut hole) in most years, so insurers predicate their rates on that fact to keep them competitive. And the few of us that do get there will be around for Catastrophic Coverage (when we're only responsible for 5% of our drug costs) so everyone's happy. Or at least competitive.
As you may have heard, however, one of the things that President Obama's Affordable Care Act does is to meet the doughnut hole head-on. Much has been made of Mr. Obama's early consultations with the pharmaceutical companies, but one of the concessions that he did wring from them was a commitment to subsidize some of the cost of prescription drugs in that nether land between standard Medicare Part D prescription-drug coverage and the edge of doughnut hole, which comes into view this year when your total drug costs exceed $2,930. You encounter the far side of the hole, incidentally, when your total drug costs (excluding generics) exceeds $4700 for 2012. Each year the cutoff rises slightly, and the count starts over.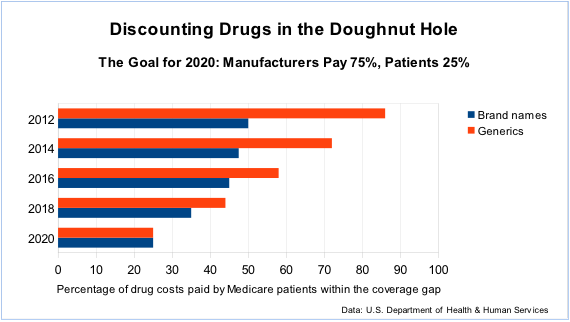 As delineated in the graph above, people with Medicare Part D coverage are currently paying 50% of the cost of brand-name prescription drugs, and a bit more for generics. By the time 2020 comes around a combination of government funds and manufacturers' contributions will be subsidizing 75% of the cost of both types of drugs, leaving us with a 25% co-pay. Seems like a good example of a public/private partnership. As the AARP notes, 50% of the discount on brand-name drugs is paid by the companies that manufacture them, and the rest by the federal government. The discount on generic drugs (where prices haven't been so inflated) is wholly paid by the federal government.
Does everyone love these discounts? Not quite. According to USA Today:
"The American Action Forum, a conservative think tank, said reducing prices for Medicare beneficiaries would raise drug costs for everyone else. No research has yet shown a correlation, though industry experts say it may be too soon to tell as the discounts just began in 2011. The group also predicted that premiums would go up for Medicare beneficiaries."
Medicare Director Jonathan Blum disagreed:
"All the evidence suggests the opposite. As out-of-pocket costs have gone down, average premiums for a Medicare prescription drug plan have fallen."
But don't count the doughnut hole out quite yet. Since closing the gap is part of the Affordable Care Act, which Presidential candidate Mitt Romney has pledged to repeal, the sugary blob could still return to worry us again.
Expert Opinions
Harriet Hoffman, Medicare and social security consultant for seniors:
"I know many cases where an individual in the doughnut hole cannot afford to purchase expensive pharmaceuticals like effective anti-nausea drugs or migraine medication needed for chronic conditions. Because of the Affordable Care Act, people have already started getting discounts on drugs they buy while in the doughnut hole: 50% discount on brand name drugs and 14% discounts on generic drugs for 2012. These discounts will increase every year until 2020, when the doughnut hole will be completely gone. This is a huge benefit for seniors.
In my opinion, the drug manufacturers are able to keep prices high for Medicare recipients because Congress has been unwilling to repeal a prohibition on Medicare being able to negotiate directly with drug companies over the prices, which would certainly help individual recipients and help Medicare remain solvent. The Veterans Administration has been doing this for years and it keeps prices much lower."
Clarice W. Dowdle, COO and Founder of SeniorCareGivingToday.com:
"Closing this doughnut hole is essential for our aging population due to the excessive costs of medications, frequency of use and costs for new and innovative medications that have not yet been available in a generic form. If Obama is re-elected this will stay on course as planned. If Romney is elected, he has vowed to appeal Obamacare and then all bets are off regarding the future direction of this issue. The one thing for sure is the winner here is the multi-billion dollar pharmaceutical companies that just keep raking in the enormous profits."
Image via Shutterstock