Renters feel the same pain homeowners do — the big bill that comes due every month. But homeowners at least get a positive note on their credit reports when they pay it. Renters don't.

RentTrack and some other rental reporting services are out to change that, offering a way to get a positive rental payment history onto the credit reports used to calculate scores needed to qualify for credit cards, personal loans and mortgages.
It's a new concept. Only about 1% of reports carry an entry (a "tradeline") for rent, says credit scoring powerhouse FICO.
Traditionally, credit scoring algorithms haven't taken rent into account, relying on revolving debt from credit cards and installment debt from auto loans and mortgages to gauge a borrower's creditworthiness. Now a number of alternative credit scores consider alternative data such as rent — and a small industry has emerged to make sure it is reported to the major credit-report providers.
» SIGN UP: Get your free credit score and monitor progress
Rental data reported to the credit bureaus may help you qualify for some credit cards or loans, and those in turn will result in a traditional credit score accepted everywhere.
RentTrack not only sends payment information to all three bureaus, but it also collects the rent on behalf of landlords, about half of whom pick up the tab for reporting.
RentTrack at a glance
To review RentTrack, NerdWallet collected pricing information and gathered six data points, reviewed the online application process, interviewed company executives and compared the company with others that target the same customers.
RentTrack is a good fit for those who:
Live in a building that uses the RentTrack system and pays for it.
Need help establishing credit. If you have not yet been approved for a credit card or installment loan, the credit history established by rental payments may help get you one.
Can pay by automatic withdrawal, minimizing the cost of the service.
RentTrack may be less valuable for those who:
Have established credit. If you have a credit card or installment loan, you almost certainly have a traditional credit score already.
Want to keep their personal financial information private. The RentTrack payment system requires that you share your information with the company.
Jump to:
How RentTrack works
RentTrack collects rent for landlords and reports rent payments to credit bureaus. The rent payments appear on credit reports as a loan repayment.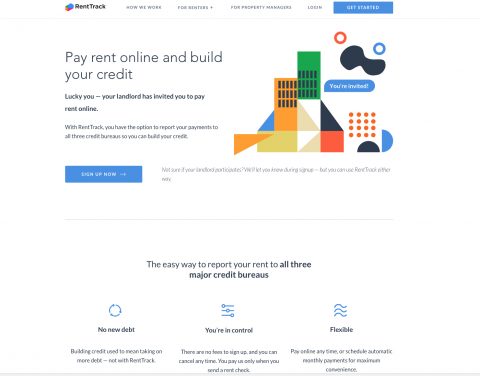 If your landlord invited you to use RentTrack, you might be able to do so for free or at a reduced price. But landlord involvement is not required.
You can sign yourself up and pay $9.95 a month. You connect your bank account to RentTrack, and it cuts a check to your landlord and reports to all three credit bureaus.
Most people who use the service and pay on time can expect to see their VantageScore rise, according to a 2015 RentTrack survey of its customers. Those with the lowest scores to begin with saw the biggest gains. Briggs says the rental information is usually on credit reports within two weeks of payment and scores typically begin to rise in two months.
Renters whose landlords already work with RentTrack can also have as many as 24 months of back payments reported, extending the length of their new credit history.
It's worth noting that VantageScore considers rent payments in its credit score calculations, but the FICO scores in widest use do not. You may be able to get a credit card or loan through a lender that uses VantageScore; the vast majority of mainstream credit cards and loans automatically generate a traditional FICO score.
If you sign up for RentTrack, you're not obligated to stay in the program; you can drop out with a phone call or email, Briggs says.
RentTrack says it uses bank-level security to encrypt your financial information.
How RentTrack is different
The most obvious difference between RentTrack and most of its competitors is that it reports to all three major credit-reporting agencies — Equifax, Experian and TransUnion. That's exactly what you want.
Another difference is that it might not cost you anything to use it. In many cases, the landlord picks up the tab for reporting. Finally, web identity theft monitoring is an included feature.
RentTrack allows you to get your rent reported without your landlord's cooperation on your own dime. In that case, you would share your lease agreement and banking information with RentTrack, and RentTrack would pay your landlord and report the payment. Back rent, however, likely can't be reported unless your landlord is in the RentTrack ecosystem.
Where RentTrack falls short
If you're hoping to get your rent reported without changing anything you do, RentTrack might not be a good choice. While CEO Briggs says his ultimate goal is to "be the most loved payment and reporting solution," this may not be the service for you if you have concerns about sharing your banking information.
In addition, if you use a credit or debit card, the fees can add up pretty quickly. (If you're hoping to get rewards points, putting as many payments as possible on plastic works only if you are earning enough rewards to offset what you are paying to use a credit card.)
What does RentTrack cost?
RentTrack costs depend on both how you choose to pay and who's paying for it. If you're a renter whose landlord picks up the tab, it may not cost you anything to get your rent reported.
If you use RentTrack on your own, pricing may vary, Briggs says. You can find out what your price would be by plugging your address into the site.
Ask these questions of any rental reporting agency you are considering:
What would my total costs be for a year of service, including any setup fees or fees for previous rental history?
How do you protect my personal data?
Which of the major credit bureaus do you report to? (All three is ideal.)
Do you provide free access to credit scores, and if so, which score(s)?
How soon should I expect the information to appear on my credit report?
How can I cancel the service?