One of the most stressful parts of being a wedding guest is finding the right gift for the happy couple. Here's what you need to know about how much to spend, what to do when you're buying as a couple and the best way to purchase non-registry gifts.
Determining the correct amount
When you're on a budget, figuring out how much to spend on a wedding gift can be tough. You don't want to pay too much and end up not being able to afford your power bill for the month. You also don't want your present to make you look stingy. So how much is the right amount?
We surveyed over 1,700 wedding-goers and found that almost half of them would typically spend $51 to $100 on a gift — not exactly cheap! To keep costs under control, we recommend that as soon as you get a wedding invitation, start saving for all the expenses — including the present. Since most invites go out six to eight weeks before the wedding, putting aside just $10 to $20 a week should cover the cost of a typical gift. Even if you can save only a small amount, there are tons of affordable wedding gift options.
Besides what others are spending, you should keep these factors in mind when deciding how much to spend on a wedding gift:
Your disposable income: After you've paid all your bills, how much do you have left to put aside for a gift? Be realistic with this amount — the couple wouldn't want you to rack up credit card debt because you spent your grocery money on their gift. Remember that the amount you spend should be relative to your income. Of the wedding guests we surveyed who make less than $100,000 a year, only 15% spend more than $100 on a present on average; of those who make $100,000 or more, 44% spend that much.
Your other wedding guest costs: If you have many other expenses for the wedding, such as travel to the event or shelling out for a bridesmaid's outfit, don't be afraid to spend less on your gift.
How many gifts you're giving: Typically, if you attend an engagement party, bridal shower and bachelorette/bachelor party, you'll end up buying gifts for each. Once you figure out how much you can afford to spend in total for all the presents, designate a certain percentage for each event's gift. Spend 60% on the wedding present and split the remaining 40% evenly among gifts for the other nuptial-related occasions.
What the couple would appreciate most: As cheesy as it sounds, it really is the thought that counts. If you know the couple will appreciate a personalized gift just as much as a pricey item from their registry, don't hesitate to go that route.
Of course, how much you're comfortable spending also depends on how close you are to the couple. NerdWallet's survey revealed that 41% of wedding guests are willing to spend $51 to $100 on a gift for a wedding they are attending of a couple they're good friends with; only 31% are willing to spend that much for a couple they're not close with, whether they're attending the wedding or not.
Nearly 59% of the respondents would spend $50 or less on a gift for a couple they're not close to.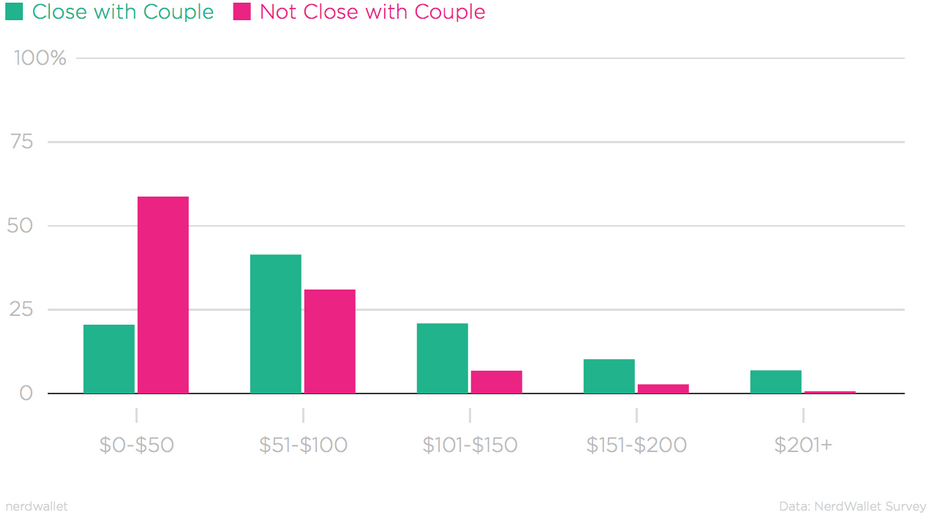 Registry gifts tend to be expensive, so another way you can save is by combining your funds with friends to buy a present from the list that you couldn't have afforded on your own. The couple will appreciate that you've gotten them an item that would likely have just sat on their registry, and you won't be stuck paying the full price.
Buying as a couple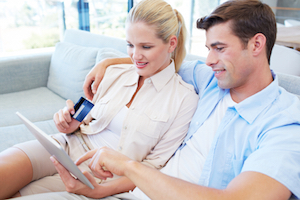 When you attend a wedding with your partner, you don't necessarily have to spend more on a gift just because you're splitting the cost. Focus on what makes sense for your relationship with the couple. Follow the same guidelines as though you were buying on your own. For those you're closer to, such as family or longtime friends, shell out more.
Talk to your partner before you make any purchases to ensure you agree about gift cost.
Getting the perfect gift
Finding the best present in your price range can be challenging. You want to give the couple a worthy gift, but you don't want to put yourself in a financial hole. Sometimes that means you have to go off the registry. We discovered some common reasons wedding guests buy non-registry gifts. Read on to apply their tips to your own gift search.
"I wanted to give a more unique and personal gift." Registries are great if you don't have an idea of what to get, but if you know the couple well, you probably already know what they would like.
Jessica Klein, writing at The Billfold, shares how it feels to not find the perfect gift on the registry: "The wire cheese slicer and the herb stripper both seemed like soulless gifts to get for a woman you had spent countless nights smoking cigarettes with outside of bars until dawn broke. …"
Whether your gift is an inside joke or something you know they've always pined for, personalized gifts can be more treasured than many registry items.
"I couldn't afford anything on the registry." Need to go off registry to save money? Make your gift meaningful. At least look at the registry to get an idea of the couple's style and what kind of items they want most. For example, if they have a set of nice glasses on their registry, you could opt for a bottle of their favorite drink to enjoy in them.
"I gave money." If you end up giving a check, write something unusual on the memo line like "For your new home!" or "Enjoy the honeymoon!" to make it seem less like a transaction. If you opt for straight cash, write something heartfelt on the envelope.
Whatever gift you end up getting, pick it with thought and spend appropriately so you can present it at the wedding with no regrets.
Methodology
NerdWallet conducted a national online survey of 1,775 randomly selected Americans ages 18 and older on July 22-24, 2015, via SurveyMonkey. Respondents were 52% female and 48% male. All respondents have attended a wedding in the last year or will attend one this year.
Heather Yamada-Hosley is a content strategist at NerdWallet, a personal finance website. Email: [email protected]. Twitter: @Curious_Heather.
---
Photos via iStock.