America's "pursuit of happiness" is so important that it's written into the Declaration of Independence, but the United States lags in that race compared to northern European nations, our neighbor to the north and Down Under.
The United States may have the world's largest economy, but it ranks only 17th out of 156 nations in the 2013 World Happiness Report, put together by the United Nations General Assembly and the Earth Institute of Columbia University. Northern European nations like Denmark, Norway, Finland and Sweden dominate the top 10, along with Canada and Australia. According to the most recent survey, the happiness of our nation lags behind countries such as Costa Rica (12), Panama (15) and Mexico (16).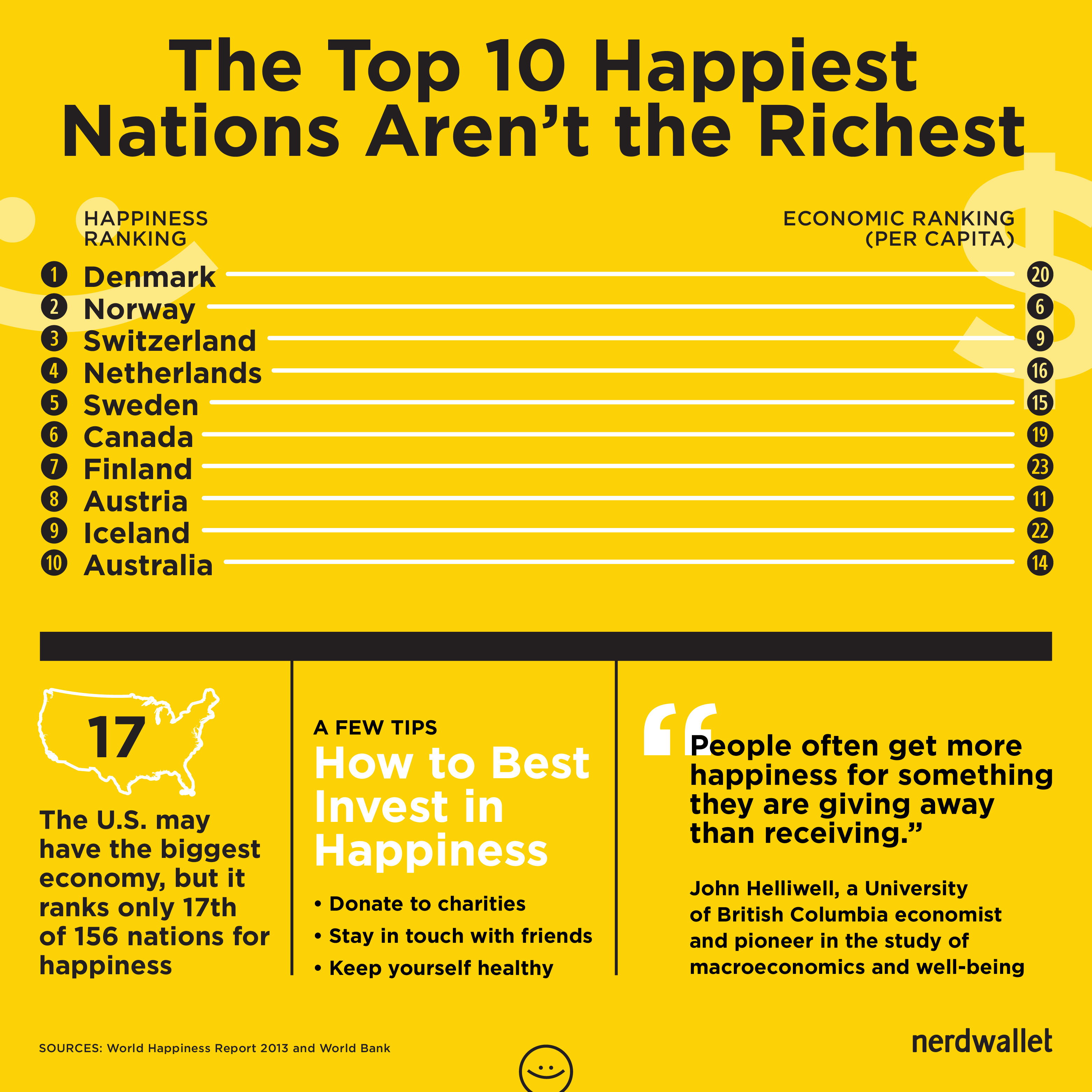 Nation's that are wealthier per person also are not necessarily the happiest. Qatar, Luxembourg and Singapore top the global list of nations that earn the most per capital, according to World Bank statistics; only Norway cracks the top five of both the happiest and richest nations' lists.
The findings suggest that money does matter for national happiness, but not as much as the average person may think, says John Helliwell, a University of British Columbia economist and pioneer in the study of macroeconomics and well-being.
Research suggests donating to charities, staying in touch with old friends and keeping yourself healthy pays much greater happiness dividends than a boost in income.
"People often get more happiness for something they are giving away than receiving," says Helliwell, one of the authors of the U.N. World Happiness Report. "Doesn't matter whether you believe it or not – research shows that it's true."
The U.N. report used six factors that contribute to national happiness: Per capita GDP of each nation, perceived freedom to make life choices, freedom from corruption, life expectancy, having someone to count on and generosity all factor into what makes a happy populace, he said.
The factors are strongly interrelated: A lack of corruption helps boost the economy, which helps life expectancy. But wealth doesn't paint the whole picture.
Out of the six factors, per capita GDP swings the most widely from top to bottom, Helliwell notes. The highest-ranking nations have an average income 40 times greater than the lowest, but the ability to have someone to call on in times of trouble is only twice as likely in high-ranking nations.
That suggests that improvements in factors such as generosity make a much greater impact than earning more cash, Helliwell says.
What does this mean for personal finance? "Developing a spending style that's on the conservative side is best," the economist says.
"If people are spending on high-end cars and high-end restaurants and clothes, they are risking (their) own financial security and need to be reminded they are purchasing the wrong things," Helliwell says. "What they should be 'purchasing' is friends, which they 'pay' for by going out and having a good time together.
"Sounds a little goodie two-shoes, but it has long-term implications," he says.
---
Happy couple photo via Shutterstock. Infographic by Brian Yee.