You've seen the depressing charts and heard the news. You may even be one of those impacted by the ongoing student debt crisis. Yet despite student loan balances were approaching $1 trillion as of June 2013,  the gains from education remain clear.So, what is the right level of student debt to have? How should students be thinking about how to evaluate the appropriate debt load?
NerdWallet surveyed 100 financial advisors to hear what they had to say. The results are clear: 70% of financial advisors recommend at most an 8% loan payment/gross income ratio.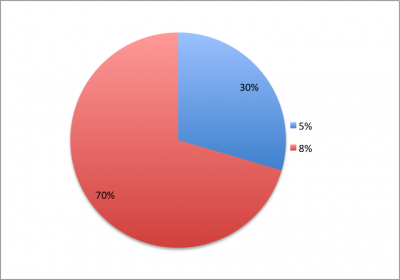 What does this mean? How should a parent or prospective college or graduate student think about this 8% number?
Let's walk through a simple example. If you took a loan for $30,000 at a 5% interest rate with a 10 year payback period, the monthly payments would be approximately $318. In order to stay within the 8% guideline, you would have to feel reasonably confident that you could make $47,700 annually after graduation.  The average debt load for a 2012 graduate is $29,400, according to the Institute for College Access and Success's Project on Student Debt.
With rising tuition costs, and anemic job prospects for fresh grads, financial advisors advocate a hard-nosed look at the economics of college.
"With higher education going through big changes with MOOC's, and the economics of college have changed significantly, it really depends on the circumstances. The old promise of having a solid job or career just by going to college isn't the same as it was just 15 years ago…If my son or daughter was accepted into one of the top 50 universities in the country, I'd go into debt (alongside them!) to help them out.  If they're supreme talent happens to lead them to an ultra-specialized talent at an expensive school, I'd figure out how to make that happen, including taking on more debt.  But if they are studying a major that's available in a lot of places (anthropology, marketing, etc) then even 5% debt could be too much, depending on the term of the loan.  Don't overpay for the major you're studying – the sting of high debt remains long after the you leave the beauty of the college campus." Gary Alt, CFP® (Pleasanton, CA)
Sara Seaholtz, CFP ® of Mooresville, NC suggests the community college route as a way to reduce costs.
The student needs to examine their earning potential for any debt taken on.  Why take on over $75-100,000 debt on a basic degree like psychology, history and so on?  Attending a community college to complete prerequisites then transferring to a University setting for degree completion makes the most sense.  
The important thing to consider apart from the student debt payment, is your TOTAL debt load. Credit card payments, car payments and mortgage debt can quickly add up.