The numbers are in: America loves fútbol.
In May we wrote about the TV audiences for major sporting events. We decided to update our chart with the World Cup, which wrapped up Sunday and which over the past month has attracted the sort of audiences that American soccer evangelists have been promising for decades.
ESPN/ABC and Univision on Monday boasted of having their best World Cup ever, with ESPN/ABC's viewership up by 39% over the 2010 edition and up 96% from 2006. Spanish-language broadcaster Univision saw its audience increase by 34% from 2010.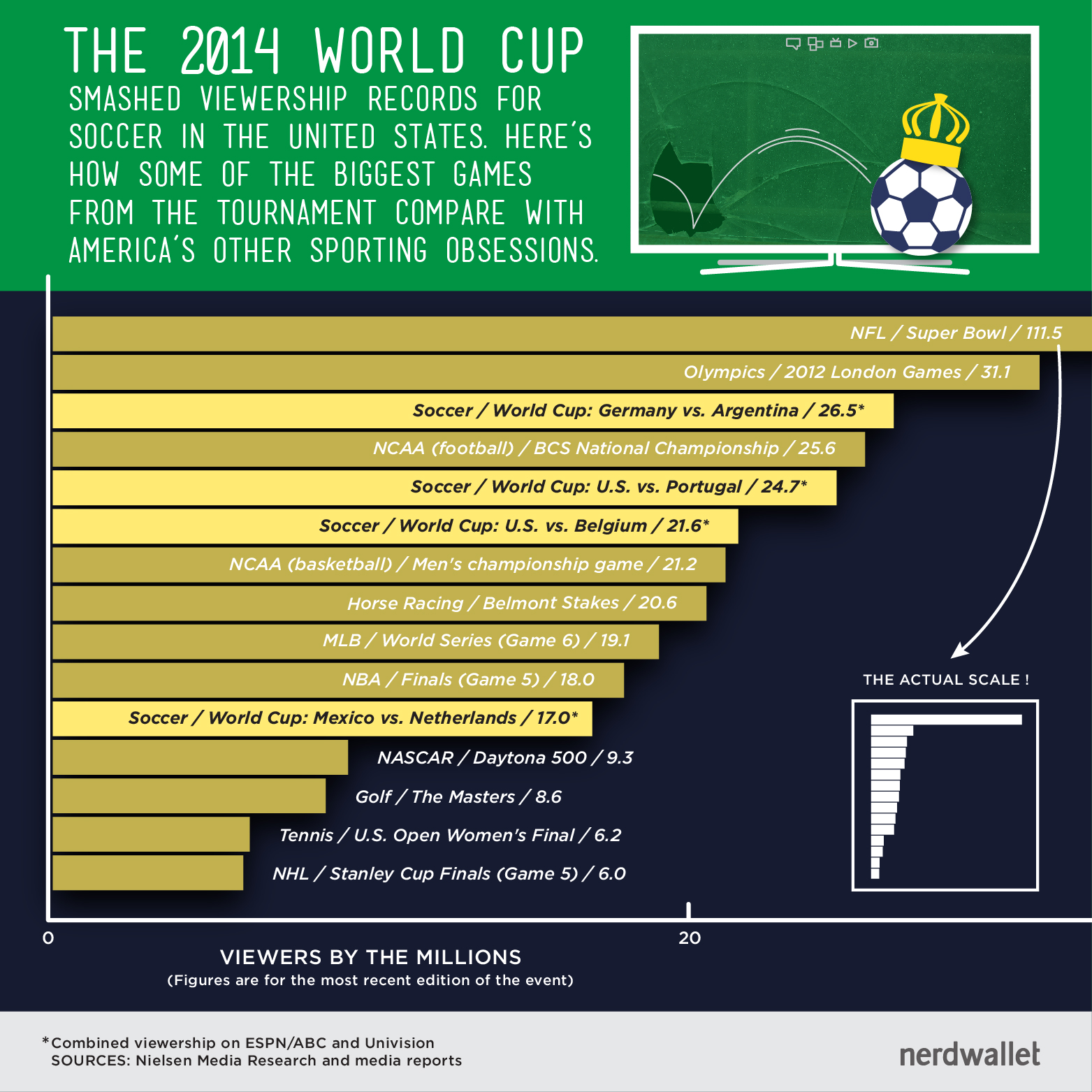 The final on Sunday, between Germany and Argentina, drew 17.3 million viewers on ABC—the third-most ever for soccer on American TV, behind only the U.S.-Portugal match earlier in tournament (18.2 million) and the 1999 Women's World Cup final (18 million)—and another 9.2 million on Univision.
There are, of course, a few caveats to the soccer numbers. For one, the World Cup happens only every four years, and so instead of trumpeting bigger numbers than annual events like the World Series and the NBA Finals, a more honest comparison might be to the Olympics (hence its addition to our chart). For another, America is still far behind much of the world in the share of people watching—the 26.5 million who watched Sunday's final represent about 8% of the U.S. population, whereas in the UK the match drew 20.5 million viewers, or 32% of the population there.
Still, these record TV ratings, the watch parties that filled city squares and stadiums and the enormous activity on Twitter and on Facebook all suggest this was not just a summer fling. Soccer is firmly a part of the American sporting scene.
---
Illustration and infographic by Brian Yee.