Koda and Kelly Sanborn are the picture of financial health. They have zero debt, a well-honed budget and money stashed in nearly a dozen savings accounts.
But it wasn't always that way.
Just four years ago, the Twin Cities, Minnesota, couple had $32,000 in debt, no savings and no real financial plan.
"We thought we were doing pretty good. We'd just bought a house. I had some student loans, we had some car payments, credit cards," says Koda Sanborn, 31. "I didn't think we were living paycheck to paycheck."
But when a payroll glitch delayed his paycheck by three days, he had to take out a line of credit to cover a bill.
Baby steps
Overwhelmed by managing the couple's money largely on his own, Sanborn decided it was time that he and his wife, 32, got on the same page.
The couple enrolled in Dave Ramsey's Financial Peace Journey course in October 2013 and used the author's "Baby Steps" process to transform their finances.
The Seven Baby Steps
Save $1,000 to start an emergency fund

Pay off all debt but your house

Build your emergency fund to include three to six months of expenses

Invest 15% of household income into retirement

Start a college fund for your children

Pay off your home early


Build wealth and give
---
"I was just so inexperienced. I knew he wanted to work on it, but I didn't know how to help," Kelly Sanborn says. "When he said the financial class, I was on board with it."
A group class, like the one the Sanborns took, costs $93 for an individual or couple, according to Ramsey's website. An online version is available for $129. Paying for that outside guidance was more than worth it, the couple says.
"It took us through step by step on how to communicate about money," Koda Sanborn says. And, more importantly, it was someone else teaching them how to do it.
"If I'm trying to teach Kelly something, I'm not the best delivery person because it came from my mindset of 'How do you not know this?' which is very sharp and not very supportive," he says. "That class put the onus on the teacher. That's what really helped us a lot."
The Sanborns say they followed the program mostly to the letter. They built a budget and set a plan in motion to pay off all their debt, with the exception of their mortgage. They achieved that goal in 10 months.
Now, they pay cash or use a debit card for everything — vacations, new vehicles, home repairs — and factor in the extra deposits often required when they reserve a hotel room or rent a car with a debit card.
Setting a budget
To get a handle on their debt, the Sanborns first needed to get a handle on their cash flow — together.
The couple adopted a zero-based budget, a tool they still use today. Each month, they write down their income and subtract any expenses: utilities, house payment, food, clothing, insurance, charitable donations and pet supplies, among other things. Every dollar is accounted for, including contributions to savings and investments, so there is no money left at the end of the month. Below is a sample of such a budget.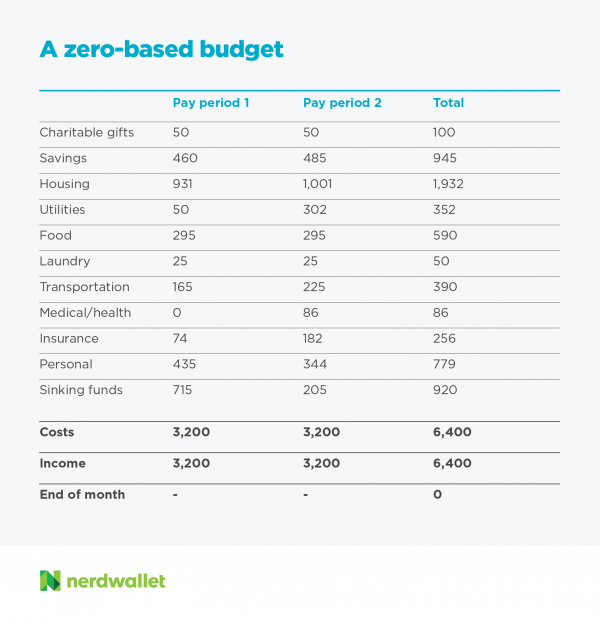 "I thought a budget was opposite," Kelly Sanborn says. "I thought it was you spend the money and keep track of what you spend. But it doesn't give you a plan. With a zero-based [budget] you say, 'This is how much my paycheck is, and this is what I'm going to spend it on,' and it has to come out to zero."
Now their budget includes multiple "sinking funds" — savings accounts dedicated to specific goals. They have nearly a dozen of them, all through their Capital One 360 account, including a "baby reserve" fund. The Sanborns are expecting their first child in August.
» MORE: Best budgeting and savings tools
They also have an emergency fund with U.S. Bank, which has enough cash to cover them for four to six months, and are putting the maximum possible into a health savings account to prepare for their baby's arrival.
But when they started their financial journey, the Sanborns focused on debt, not savings, aside from a small emergency fund. They kept their budget lean. No restaurants, only free entertainment.
"The stuff we paid was bare bones," Koda Sanborn says. "The less we put into bills, the more we could put toward our debt."
Every dollar left at the end of the month went toward their debt, zeroing out their budget.
Nerd tip
NerdWallet recommends saving and paying down debt in tandem when possible. Build up your emergency fund so that unexpected expenses don't knock you off track, and prioritize retirement savings as you work to pay off your debt.
Debt snowball
The Sanborns wrote down each debt owed, except their mortgage, and ordered the debts from smallest to largest.
"We made the minimum payments on all of them and paid extra just on the smallest one until we paid it off," Kelly Sanborn says.
Once one debt was eliminated, any extra paid on that debt was added to the payment for the next one, so the payments got larger as they worked through each debt. This tactic is called a debt snowball.
» MORE: How to pay off debt
One drawback to the snowball approach: It doesn't take interest rates into consideration, so you might pay more in the long run. But it does yield quick wins, and those wins are motivating.
"We made it fun," Kelly Sanborn says. "We made a chart and filled in the little bar graphs with how much we paid off with every paycheck."
Bumps in the road
Getting their financial life on track wasn't easy. Koda Sanborn was laid off from his job just three months into the program. He had a new job within two months, but the hits kept coming.
"Our sump pump went out and nearly flooded our basement," he says. Then, a few weeks later, one of their cars blew a head gasket. And a few weeks after that they were hit with a $5,000 tax bill.
"It was a really bumpy road for us," he says. "We laid in bed almost crying. It seemed like life was really, really testing us during those six weeks."
But they stuck to their plan. Koda Sanborn got a second job delivering pizzas. Kelly Sanborn started making coffee at home instead of buying one every day. They put a hold on their gym memberships, did their own dry cleaning and made their own weed killer — anything to cut expenses.
And, thanks to their class, they had more than just each other to lean on. "We got really close with everyone in our money management class," Koda Sanborn says. "They were our support system."
More than money
Getting out of debt was a priority for the Sanborns, but money wasn't their only motivation.
"Kelly and I really believe you need a strong sense of 'why' when you are doing something like getting out of debt," Koda Sanborn says. "We wanted to have the level of comfort on a day-to-day basis, we wanted to know we would be secure in retirement, and we wanted to give."
So they started donating their time and money to causes important to them. They also started giving back to family members who'd helped them along the way.
"I have always had a strong sense of stewardship when it came to taking care of my grandma," Koda Sanborn says, adding that when his adoptive parents divorced, his grandparents stepped up and raised him and his sister. "I have always wanted to do something really special for her."
In January 2017, the Sanborns treated his grandmother, Pat Strelow, a lifelong Chicago Bulls fan, to a VIP Bulls experience for her 84th birthday. "We priced out the game tickets, the hotel, the parking, the food, flights to Chicago, money for taxis or Ubers while we were there, every single expense we could think," he says. "We even bought her a personalized Bulls jersey that said 'birthday gal' on the back."
The total came to around $4,000, and the couple set aside a little each month for a year to make it happen.
On game day, Kelly and Koda Sanborn and his grandmother (from right to left in the photo below, joined by Koda's younger sister, January Sanborn) stood at center court at the United Center with Benny the Bull, then watched the Bulls battle the Heat from their eighth-row seats.
"We worked so hard to get out of debt to be able to do things like this," Koda Sanborn says. "It was worth every second and every dollar."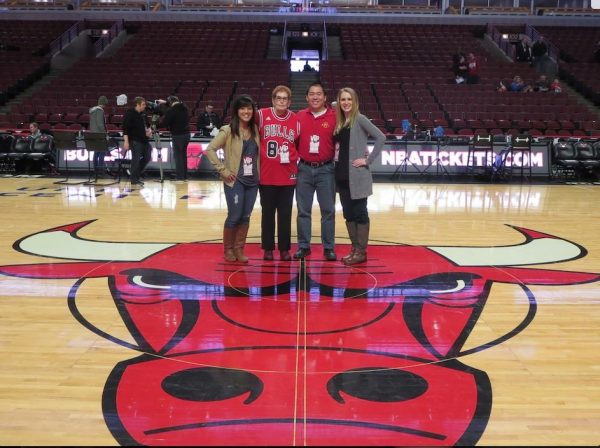 Kelsey Sheehy is a staff writer at NerdWallet, a personal finance website. Email: kshee[email protected]. Twitter: @KelseyLSheehy.