NerdWallet: Primary Care Shortage Worsens with Obamacare as Medical Students Specialize

Obamacare will enroll an estimated 14 million more Americans in 2014. The United States is already short 20,000 doctors, and this deficit is expected to quintuple over the next ten years. Half of this shortage is projected to be in primary care. 
While the primary care shortage worsens with the Affordable Care Act, also know as Obamacare, three-quarters of medical school graduates choose to pursue highly specialized fields. This leaves only 5,000 new grads going into primary care training each year. With average medical school debt of $166,750 in 2012 and physician salaries decreasing in recent years, it is no surprise that students choose fields that maximize their income.
NerdWallet Health ranked the 15 most common medical specialties. We evaluated the financial, professional, and emotional characteristics that drive medical students into highly specialized careers – and away from primary care.
Summary Findings
NerdWallet Health Ranks Top 15 Medical Specialties:
The top three medical specialties:

Gastroenterology
Orthopedics
Radiology
The three primary care specialties ranked lowest across the board, reinforcing why fewer medical students choose these specialties:

Pediatrics
Family Medicine
Internal Medicine
NerdWallet Health's Best Specialty ranking system considers compensation, time spent doing administrative tasks, job satisfaction, and total hours worked.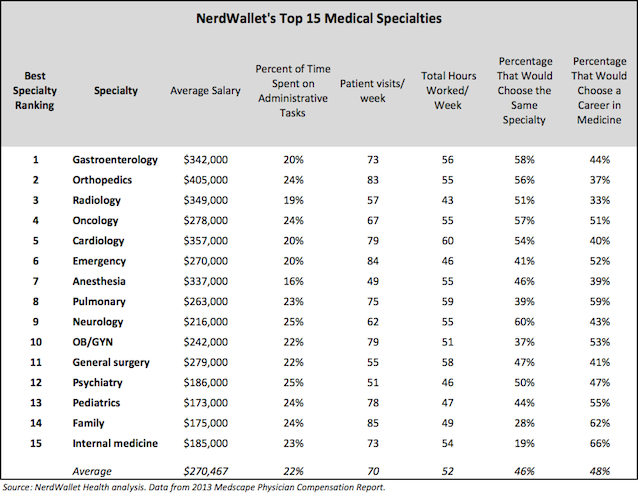 Financial return for time invested in training varies widely between specialties
The lowest paid doctors still have 11 total years of higher education and training. All practicing physicians must complete undergraduate and graduate education (8 years) plus a minimum residency of 3 years. Some specialists train for 6 or more years; cardiologists, for example, typically train for three years as a resident, three years as a fellow, and some continue their training for further specialization.
Non-primary care doctors earn on average 65% more, or $116,000 more each year, than do primary care doctors (pediatricians, family medicine doctors, and internal medicine doctors).
Extra time spent in training yields huge rewards; for anesthesiologists, one extra year of training leads yields double the salary of a primacy care doctor. Anesthesiologists make on average $164,000 more per year of additional training, as opposed to only $13,000 for psychiatrists.
Emergency room physicians make the most amount of money for the shortest training—they walk away with almost $100,000 more per year than pediatricians, family doctors, and internists (all four specialties train for only 3 years).
Pediatricians are paid less than half of an orthopedic surgeon. Orthopedic surgeons rake in over $400,000 for fixing joints, while pediatricians net $173,000 per year.
Primary care doctors see more patients – but have less time with each patient
Across specialties, physicians see roughly 13 patients per day. However, family and emergency doctors see almost 75% more patients than do anesthesiologists.
Some specialties require up to one-quarter of a physician's day be spent on administrative tasks. Neurologists and psychiatrists both spend 25% of their time on paperwork.
Physicians are deeply unhappy with their professional choices
Less than half of all doctors would still choose a career in medicine.
Less than half of doctors are satisfied with their choice in specialty, but if they had to choose again, 60% of neurologists would pick the same specialty—only 19% of internists and 28% of family physicians would do the same.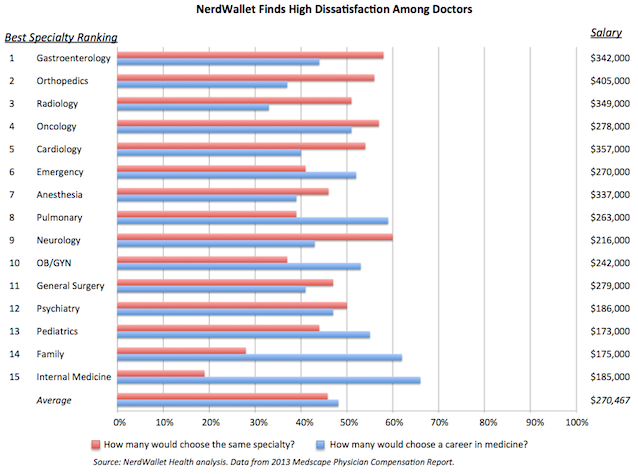 Physicians' finances aren't as stable as you might think
Medical school debt plagues the majority of graduates. In 2012, 79% of medical school graduates reported education debt of over $100,000—no surprise considering that the median cost of medical school attendance is over $200,000 for both public and private schools.
Residents make money, but not much. The median annual stipend for residents and fellows (who are typically already board-licensed physicians) after medical school is just $55,750. Meanwhile, the starting salary for an entry-level post-college job in health sciences in 2013 is $49,713. Thus, after spending four years in medical school, these residents and fellows make just 12% more than they would have made straight out of college.
28% of doctors saw their salaries decrease in 2012. 42% of radiologists saw a decrease between 2011-2012; neurologists fared best with only 16% of practitioners facing a declining salary.
Salary can vary significantly by location. Orthopedic surgeons find higher salaries in the Northwest, where some can make $400,000 more than their mid-Atlantic counterparts.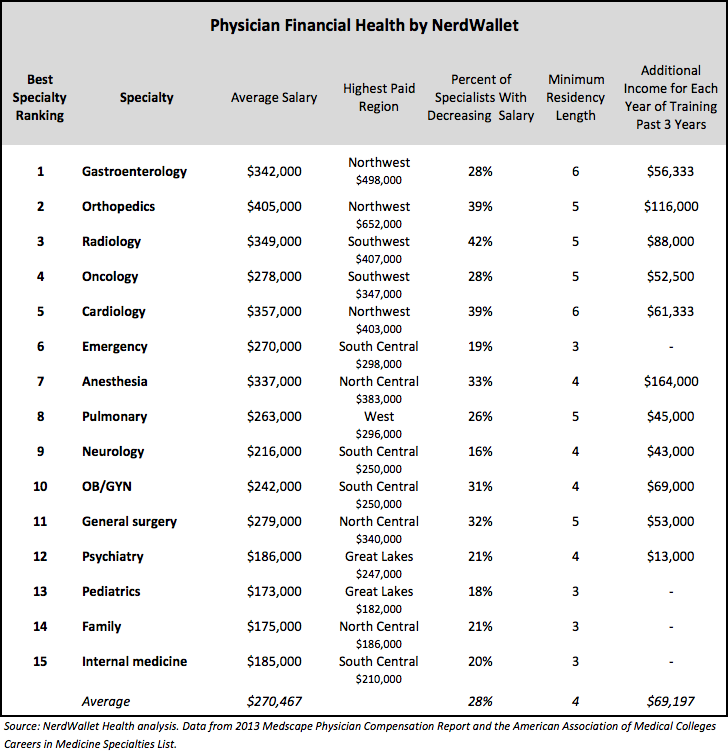 Discussion
"We need enough skilled physicians to accommodate the demands that newly insured Americans will place on the health system," according to Christina LaMontagne, Vice President of Health at NerdWallet. Based on NerdWallet's research, she adds that "going forward, future physicians will need more incentives to go into primary care if we are to avoid worsening the primary care shortage. Healthcare reform will be unsuccessful if not accompanied by reform in graduate medical education."
NerdWallet's Best Specialty list explains why physicians tend toward more specialized career tracks. Primary care doctors—including family physicians, pediatricians, and internists—consistently score lower on many measures, including income, satisfaction with specialty, and work hours. LaMontagne comments, "Primary care will be the entry point into the health system for 14 million uninsured patients. We need to urgently address the doctor shortage to ensure that the newly insured have access to health care."
Methodology & Sources
Number of graduates going into primary care: According to a study by researchers at the George Washington University School of Public Health and Health Services, less than 25% of new doctors choose to work in primary care. The number of medical school graduates was obtained from a report by the American Association of Medical Colleges.
Top 15 specialties: We chose the 15 specialties with the highest numbers of active physicians, based on a 2012 report by the American Association of Medical Colleges. In 2010, these were anesthesiology, cardiology, emergency medicine, family medicine, gastroenterology, general surgery, internal medicine, neurology, obstetrics/gynecology, oncology, orthopedics, pediatrics, psychiatry, pulmonology, and radiology.
Salary, patient interaction, and satisfaction data: We used a 2013 Medscape survey that interviewed 21,878 physicians in 25 specialty areas to collect data about average salary, percent of physicians seeing decreasing salary, patient visits per week, hours worked per week, satisfaction with specialty, and satisfaction with career.
Residency length: We used the American Association of Medical Colleges Careers in Medicine Specialties List to determine the residency length for each specialty. This data is limited in that many specialists pursue further fellowships, which increase the length of their training.
Medical school debt: Data on medical school debt, cost of attendance, and residency stipends was gathered from the AAMC October 2012 Medical Student Education: Debt, Costs, and Loan Repayment Fact Card.
Calculation of Best Specialty Ranking:


About NerdWallet Health
NerdWallet Health provides transparency to patients, empowering them to choose better and more affordable health care. NerdWallet Health's newly launched Best Hospitals tool allows individuals to compare prices, experience, and patient satisfaction for hospitals in their region. Please consult a health professional for medical advice.
Operating room photo courtesy of Shutterstock.