Have you run out of gift ideas for your gadget-loving dad? This Father's Day, check out the wide array of fitness trackers that help measure, track and motivate Dad. Perfect for athletes and couch potatoes alike, these nifty devices give Dad the pleasure of a new electronic toy plus the satisfaction of living better.
Today's fitness trackers have come a long way from your granddad's pedometer: most track steps taken, time and distance traveled as well as count calories. Some of the devices allow users to monitor sleep, mood, and nutrition all in one stylish little gizmo. Your dad will love the accompanying apps that give him personalized charts and data on the go.
Whether your dad is looking to take his fitness to a new level or he just wants to get started down the path to better health, our top five list helps you compare the top devices and find the perfect fit.

Top Five Fitness Gadgets for Dad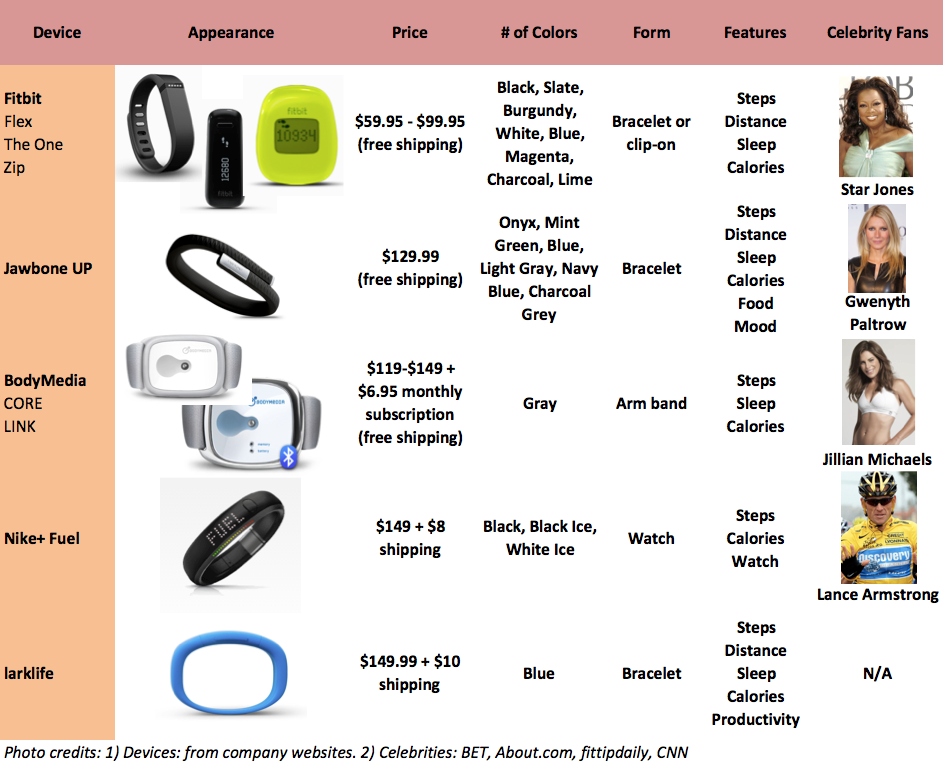 Fitbit: Fitbit offers three products: Flex, The One, and Zip. The Zip offers a cheaper fitness tracking option ($59.95) that clips to any belt; Flex and The One (both $99.95) offer broader services including a nighttime sleep tracker, which monitors your sleep and wakes you silently in the morning. FitBit partners with some of Dad's other favorite apps like RunKeeper and LoseIt! for an integrated experience. Fitbit also offers the Aria Wi-Fi Scale which sends weight measurements straight to the mobile app, which brings all of Dad's fitness activities to life.
Price: $59.95 – $99.95 + free shipping at Fitbit
Jawbone UP: Worried that your stylish, suited up father won't tolerate a clunky piece of technology strapped to his wrist? Jawbone UP seems to solve this problem with its stylish design and range of color choices, rendering it the best looking option out there. UP is on a mission to help you "know yourself better," offering mood and food tracking in addition to fitness and sleep monitoring. UP also connects with a range of other apps like MapMyFitness and Wello.
Price: $129.99 + free shipping at Jawbone
BodyMedia CORE: If your Dad is a fan of "The Biggest Loser" then he might already be familiar with the BodyMedia bands featured on the show. The CORE and LINK arm sensors are probably the most accurate of all the monitors as they gather pulse, body temperature, even galvanic skin response (a fancy way of saying sweat). While the device has been clinically proven to increase weight loss by 3x, it does come with a higher price tag. In addition to the cost of the product, BodyMedia requires all users to purchase a software subscription starting at $6.95/month (free for the first three months).
Price: $119-$149 + $6.95 monthly subscription + free shipping at BodyMedia
Nike+ Fuelband: The Nike+ band is a great tool for sports enthusiasts looking to get motivated and beat their personal fitness goals. Compensating for age, body type, gender, and other variance factors, the Fuelpoints system gives athletes a new way to measure overall physical activity and to compare themselves using social media and the Nike mobile app. The Fuelband doubles as a watch and comes in three colors, two of which give let you get a sense for the technology behind the device – you see the sensors, electronics, and lights at work.
Price: $149 + $8 shipping at Nike
larklife: Does the idea of a personal trainer strapped to his wrist sound like just what Dad needs? The larklife system focuses on helping you "live smarter" with data, tips, and reminders that keep your fitness, sleeping, eating and productivity in peak form. What makes the larklife unique is the focus on alternative forms of motivation and physical refreshment, as well as expert advice from productivity professionals and other experts in areas of sleep, diet, and general health. If your dad happens to be one of those guys who likes to "listen to the experts," then this life tracker is a perfect fit.
Price: $149.99 +$10 shipping at Lark
So as Father's Day approaches, try not to sweat the gift giving and help Dad sweat instead. This year, give Dad a fun gift for better health. Happy Father's Day!
Photo credit: familyfitness.com